Nagoa Beach Diu is one of Diu's most well-known and popular tourist attractions. It is 8 kilometers from Diu and is located in the Nagoa hamlet of Village Bucharwada.
About Nagoa Beach Diu
It is one of the most popular beaches along the Arabian Sea coast and one of the must-see attractions in Diu Packages. Water sports such as parasailing and hot air ballooning in the air, water scootering, bumper boating, banana boating, speed boating, water skiing, jet skiing, and many more water-related activities can be enjoyed in private resorts in Diu near Nagoa Beach. Also, it's a great place for picnics and relaxing with family members. Along the beach, there are many cottages and restaurants serving delicious seafood and other local specialties.
Together with the beach, nearby attractions like the Diu Fort, St. Paul's Cathedral, Naida Caves, and Gangeshwar Temple are easily accessible to visitors.
The word "Nagve" in Gujarati, which indicates a place where snakes live, is said to be the origin of the name Nagoa. Yet, there aren't any snakes to be seen here; instead, visitors can take in the beautiful and peaceful atmosphere.
Its beautiful charm is enhanced by the surrounding lush greenery and towering coconut trees.
Nagoa Beach Timings
Timings:- 06:00 AM To 06:00 PM (Anytime You can visit Nagoa Beach)
Best time to visit Nagoa Beach Diu
October to February is the best time to visit the beach.
Nagoa Beach Entry Fee
No Entry Fee
Nearby Attractions Of Nagoa Beach Diu
Diu Fort:- The Diu Fort is a UNESCO World Heritage Site known for its beautiful architecture and historical significance.
Naida Caves:- The Naida Caves, about 2 kilometers from Nagoa Beach, provide a fun experience. The Arabian Sea is believed to have carved out these natural caves over millions of years, and they provide a magnificent view of the sea.
The Gangeshwar Temple:- The Gangeshwar Temple, is about 7 km from Nagoa Beach. The Lord Shiva-dedicated temple is known for its unique location on the rocks close to the sea. High tide provides a peaceful and relaxing atmosphere as the sea's waves flow over the rocks and into the temple.
St. Paul's Church:- the magnificent baroque architecture of the 17th-century St. Paul's Church, which was built.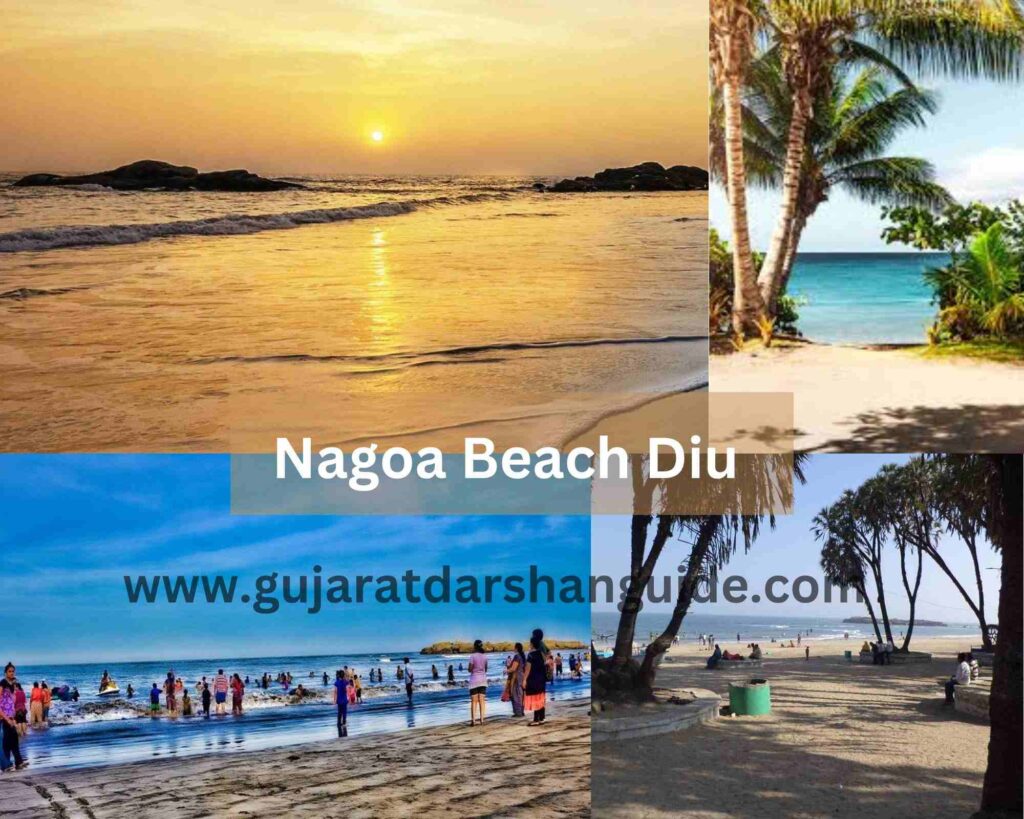 Nagoa Beach Watersports Ticket Prices
| | |
| --- | --- |
| Activity | Price (per person) |
| Speed Boat | INR 250 |
| Scuba Diving | INR 1500 |
| Jet Ski | INR 500 |
| Banana Boat | INR 300 |
| Water Roller | INR 500 |
| Paramotor Flying | INR 2500 |
| Wind Surfer | INR 1000 |
| Hot Air Balloon | INR 1000 |
| Couple Ring | INR 300 |
| Dolphin Trip | INR 2500 |
| Family Report | INR 200 |
| Parasailing | INR 1200 |
| Desert Bike | INR 250 |
| Jeep Parasailing | INR 500 |
Diu Accommodation
How To Reach Nagoa Beach Diu
By Road
Diu, which is well connected to major cities throughout India, makes it simple to go to Nagoa Beach via road.
By Rail
While the nearest train station is in Veraval, about 90 kilometers from Diu.
By Air
The nearest airport is in Diu.