Smritivan Earthquake Memorial Museum is 11,500 square meters in area and is divided into seven blocks, each representing a unique aspect of what the museum stands for Rebirth, Rediscover, Restore, Rebuild, Rethink, Relive, and Renew.
About Smritivan Earthquake Memorial Museum
Smritivan, the most significant memorial, and museum ever built in modern India are spread across 470 acres. It is located on the outskirts of Bhuj on the Bhujiyo Dungar (a small hill). It also shares the area with the more than 300-year-old Bhujia fort.
There Are 7 different blocks (further divided into sub-galleries) that constitute the monument, and every one of them is unique, educational, interactive, and something straight out of science fiction. The seven galleries include:
Rebirth: Here we see the evolution of the Earth, the development of landforms over millions of years, and the birth of the land we live on. Visitors get a glimpse of Kutch's rich historical human civilizations, Gujarat's ancient trade routes, and the story of its development and perseverance.
Rediscover: The Rediscover block allows us to experience the persistent nature of Kutch, the innovative spirit of Gujarat's people, and the explanations for Gujarat's numerous natural events. Explore the unique natural aspects of the Gujarat region and its connection with unexpected natural phenomena. See the weaknesses, extraordinary adaptations, and persistent responses of the people of a region with variable conditions through interactive models and immersive films.
Restore: The earthquake affected people from different walks of life in different ways. The sad events of the 2001 Bhuj earthquake are described here. It also shows the immediate rescue and relief operations that occurred. Touch, listen, and immerse yourself in the many stories and recollections of earthquake survivors and the memories of loved ones of victims from Gujarat and India.
Rebuild: This block provides us with a thorough understanding of the collective process of rebuilding, reconstructing, and renewing Gujarat in preparation for long-term disaster mitigation. It also shows the collective effort directed toward rebuilding Gujarat following the 2001 earthquake. Watch how, within weeks of the earthquake, an apex body developed, allowing quick rehabilitation, reconstruction, and recovery.
Rethink: Through games and interactive activities, The Rethink Block teaches us about emergency preparedness and response around the world. Learn about the many natural hazards in different geographical areas, India's sensitivity to them, and how we may protect ourselves. Here, first-hand accounts and discussions with experts document the emotional and psychosocial effects of post-disaster management.
Relive: how the earthquakes shook Gujarat, how buildings collapsed, and how lives were lost. You will feel the earth slip beneath your feet and feel the tremors that individuals felt in the 2001 Earthquake in a realistic manner with the world's largest simulation experience in state-of-the-art 360-degree surrounding simulations. It also contains Smritivan's tree, which is present inside an infinity room and where you can add paper-made petals to the branches as messages.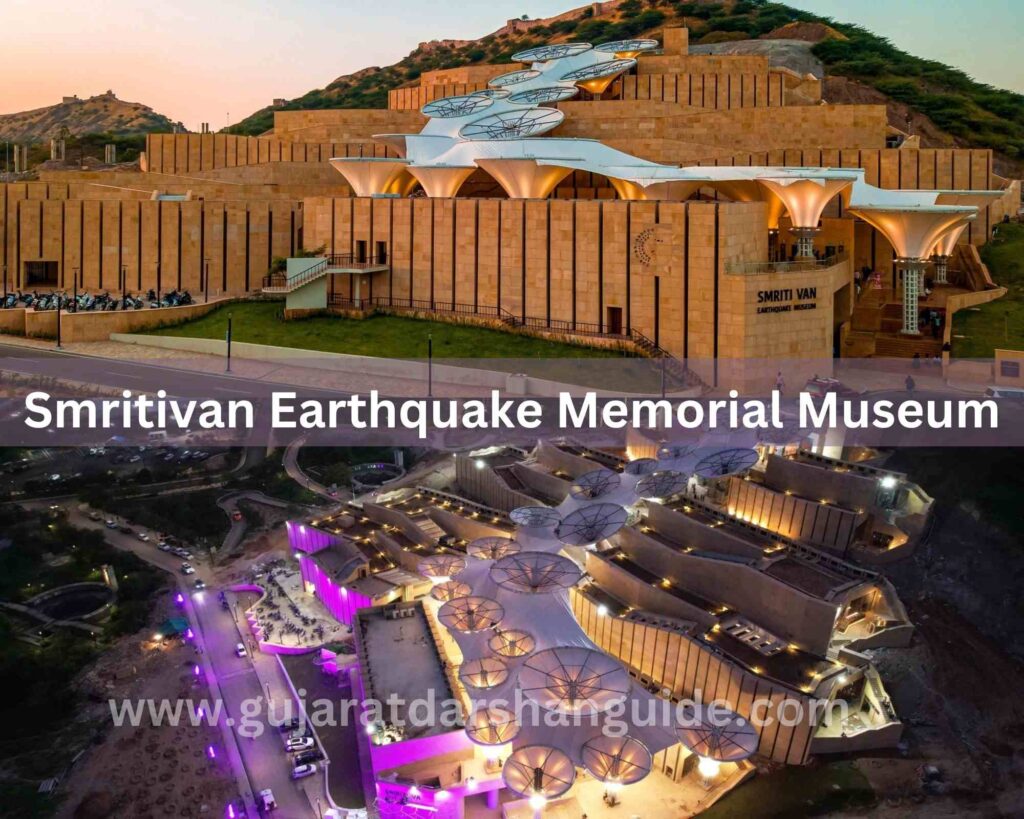 Smritivan Earthquake Memorial Museum Timings
Timings:-
Smritivan Timings: 05:00 AM until 11:00 PM
Museum Timings: 11:00 AM until 07:00 PM
Monday: Closed
History Of Smritivan Earthquake Memorial Museum
The museum was also a dream project of Shri Narendra Modi, India's then-chief minister and now Prime Minister. On August 28, 2022, the Prime Minister himself will open the project. In a public speech following the inauguration, he also encouraged the people of Kutch and their guests not to leave without visiting the Smritivan Earthquake Memorial and Museum.
Smritivan, which was built for the bereaved families of the earthquake victims in 2001, is a place of pilgrimage, a tribute to the bravery and reverence of the Kutchi people, and a place for those who find comfort in nature. The memorial is made out of a Sun-Point that sits on top of the Bhujiyo Dungar and provides views of the city, sunrises, and sunsets.
The Gujarat earthquake in 2001, one of the most devastating natural disasters in Indian history, shocked the whole country. It still sends chills down the spines of those who have experienced it, although measuring 7.9 on the Richter scale and having Bhuj as its epicenter. In terms of statistics, it had affected 15,23,562 people in the Kutch area alone, killing around 12,932 people and impacting 890 villages. Almost a million houses, including temples and old buildings, were destroyed, inflicting injuries on about 164,000 people. As we talk about other districts, the list grows longer.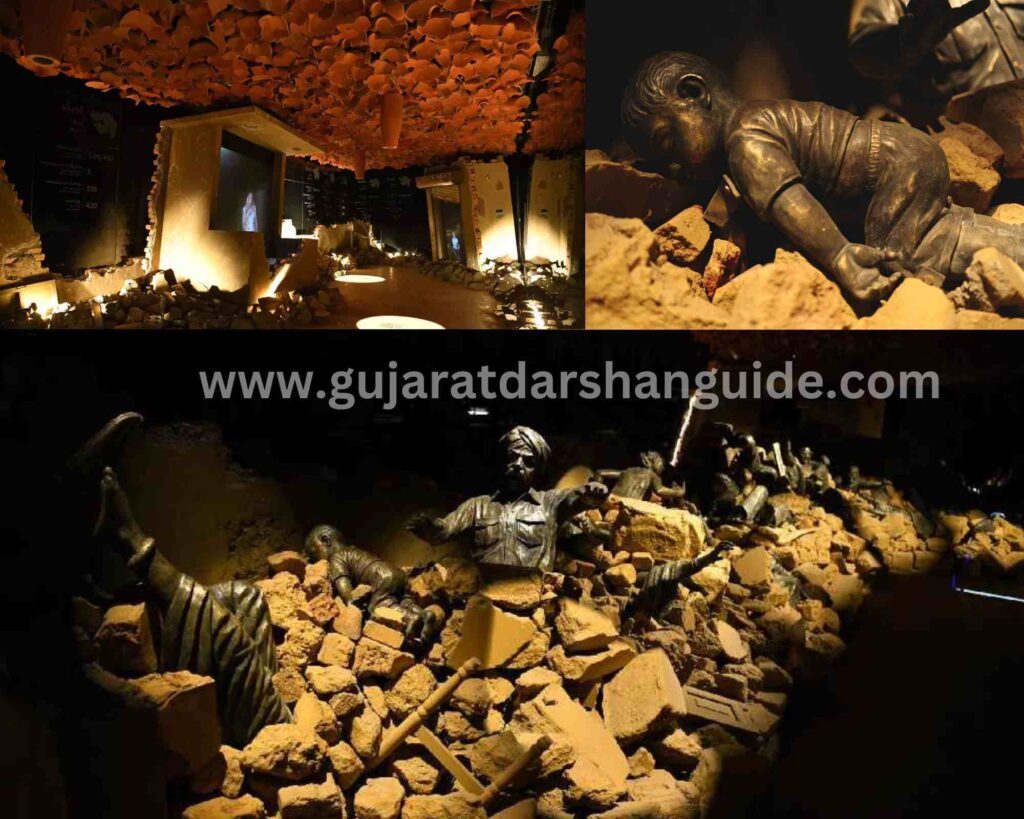 Its destruction of infrastructure, property, and people was equal to that of a war zone. 890 villages were affected and 12,932 people died in the earthquake.
Smritivan Earthquake Memorial Museum Entry Fee
Entry Fee:- 05:00 AM To 09:00 AM – Free
Best Time To Visit Smritivan Earthquake Museum
The months of October through March are ideal for tourists because temperatures range from 25 to 12 degrees Celsius. It is also the ideal time to visit the world-famous Rann Utsav Festival.
Smritivan Earthquake Memorial Museum Ticket Price
Smritivan Ticket Price:- 09:00 AM To 11:00 PM – Rs. 20/- Person
Smritivan Museum Ticket Price:
School Students (0-5 Years) – Free
Children (<12 Years) – Rs. 100/-
Adult (12+ Years) – Rs. 300/-
College Students (Age<25 Years) – Rs. 150/- (ID card required)
Foreigners – Rs. 1000/-
Parking Ticket Price:
Bicycle – Free
Two Wheeler – Rs. 20/-
Three/Four Wheeler – Rs. 40/-
Bus – Rs. 100/-
Smritivan Earthquake Museum Address
Address:- Bhujio Dungar, Bhuj, Gujarat 370020
How To Reach Smritivan Earthquake Memorial Museum
By Road
The Smritivan Earthquake Memorial Museum is well connected to major Gujarat cities.
By Air
The nearest airport is Bhuj Airport, which is approximately 8 kilometers from The Smritivan Earthquake Memorial Museum and takes about 15-20 minutes to reach it.
By Train
The nearest railway station is Bhuj Junction, approximately 5 kilometers from The Smritivan Earthquake Memorial Museum, and takes about 10-15 minutes to arrive.
Smritivan Earthquake Museum Online Ticket Booking
Click Here For Online Ticket Booking