Umiya Mata Temple is the Temple of Goddess Umiya Mata, the clan-deity or kuldevi of the Kadava Patidars.
About Umiya Mata Temple
Umiya Maa Temple is located in the center of Unjha, Mehsana district, Gujarat, India, where thousands of visitors visit every day. Maa Saraswati, Maa Lakshmi, and Maa kali are the deities ' various incarnations. Maa Umiya is worshiped by the devotees as the source and the giver of strength and divinity.
Unjha, located in the Mehsana district of Gujarat is also famous for its biggest market of spices and seeds across Asia.
Umiya Mata Temple History
On the border of Uttar Pradesh and Bihar, the King of Madhvati, Vrajpal Sinhji had lost the battle to Chandrasen who was the King of Mahet. That is why he had to flee to Gujarat, and he came to Siddhpur for Matrus Sraddha. There he met his own community members, and on their insistence, he stayed at Unjha and then settled there. He established the temple of Umiya Mataji in BC 156, Vikram Samvat 212 and did a big Havana.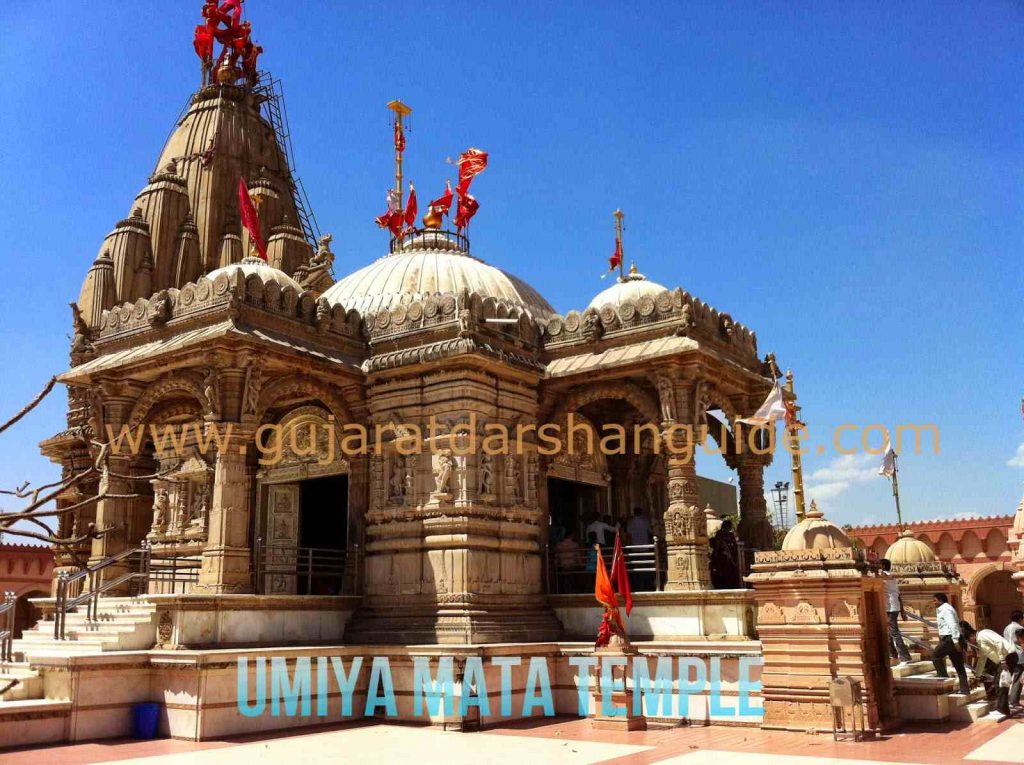 The current Temple was made with the contribution from each house Patidar Community house in the Vikram Samvat 1943, and the year 1887 AD. The construction of the temple was started by Shri Ram Chandra Mansukhlal and after him by Shri Rai Bahadur Bechardas Lashkari. During this time, the contribution was made by the Gaikwads government and also by the Patidar community. In the Vastupujan of the temple, the representatives of the Gaikwads were present and they offered valuable clothes to the deity. And they offered their respects to Shree Bechardas Lashkari also. At that time, Shree Ngardas Ugar das Patel Mollot and Shree Kushaldas Rusate offered the Gold Shikhar with the Rs.2000/- offerings.
After that in the year 1894 Ad, the Mansarovar was built. For the construction of the temple, under the leadership of Shri Bechardas Lashkari, a Panch committee was appointed. In the year 1931, this trust was formed and in the year 1952, the true foundation of the Umiya Mata temple was laid down. The stonework construction and the Mansarovar building are all done with the help of the trust.
Umiya Mata Temple Darshan Timings
Timings:- 06:00 AM to 09.15 PM
Best Time to visit Of Umiya Mata Temple
Umiya Mata Temple is located in the center of Unjha, in the Mehsana district of Gujarat, India. Thousands of devotees visit the temple every day to worship Maa Umiya. The best time to visit the temple is at all times of the year. Entry to the temple is free. Temple visit timings are from 6:30 AM to 9:30 PM.
Umiya Mata Temple Address
Unjha is located in the Mehsana district of Gujarat. Unjha is located approximately 100 kilometers distance from Ahmadabad.
Umiya Dham in Ahmedabad
An Umiya Dham complex is being built by the Kadava Patidar community in Ahmedabad, Gujarat. The complex will have a temple, an NRI guest house, a convention hall, a boys/girls hostel, senior citizen care facilities, medical facilities, recreation, and sports facilities, and career and business development facilities. In 2018, Prime Minister of India Narendra Modi was set to lay the foundation stone. This is because the Kadava Patidars had begun to be disgruntled with Modi's Bharatiya Janata Party after Gujarati politician Hardik Patel and his Patidar Anamat Andolan Samiti organized the Patidar reservation agitation. The BJP sought to regain the votes of Kadava Patidars through this gesture from Prime Minister Modi.
Umiya Maa Temples in United States
In 2013, an Umiya Mata temple was commissioned by the Kadva Patidar Samaj in Macon, Georgia. As of 2014, two more were coming up in New Jersey and Boston, Massachusetts.
Umiya Mataji Sanstha Chicago Midwest (UMSCM) celebrates the Holi festival in Joliet. More than 500 people join to celebrate Holi every year. This festival signifies the victory of good over evil. This festival celebration is split into two events – Holika Dahan and color Holi. In Holika Dahan, wood and cow dung are burned in a symbolic pyre to signify good defeating evil. The next morning, people gather in an open space at the temple to take part in Rangwali Holi, where people put colored powders (gulal) and colored water, on each other in celebration of spring. At the temple in Chicago, snacks and dinner are served in the free event as children and families participate in this event. In addition, the devotees also pray, dance, and sing devotional songs.
Other Attraction At Umiya Mata Temple
Patan
Once, the capital, during the period of Solankis, this place is situated 25 kilometers westwards from Unjha. Rani ki Vav and Sahasmaling Lake are the most visited here.
Vadnagar
This is the main region for the Nagar Brahmins and is located 35 kilometers eastward from Unjha. Toran, Hatkeshwar Mahadev is the most visited here.
Modhera
This place is located approximately 60 kilometers southwest of Unjha. Sun Temple and Stapathya Architecture are famous here.
Siddhpur
This place is located approximately 15 kilometers north of Unjha. There is a famous Shiva temple named Rudra Mahalaya which was once broken down by Alauddin Khilji.
The very famous Saraswati River is visited mostly for Shradh purposes. It is also considered to be a sacred river as it does not meet any ocean or sea. It is not perennial—but famous, especially for bathing. You can also visit St. Kapil's Ashram and Bindu Sarovar.
Other Nearest Pilgrimages of Umiya Mata Temple
It is situated 110 kilometers north of Unjha which you can reach by bus.
It is situated 85 kilometers southwest of Unjha which you can reach by bus.
Nearest Stay of Umiya Mata Temple
There are all sorts of options in the budget as well as luxurious hotels nearby Umiya Mata Temple in Unjha, Mehsana district, Gujarat. Hotel Armaan, Hotel Caravan, and Hotel Sahil are a few good hotels with all facilities for a comfortable stay.
How to Reach Umiya Mata Temple
Unjha is located approximately 100 kilometers distance from Ahmadabad. To reach Unjha via Mehsana district from Ahmadabad, you need to take the State Highway no. 41, then reach Mehsana by bus or train, then from Mehsana, you can reach Unjha again by taking a bus, train, or taxi.