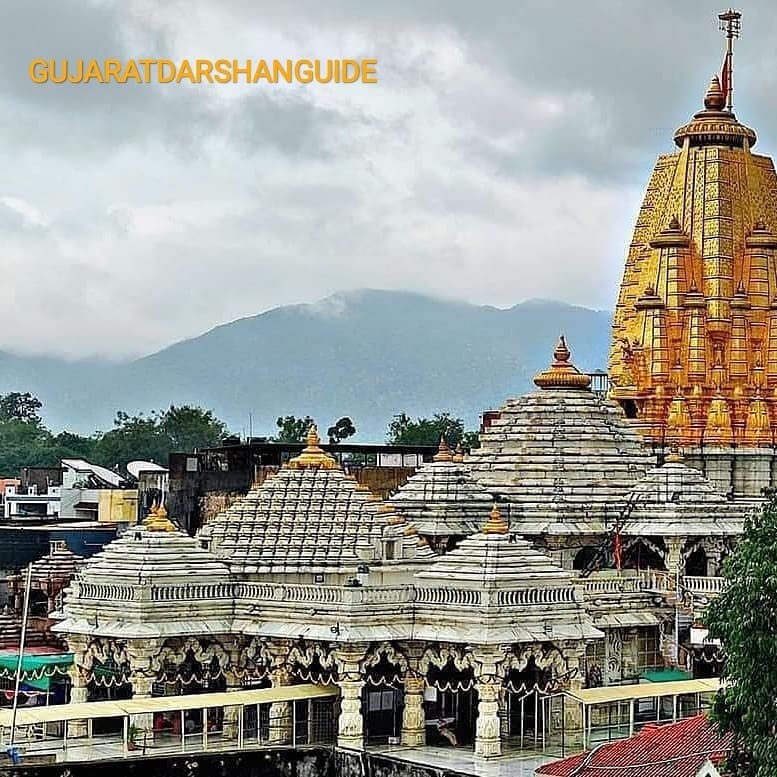 About Ambaji Temple
Ambaji is an important temple town with millions of devotees visiting the temple every year. It is one of the 51 Shakti Peethas. Ambaji Mata temple is a major Shakti Peeth of India. All the ritual worships of Ambaji are performed in Chachar Chowk.
The Temple has a glorious Suvarn Kalash Shikhar, shining at 103 feet height on the top of the temple, weighing more than 3 tones as a whole.
Ambaji, a famous pilgrimage place of Gujarat in India is situated on the border of the States of Gujarat and Rajasthan near Abu Road, in the Danta Taluka of Banaskantha District.
History Of Ambaji Temple
This temple is one of the 51 Shaktipeeths of Mother. According to the Puranas, wherever the pieces of the sati, the clothes, or the ornaments held, have fallen, wherever Shaktipeeth came into existence. They are called the most sacred shrines. These shrines are spread across the entire Indian subcontinent.
According to mythology, Goddess Sati gave her life by jumping into the fire of Havan organized by her father King Daksheshwara. When Lord Shiva was running around the earth carrying her body then Lord Vishnu divided the body into 51 parts using his Sudarshan chakra. Out of those 51 parts, from which the 'Heart' of Sati fell to this place.
Unknown Facts Of Ambaji Temple
Attahas temple is one of the 51 Shaktipeeths of Mother. No idol of this temple is installed. In this temple, In this temple, 'Sri yantra' is worshiped.
Gabbar Parikrama Path
Shri Arasuri Ambaji Mata Devasthan Trust has developed a parikrama way around Gabbar hill.
The 51 Shaktipeeth temples are constructed on this Parikrama marg.
The temples are made exactly as they are at their original locations. One can darshan all 51 Shakti Peeth by doing Parikrama of Gabbar hill
Ambaji Temple Timings
Ambaji Temple Darshan Timings
It is open for darshan all seven days of the week.
The visiting hours are –
Morning 07:00 AM to 11:30 AM
Afternoon 12:30 PM to 04:15 PM
Evening 07:00 PM to 09:00 PM
Ambaji Mandir Arti Timings
Morning Aarti 07:30 am,
Day Aarti 12:00 noon,
Evening Aarti 07:00 pm
Best time to visit At Ambaji Temple
Mostly, Visit Bhadarvi Poornima, During the festival Durga Puja and Navaratri.
Online Darshan Token Booking Of Ambaji Temple
Registration of Ambaji Temple by website http://www.ambajitemple.in
Ambaji Temple Live Darshan
Ambaji Gabbar Ropeway Online Ticket Booking
Gabbar Ropeway Ticket booking Available To book an online ticket for the Ambaji Gabbar Cable car, visit its website www.Udankhatola.com
Steps of Ambaji Gabbar Hills
The hill is very steep and difficult to climb. There are 300 stone steps at the foot of the hill after which the pilgrims have to climb through a narrow dangerous track.
Ticket Price of Ambaji Gabbar Ropeway
Below are the Ticket price for Ambaji Gabbar Ropeway
| | | | | |
| --- | --- | --- | --- | --- |
| Type of Ticket | Existing basic Rate | GST | Tariff | Final Rate including CGST and SGST |
| Normal | Rs.80 | Rs.14.40 | Rs.94.40 | Rs.94 |
| Concession (Physically Challenged and War Widows) | Rs.63 | Rs.11.34 | Rs.74.34 | Rs.74 |
| Student Group (7+1) | Rs.560 | Rs.100.80 | Rs.660.80 | Rs.661 |
| Monthly Pass (30 Trip) | Rs.1875 | Rs.337.50 | Rs.2212.50 | Rs.2213 |
| Annual Pass (12 Trip) | Rs.750 | Rs.135 | Rs.885 | Rs.885 |
| Premium Ticket | Rs.519 | Rs.93.42 | Rs.612.42 | Rs.612 |
| Complimentary Pass (Taxable) | 0 | Rs.14.40 | Rs.14.40 | Rs.15 |
Ambaji Gabbar Ropeway Timings
Timings:- 7:00 AM to 6:00 PM
Address of Ambaji Temple
Ambaji Temple is a census town in Banaskantha district in Gujarat, India. It is known for its historical connections with sites of cultural heritage.
Ambaji Temple Contact Number
02749-262136
How To Reach Ambaji Temple
By Rail
Ambaji does not have a train station, and the nearest station is Mount Abu, at a distance of 22 km.
By Bus
Gujarat State Transport (GSRTC) bus station connects to all major cities of India Ambaji.
By Air
Sardar Vallabhbhai Patel International Airport at Ahmedabad is the nearest airport which is 180 km from Ambaji Buses are easily available from Ahmedabad to Ambaji.
By Road
65 km from Palanpur
45 km from Mount Abu
20 km from Abu Road
185 km from Ahmedabad
50 km from Kadiyadra
Accommodation Near Ambaji Temple
Parvati Pranam Dharamshala
Ambaji Shakti Pathikashram
Nandni Ashram
Sitaba Sadan
Shree Ganesh Bhavan
Nearby Places Of Ambaji Temple
Mansarovar
Mount Abu
Kamakshi Mandir
Kailash Hill sunset
Koteshwar
Kumbhariya