The Ajanta and Ellora caves are located in Maharashtra, India, near Aurangabad. The Ajanta and Ellora caves complex, which also has Buddhist monasteries, Hindu, and Jain temples, is decorated with exquisite sculptures, paintings, and murals.
Since 1983, the paintings and sculptures of the Ajanta and Ellora caves have been declared UNESCO World Heritage Sites. They are considered masterpieces of Buddhist religious art that have had a significant impact on the development of art in India.
About Ajanta and Ellora Caves
About Ajanta Caves
Ajanta is a complex of 30 caves of various sizes carved on a horseshoe-shaped stretch of rock set on a mountainside overlooking the Waghora River. Each cave was linked to the stream by a flight of steps, which have since been destroyed, leaving just a few remains. These caves are named after the nearby village of Ajanta. It contains masterpiece paintings of Buddhist religious art, with figures of the Buddha and representations of stories about Buddha's previous lives.
Vihara and Chaitya griha were two different types of caves. Viharas are living and praying monasteries. Small cells line the sidewalls of these square halls. Monks used these cells for resting and other purposes, with the bigger square in the center used for prayer. A colonnaded porch that runs parallel to the porch on the front of the vihara is a common architectural feature. The Chaitya grihas, or other varieties of caves, are prayer halls. They like long tunnels and have circular pillars on either side. The stupa, a representation of Lord Buddha, is situated at the cave's ending.
About Ellora Caves
Ellora caves are a collection of 34 monasteries and temples dug side by side in the wall of a high basalt cliff that extends for more than 2 kilometers. The caves were constructed between the 5th and 10th centuries and are considered one of the finest examples of Indian rock-cut architecture. Ellora has Hindu, Buddhist, and Jain cave temples.
Most of these buildings were viharas or monasteries, which were large, multi-story buildings with living, sleeping, kitchen, and other rooms carved into the mountainside. The Vishwakarma cave also referred to as "the carpenter's cave," is the most well-known Buddhist cave.
History Of Ajanta Ellora Caves
The Ajanta Caves were built between the second century BCE and 480 or 650 CE. According to renowned historian Walter M. Spink, the caves were constructed in two stages (the Satavahana Period and the Vākāṭaka Period). Some of the caves were incomplete, and others had only recently started to be built.
Ellora Caves, are newer and have a history that dates to between the 5th and the 10th CE. Hindu caves, Jain caves, and Buddhist caves comprise the three sections of the Ellora caverns.
After being abandoned, the Ajanta Caves site was covered by dense forest until it was rediscovered in 1819 by a British commander. Ellora Caves, on the other side, has always received the attention it deserves. According to a 1983 announcement, the Ajanta and Ellora Caves now form a UNESCO World Heritage Site.
Ajanta Ellora Caves Timings
Ajanta Caves Timings
Timings:- 9 am to 9:30 pm (Mondays closed)
Ellora Caves Timings
Timings:- From sunrise to sunset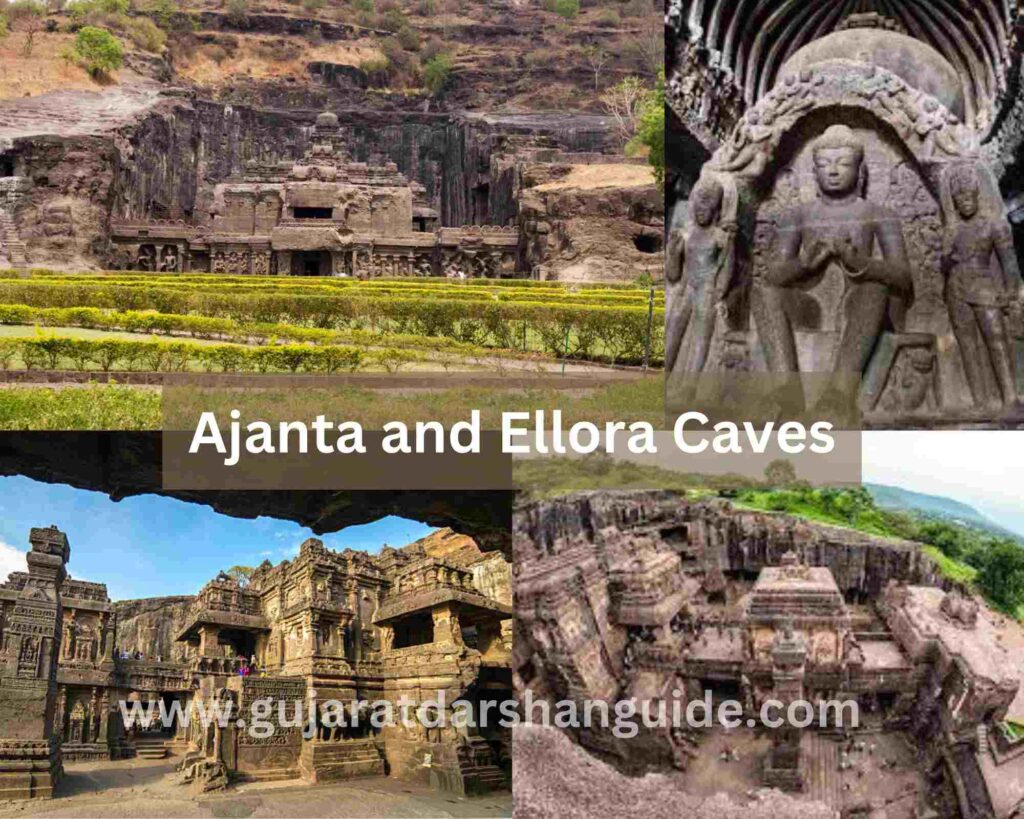 Best Time To Visit At Ajanta and Ellora Caves
The best time to visit Ajanta and Ellora caves is between October to March.
Ajanta and Ellora Caves Entry Fee
Entry fee: INR 40 per head (Indians) | INR 600 per head (foreign tourists) | INR 25 per camera
Attractions Of Ajanta and Ellora Caves
Ajanta View Point: Few people know how to get to this magnificent viewpoint, which hovers over the Ajanta Caves at a distance of about 10 kilometers. This visually pleasing viewing position allows one to see the magnificence of Indian rock-cut architecture.
The Ellora Festival: This is a classical music and dance festival held in the Ellora cave milieu. Being held in March, witnessing such a beautiful performance against the backdrop of over 1400 years of ancient caves is a once-in-a-lifetime event. It is organized by the Maharashtra Tourism Development Corporation and provides an opportunity to see some of the best classical dancers, musicians, and artists in the state.
Bibi-ka-Maqbara: Emperor Aurangzeb created a burial ground for his wife Rabia-up-Durrani in Bibi-ka-Maqbara. The Bibi-ka-Maqbara mausoleum was created in the 17th century.
Aurangabad Caves: Located about 2 kilometers near Bibi-ka-Maqbara. These 12 Buddhist caves include some of the most magnificent sculpture carvings in the world.
How To Reach Ajanta and Ellora Caves
By Air: Aurangabad is the nearest domestic airport (30 km from Ellora, 90 km from Ajanta). Mumbai has the nearest international airport (400 km).
By Train: The nearest railway station to Ellora is Aurangabad (30 km), whereas Jalgaon is the closest to Ajanta (57 km).
By Road: Ajanta and Ellora are both well accessible to all major cities, including Mumbai, Pune, Ahmednagar, Jalgaon, Shirdi, Nasik, Dhule, Ahmedabad, Hyderabad, Indore, Bijapur, and Aurangabad.