Sabarmati Riverfront is a waterfront being developed along the banks of the Sabarmati river in Ahmedabad, Gujarat.
Since 2012, the waterfront is gradually opened to the public as and when facilities are constructed and various facilities are actively under construction.
About Sabarmati Riverfront Ahmedabad
Sabarmati has always had a riverfront. But it was only recently that it started getting converted into something more accessible to the public. Rather, it was only recently that it was converted to a place that the public would want to access.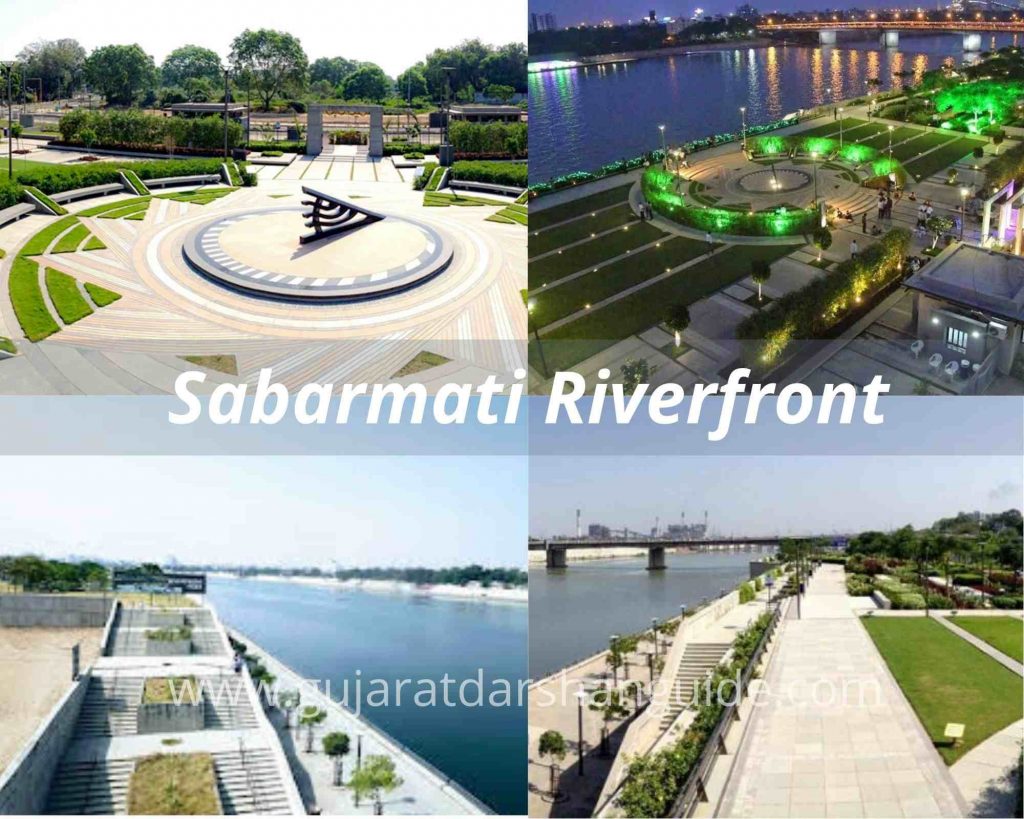 Sabarmati river has been an integral part of the life of Ahmedabad since the time the city was founded in 1411 along the river banks. Besides being an important source of water, it provided a backdrop to cultural and recreational activities. During the dry seasons, the river bed became a place for farming. With time it also offered a place for various informal economic activities, and the river banks were used by informal squatter settlements.
The development of the riverfront is only a recently undertaken project, with only some parts being open to the people. But its limited nature could not stop it from being the go-to place for residents and tourists alike.
Sabarmati riverfront was made an integral part and opened for the public to enjoy a corniche-like walkway.
History of Sabarmati Riverfront Ahmedabad
The Sabarmati Riverfront project was proposed in the 1960s, the construction began in 2005. Since 2012, the waterfront is gradually opened to the public as and when facilities are constructed and various facilities are actively under construction.
Sabarmati Riverfront Timings
| Day | Timing |
| --- | --- |
| Monday | 9:00 am – 9:00 pm |
| Tuesday | 9:00 am – 9:00 pm |
| Wednesday | 9:00 am – 9:00 pm |
| Thursday | 9:00 am – 9:00 pm |
| Friday | 9:00 am – 9:00 pm |
| Saturday | 9:00 am – 9:00 pm |
| Sunday | 9:00 am – 9:00 pm |
Sabarmati Riverfront Entry Fee
No entry fee
Places to Visit Near Sabarmati Riverfront Ahmedabad
River Promenade
Park
Streets
Riverfront Market
Laundry Campus
Biodiversity Park
Sabarmati Riverfront Phone
079 2755 0403
Sabarmati Riverfront Ticket Price
| | |
| --- | --- |
| Boating Timings | 11:00 am to 7:30 pm (summer); 11:00 am to 6:30 pm (winter) |
| Boating Charges | ₹ 20 per person for motorboats; ₹ 100 per person for speed boats and pontoon boats |
| Flower Park Timings | 9:00 am to 10:00 pm; closed on Mondays |
| Flower Park Charges | ₹ 20 for persons above 12 years of age; ₹ 10 for kids aged between 5 and 12 years and senior citizens |
Things To See and Do At Sabarmati Riverfront Ahmedabad
As of today, the Sabarmati Riverfront serves as a major attraction in the city of Ahmedabad to residents and tourists alike. Boating activities are a popular attraction of the riverfront, with 3 boating centers constructed and operational as of today.
You could just take a walk along the pristine paved roads, as you navigate your way through nimble cyclists and joggers who seem to be ever-present in locations like the riverfront.
"Ravivari": The Market offers a permanent site for housing the traditional or authentic flea market known as "Ravivari". It provides a specified vending area that includes 1641 vendor platforms, vehicular access, paved walkways, 4 public washrooms, a seating area, food courts, and parking. To add to this, close to 900 trees have also been planted around, with the aim of providing shade to all.


The Event Centre: The riverfront also boasts of an Event Centre with over 5 hectares of space, offering a wide range of venues for organizing local as well as international events. Efficiently organized infrastructure is what the Event Centre has to offer its patrons.
It has facilities ranging from a stage with back-stage facilities and a VIP Lounge to designated parking zones for event halls and lighting. The center hosts a wide range of business, recreational as well as educational events. This adds to the identity of the riverfront as a valuable asset to the city. It also enhances the growth of the city as a whole.


Dhobighaat: As of 2014, the Sabarmati Riverfront is your one-stop destination if you're a resident of Ahmedabad and need your laundry done. This is owing to a unique facility that the riverfront promenade provides for the citizens of Ahmedabad – the Laundry Campus.
Spanning over a total area of almost 9400 m2, the facility has vehicular access and an inbuilt lighting system. It houses 7 blocks, each with designated wet areas on the ground level with respective drying areas at terrace levels. It has also been equipped with a separate water supply system as well as electricity.
Other Attractions Near Sabarmati Riverfront Ahmedabad
Bhadra Fort
Teen Darwaza
Jama Masjid
Rani no Hajiro
Hutheesing Jain Temple
Calico Textile Museum
Shah-e-Alam's Roza
How to reach Sabarmati Riverfront Ahmedabad
Ahmedabad is well connected with all major cities and towns by road. State and private buses are a great option to travel between smaller towns in the state.
Sabarmati Riverfront is 10 km from the Sardar Vallabhbhai International Airport.
Riverfront Foot Bridge Ticket Price
| | | | | |
| --- | --- | --- | --- | --- |
| Place | Up To 12 Years | 3 To 12 Years | Up To 60 Years | Divyang person |
| Atal Bridge | Rs. 30/Person | Rs. 15/Person | Rs. 15/Person | Free |
| Flower Park And Atal Bridge | Rs. 40/Person | Rs. 20/Person | Rs. 20/Person | Free |
Upcoming Projects At Sabarmati Riverfront Ahmedabad
Sport Complex
Multilevel Car Parking
Peace Garden