Kankaria Lake is one of the top lakes in Ahmedabad, Gujarat, India.
About Kankaria Lake Ahmedabad
Kankaria Lake is located in the southeastern part of the city, in the Maninagar area. It was completed in 1451 during the reign of Sultan Qutb-ud-Din Ahmad Shah II though its origin is placed in the Chaulukya period sometimes. A lakefront is developed around it, which has many public attractions such as a zoo, toy train, kids city, tethered balloon ride, water rides, water park, food stalls, and entertainment facilities. The lakefront was revamped in 2007–2008. Kankaria Carnival is a week-long festival held here in the last week of December. Many cultural, art, and social activities are organized during the carnival
Kankaria Lake History
Kankaria, one of the largest lakes in Ahmedabad, was constructed during the 15th century though many chroniclers believe that it has origins that go back to the Chaulukya Dynasty. As per inscriptions, this manmade lake was commissioned by one of the powerful rulers of the Muzaffarid Dynasty, namely Sultan Muizz-ud-Din Muhammad Shah II. The construction of the lake, however, was completed when his son, Qutb-ud-Din Ahmad Shah II, took over the reign of the Gujarat Sultanate. The inscriptions at the lake also mention that Ahmad Shah II named the lake after him. He called it Hauj-e-Qutb, meaning 'Pond of Qutb'.
History has it that the lake and the Nagina Baugh Island located amidst it served as a leisure spot and a bathing place for kings during the times of the Gujarat Sultanate and the Mughals. In the 17th century, many European travelers, including Johan Albrecht de Mandelslo, had written about the lake. In the latter part of the 19th century, when the city was under the rule of the British, Kankaria Lake was revived by the then-collector of the district. The lake was declared a protected monument in 1928. However, it suffered much neglect over the years.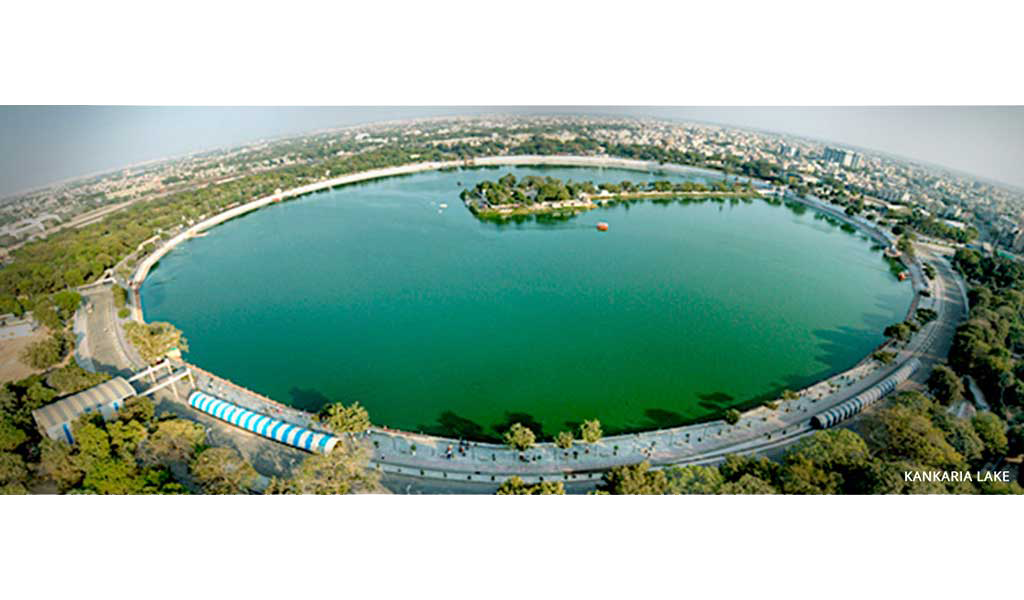 In 2007-2008, the Ahmedabad Municipal Corporation revamped the lake on a big scale at a cost of about 36 crore Indian rupees. The Ahmedabad Municipal Corporation also developed the area around the water body into a lakefront with several attractions, facilities, and recreational activities.
Architecture Of Kankaria Lake:
Kankaria Lake touted as one of the largest lakes in Ahmedabad, is spread across a surface area of around 76 acres. It has a periphery of about 2.25 kilometers and features stone steps and slopes that give you access to the water.
Another key feature of the lake is an island located in its center. This island, which is known as Nagina Wadi aka Nagina Baugh, contains a beautiful garden, a summer palace, and also a bridge that connects it to the lakeshore.
The lake had a water purification system which is lost now. There are well-carved supply sluices on the east side. Their buttresses or jambs of sluices resemble those of the minarets of mosques in Ahmedabad. Between these buttresses, there is a screen six feet thick screen punctured by three large openings for the inflow of water. These openings are six feet in diameter and the margin of it is beautifully carved.
Kankaria Lake Ahmedabad Entry Fee
 Rs. 25 per person for Adults
 RS. 10 per person for Children
 Free entry for Senior citizens and Children below 3 years of age
 RS. 1 per person for an Educational trip
*Free entry for joggers from 4:00 am to 8:00 am
Attractions At Kankaria Lake:
Kankaria Zoo
Kankaria Zoo, officially Kamla Nehru Zoological Garden, was established by Rueben David in 1951 and spread over 21 acres. It was rated the best zoo in Asia in 1974. They have 450 mammals, 2,000 birds, and 140 reptiles in a 31-acre zoo. It houses wild animals like tigers, lions, pythons, anacondas, snakes, elephants, albinoes (white) animals like the rhesus monkey, spotted deer, white blackbuck, chinkara, elephant, emu, jungle babbler, bush-quail, common palm civet. Kankaria Zoo has also bred rare species like pythons, crocodiles, bearcats, and wild asses. Reuben David was awarded the Padma Shri in 1974 for it. It is home to an enormous assortment of creatures including 2000 kinds of winged animals.
Balvatika
It is a children's park named after Jawaharlal Nehru. Balvatika has a boathouse, playroom, butterfly and weapon displays, mirror house, toy house, and planetarium. Presently most part of the park is under renovation.
Amusement park
The Netherlands-based company installed five rides in the amusement park in 2014. It includes the Boomerang Roller Coaster, the Flipping Arm, the Torching Tower, Disk 'O' pendulum, and the merry-go-round. It will also have a kid's play zone for computer games. On 14 July 2019, the pendulum arm of the attraction snapped, causing the seated end of the attraction to slam into the ride's base and fall 20 feet to the ground, killing 2 and injuring 29. It's unknown if a mega taller Frisbee will be built on this site.
Kids City
Kids City is a miniature world designed for kids. It is spread over a 4240 sq. meter area having 18 activity centers including banks, a fire station, a science lab, a radio station, a police station, a courtroom, and prison, a dental as well as a medical hospital, a theatre, BRTS, heritage gallery, town governance, IT center, Newsroom, ice-cream factory, etc. Ahmedabad Municipal Corporation had applied for copyrights and patents on the individual games on the premises, the unique point system, Virmo (Virtual Money), and the design of the different venues in games.
Toy Trains
A train named Atal Express (Named after Atal Bihari Vajpayee on his birthday 25 December 2008) was imported from London, the train circles the lake on a 4.5 km track at a speed of 10 km/h with a capacity of 150 passengers. The train has the capacity to carry 150 passengers, including 36 adults. The train is manufactured by Severn Lamb. During the first 11 months of introducing the train, it attracted nearly a million visitors. After the success of this train, another train was also started named Swarnim Jayanti Express. All trains on the railway, and hence the railway itself, are 2 ft (610 mm) narrow gauge.
Balloon Safari
Ahmedabad Eye is a tethered balloon ride set up near Kankaria Lake after renovation. The tethered balloon complex spread over 3000 square yards, is divided into four sections including a restaurant, tethered balloon, heritage exhibit, and an exhibition displaying the making of the Ahmedabad Eye. SKYZ is a balloon-themed restaurant located at the Ahmedabad Eye complex. It is managed by Ahmedabad Municipal Corporation. Rainforest theme restaurant is also there.
Nagina Wadi
Nagina Wadi is an island in the center of Kankaria Lake. It houses a small summer palace originally built for Mughal royals. Nagina Wadi is accessed by a straight, tree-lined walkway traversing half of the lake. In 2009, Ahmedabad Municipal Corporation and Amrapali Group built a musical fountain with multicolored laser lights which are displayed during the night. Food stalls are also there.
Joyrides
Segways are introduced for people for easy movement around the lake. A mini-golf course; Aqua Kart and other water sports; Vertical Swing, Paint Ball Shooting, Black Flash and rides, Sky Fly, and other joyrides were introduced.
Kankaria Carnival
Kankaria Carnival is an annual week-long cultural festival organized in the last week of December since 2008. The festival includes art, dance, and music performances, social awareness programs, games, and activities for children.
Kankaria Lake Ahmedabad Timings
Timings : Tuesday – Sunday: 4:00 AM – 8:00 AM and 9:00 AM – 10:00 PM
Closed on Monday
Kankaria Lake Ahmedabad Ticket Price
Kankaria Zoo:- ₹ 20 for adults; ₹ 10 for kids;
Bal Vatika:-Tickets (includes museum entry): ₹ 3 for adults; ₹ 2 for kids;
Planetarium Tickets: ₹ 15 for adults; ₹ 10 for kids;
Nagina Wadi:- ₹ 3 per head
Musical Fountain Tickets: ₹ 20 per head
Jet Ski: ₹ 250
Kids City:- ₹ 100 per kids
How to Reach Kankaria Lake Ahmedabad
Take the Punt Maharaj Road to reach the lake, which lies right across Nelson's Primary School. The nearest railway station to Kankaria Lake is Ahmedabad Junction Train Station which is 4 km away.
Kankaria Lake Ahmedabad Contact Number
Contact Number:- +91 79 25472444