Narayan Sarovar Sanctuary, also known as Narayan Sarovar Wildlife Sanctuary or Narayan Sarovar Chinkara Sanctuary, is a unique eco-system that is close to Narayan Sarovar in the Lakhpat taluka of Kutch district in the Indian state of Gujarat.
It was first notified as such in April 1981 and later denotified in 1995 with the reduced area. According to reports, this sanctuary has India's only desert forest. Its portion which is a seasonal wetland is situated in the arid region. It has desert vegetation made up of thorn and scrub woods and 15 vulnerable wildlife species. There are some unusual birds, animals, and flowering plants in its biodiversity.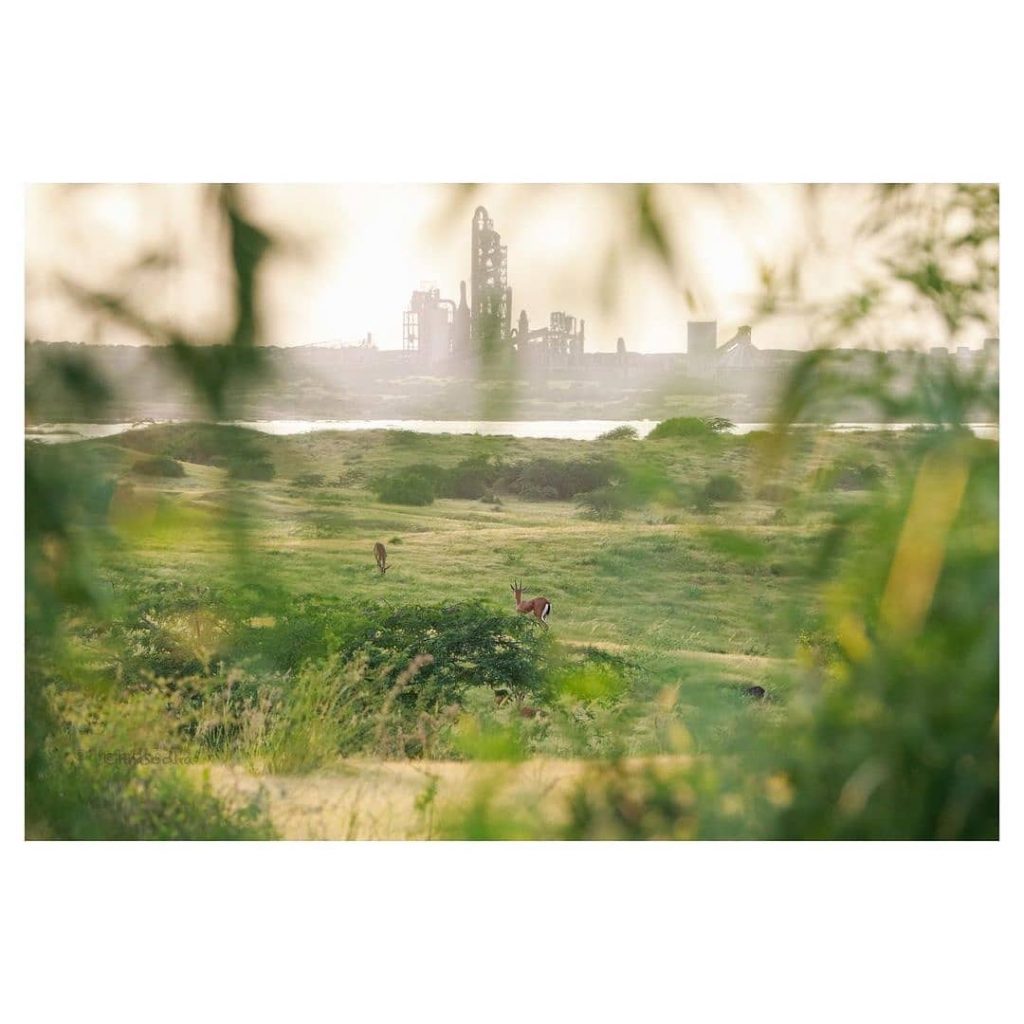 About Narayan Sarovar Sanctuary
It is one of the few cheetah habitats in India, according to the Wildlife Institute of India (WII), and could be used to reintroduce the animal. The sanctuary's flagship species, the chinkara, which has an estimated population of 1200–1500, is the most often spotted mammal in this area.
Narayan Sarovar Sanctuary History
The sanctuary, which covers an area of 765 square kilometers, was first declared in 1981.
The sacred Narayan Sarovar Lake gave the village its name. Along with Mansarovar in Tibet, Pampa in Karnataka, Bindu Sarovar in Gujarat, and Pushkar in Rajasthan, Narayan Sarovar Lake is one of the five holy lakes in Hinduism. Hindu mythology connects the lake to a period of famine in the Puranic region when Lord Vishnu appeared in response to fervent sages' pleas and tapped the ground with his toe to form the lake, which is now considered as holy and used for bathing. Along with Manasarovar in Tibet, Pampa in Karnataka, Bhuvaneshwar in Orissa, and Pushkar in Rajasthan, this is one of the holiest lakes in Hinduism.
Narayan Sarovar
Narayan Sarovar, one of Hinduism's holiest lakes, is dedicated to Lord Narayan, an incarnation of Lord Vishnu. The lake is an agglomeration of five lakes (collectively known as Panch-Sarovar; Mansarovar, Bindu Sarovar, Narayan Sarovar, Pampa Sarovar, and Pushkar Sarovar) located 100 kilometers from Bhuj and is considered a sacred pilgrimage destination for orthodox Hindus.
According to Hindu mythology, the lake was formed when Lord Vishnu's foot touched the land at a specific location and water spurted from there, forming the shape of a pious. Around the lake are numerous temples built by Maharaj Deshalji's queen, including Shri Trikamraiji, Laxminarayan, Govardhannathji, Dwarkanath, Adinarayan, Ranchodraiji, and Laxmiji.
Flora and Fauna At Narayan Sarovar Sanctuary
There are 252 different varieties of flowering plants, including Desi baval, gorad, hermo, ber, pilu, thor, gando baval, gugal, salai, ingorio, kerdo, and carissa, among others.
Important animals include the blue bull, mongoose, hare, wolf, caracal, chinkara, desert fox, hyena, desert cat, ratel, porcupine, and Indian pangolin.
Important Birds: Black partridges, harriers, common cranes, smaller floricans, houbara bustards, etc.
Narayan Sarovar Nearby Temples
The wife of Maharao Desalji built seven stone temples around the lake: Sri Trikamraiji, Lakshminarayan, Govardhannathji, Dwarkanath, Adinarayan, Ranchodraiji, and Laxmiji. As a result, she first constructed the Dwarka-style Lakshminarayan and Trikamray temples in 1734, while Vagheli Mahakunvar constructed the other five temples and the more recent temple of Kalyanray.
These temples, which are referred to as the Narayan Sarovar Temples together, are separated from the lake by flights of stone stairs and are encircled by a defensive wall. The yearly fair, which takes place in November or December, draws enormous crowds to the lake. A 2 km distance from Narayan Sarovar, Sri Koteshwar Mahadev Mandir is another historic site that may be visited.
Narayan Sarovar Sanctuary Entry Fee
Entry Fee:- Rs. 100
Attraction Nearby Narayan Sarovar Sanctuary
Kachchh Great Indian
Bustard Sanctuary
Matano Math Temple 5 Kms.
Koteshwar Temple
Narayan Sarovar Temple
Lakhpat Port
Hajipir, Nakhatrana- 50 km. 100 Km. from Bhuj
Best Time To Visit At Narayan Sarovar Sanctuary
Between October and March is the best time to visit Narayan Sarovar Sanctuary.
Narayan Sarovar Sanctuary Timings
Timings: 07:00 AM to 06.30 PM
How To Reach Narayan Sarovar
Bhuj is easily accessible by air, rail, and road. From all major parts of Gujarat, state and private buses serve the city.
The Narayan Sarovar Sanctuary is located 145 kilometers from Mandvi town and 154 km west of Bhuj.