Shott Ahmedabad is the place for every age who wants to have fun.
In Shott Ahmedabad, many games are available like Go-karting, Bowling, Net Cricket, Rope Course, a children's play area, and much more.
Shott is located at the junction of the SBR road (Sindhu Bhawan Road) with SP Ring road.
Shott Ahmedabad Timings
Timings:- 11:30 AM to 11:30 PM
Shott Ahmedabad Entry Fee
You can go to shott Ahmedabad, first, you can buy a card for the game. card plans are under here.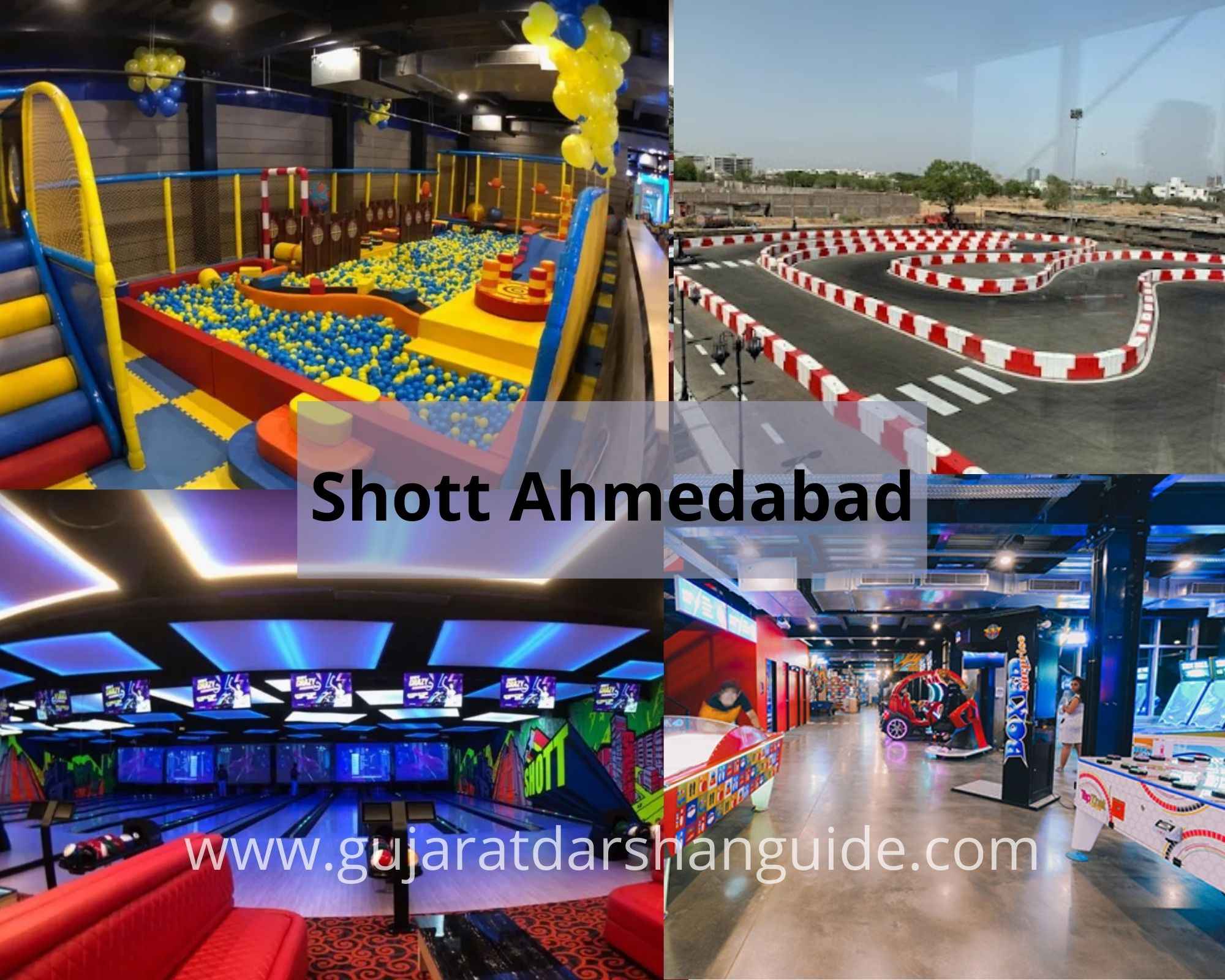 You Can Get Bonus On Recharge More Recharge.
| | | | |
| --- | --- | --- | --- |
| PAY | CREDIT | BONUS | TOTAL |
| ₹ 1200 | ₹ 1000 | ₹ 300 | ₹ 1300 |
| ₹ 2500 | ₹ 2100 | ₹ 600 | ₹ 2700 |
| ₹ 5000 | ₹ 5000 | ₹ 1000 | ₹ 6000 |
| ₹ 6500 | ₹ 5500 | ₹ 2300 | ₹ 7800 |
| ₹ 10000 | ₹ 10000 | ₹ 5000 | ₹ 15000 |
Things To Do at Shott Ahmedabad
Bowling
It's not a game. It's an addiction to strike all the bowling pins at the music-pumped bowling alley in Ahmedabad. Bowling at Shott lets you lose the track of time as you knock down the pins while you get colored in the UV lights. Play single, play dual, or play in a group, bowling will make you feel in the competition all the time. Shott makes the experience of bowling in Ahmedabad an international one. Come on. Feel it, live it.
Game zone – Electronics games
Play Arcade Games at Shott that are worth spending a whole day and beyond. Filled with thrill, action and exciting arcade games are for every age. Basketball, Armageddon, Cric Boxer, Transformer, Candy Crush, Super Bike, Hammer, Fruit Ninja, and great many ecstatic arcade games take a leap of time and the gamer would never want to leave the experience behind but come again and again. Spend the liveliest time of your life with your family and friends at the arcade games zone. Also, win tickets to exchange for amazing gifts at our ticket redemption center.
Adventure Zone – High rope and other planks activities
Go zoom as you glide straight to your opposite slide on India's first and only indoor Zip Line adventure. It is the only Zip Line in Ahmedabad which is set above the biggest gaming arena in Gujarat giving you a spectacular view. The technology of Zip Line comes along with superior safety for the swashbuckler in you. Come along; encounter the venturesome Zip Line of Ahmedabad.
Gokarting – Fast-moving cars
Spice up your life with the racing fury of Go-Karting. It's time to give your friends or employees a tough competition at the professional Go-Karting track in Ahmedabad. Go-Kart racing here makes you a carefree racer on the track where the international circuit and safety barriers are laid for the true racing passion of the racers.
Kids' play area
Kids City is the best-loved place for kids in Shott. It's the only game zone for kids that makes kids giggle their way to gala entertainment of their day out. They can dive into the pool of balls and glide in the exciting zoop slide to land on the ground of their unlimited entertainment. Let them be delighted in a safe and climate-controlled environment of Kids City, the much-adored kids' gaming zone.
Net Cricket
Face the celebrated bowlers like Brett Lee, Malinga, Akhtar, Sachin, and many more at the 360 Degree Cricket Stimulator of Shott. Feel the atmosphere like you're playing in the stadium as the bowlers run towards you and sledge you during the game. You can choose the celebrity bowler you want to face and select your kind of bat to take your shots against the legendary cricketers. Nothing can stop you from scoring sixes at the 360 Degree Cricket Stimulator. Come on, you can do it!
Laser War Game
Take the daring challenge in Laser War Game and be the warrior on a mission. Play as a sole player or play in a team of 6. Escape the laser lights in Laser Tag and reach to access the secret code which takes you to the bomb that needs to be diffused in the limited time before it explodes. Plan with your gang to play the futuristic game of Laser Tag to invade the high-security chemistry lab in enemy territory and save the nation.
Shott Ahmedabad Ticket Price
| | |
| --- | --- |
| Game | Rs |
| Basket Ball | ₹ 62/- |
| Cricket | ₹ 299/- |
| Bowling | ₹ 249/- |
| Pool | ₹ 80/- |
| Go Karting-(5 min & 10 min) | ₹ 289/- & 578/- |
Shott Ahmedabad Address
Address: Shott, Opp Saket-3, next to SANKALP SQUARE, On, Sindhubhavan Marg, Thaltej, Ahmedabad, Gujarat 380059
Contact Number Of Shott Ahmedabad
Shott Ahmedabad Terms & Conditions
Weekend rates will apply on all public and bank holidays. Packages and offers will not be applicable on the same.
House Waiting rules apply.
Management reserves the right to change the rate or the package without any notice.
Management will not be liable for any fatal injury, damage or otherwise suffered by any person at the venue.
Outside Food or Beverage Not Allowed. Alcohol will not be served to patrons.
Prizes of Vending and Redemption Games will not be applicable on Package deals.
Balance in Card will not be refunded or the amount once paid will not be refunded.
Prior Physical Registration is required for Flagship games along with Shott Gaming Card.
How To Reach Shott Ahmedabad
Ahmedabad is nicely linked with all major cities and towns by using the road.