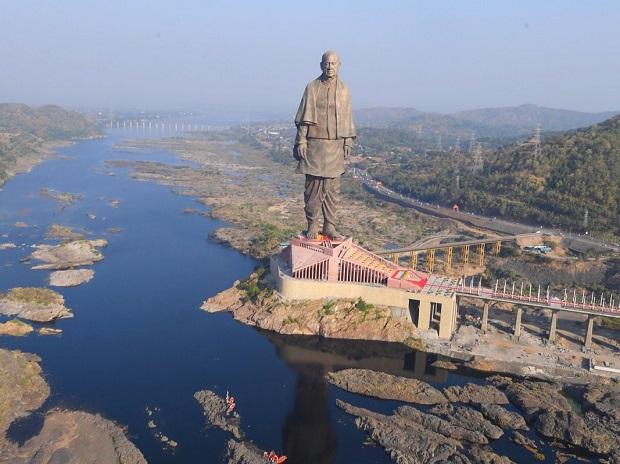 About Statue Of Unity
The Statue of Unity is a colossal statue of Indian statesman and independence activist Vallabhbhai Patel (1875–1950), who was the first Deputy Prime Minister and Home Minister of independent India and an adherent of Mahatma Gandhi during the non-violent Indian Independence movement.
Patel was highly respected for his leadership in uniting 562 princely states of India with a major part of the former British Raj to form the single Union of India. The statue is located in the state of Gujarat, India. It is the world's tallest statue with a height of 182 meters (597 feet).
It is located on the Narmada River in the Kevadiya colony, facing the Sardar Sarovar Dam 100 kilometers southeast of the city of Vadodara and 150 kilometers from Surat. Kevadia railway station is located at a distance of just 5 kilometers from the Statue of Unity.
The Gujarat government reportedly relocated some 185 families to make way for the statue, compensating them with 1,200 acres of new land.
There are approximately 12,000 bronze panels covering the structure, weighing around 1,700 tons.
Heights Of Statue Of Unity
Sardar Vallabhbhai Patel Statue is the world's tallest statue with a height of 182 meters (597 feet).
Statue of Unity Timings:
Statue of Unity, Valley of Flower, Museum, Laser Light Show Timings
The Timing of the Statue of Unity is:- 8:00 AM to 6:00 PM.
Note: Statue of Unity remains closed on Monday for Maintenance work.
The Timing of the Laser Light and Sound Show:- From 7:30 PM daily except Monday.
The Timing of the Statue of Unity Museum is from- 8:00 AM to 6:00 PM except for Monday.
Valley of Flower Timing is:- 8:00 AM to 6:00 PM except for Monday.
The Timing for getting the Ticket from the Ticket Counter of Statue of Unity is 8:00 AM to 5: 00 PM.
Statue Of Unity Ticket Prices
Statue of Unity Deck View Entry Fees.
Rs. 230 for Children ( 3 to 15 years)  and  Rs. 380 Adult.
Valley of Flowers Entry Fees.
Rs. 60 for Children (3 to 15 years) and Rs. 120 Adult.
Express Ticket of Statue of Unity
Rs. 1,030/Adult, Rs. 1,030/Child
3 to 15 years considered a Child
Note:- Same as Viewing gallery ticket. The only difference is you do not need to stand in a queue to reach on Viewing gallery. The rest is all the same.
Other Attractions At Statue Of Unity
Sardar Sarovar Dam
Sardar Sarovar Dam is one of the world's largest concrete gravity dams which is 1.3 kilometers long and 163 meters Hight from its deepest foundation level. It has 30 radial gates weighing about 450 tones each.
River Rafting
River rafting is undoubtedly one of the most enthralling and physically demanding adventure sports in the world. Narmada, the largest west-flowing river in the country, and the lifeline of millions have now ushered in a thrilling experience for adventure enthusiasts who can now enjoy river rafting in 4.5 kilometers. stretch with whirlpools, rapids, and many turns which provide an exciting and unforgettable rafting experience for the first time in Gujarat.
Honorable Chief Minister of Gujarat, Shri Vijay Rupani, launched the state's first-ever river rafting on August 17, 2019, at Khalwani situated in Kevadia near the Statue of Unity and Sardar Sarovar Dam on river Narmada.
Jungle Safari
Jungle Safari at Statue of Unity is one of the tops and best destinations for family and friends in the field of park, Water Parks, and resort category in Alirajpur. It is Also known as parks, Water Parks, Resorts, Amusement Parks, Water Parks, Picnic Spots, Adventure Parks, and much more.
Ninai Waterfall 
Ninai is a waterfall in Dediapada taluka of Narmada district in the state of Gujarat. It is located near the Shoolpaneshwar wildlife sanctuary in the lush forest ranges of Dediapada.
Statue of Unity Contact Number
For any inquiries or details, you can contact the toll-free number – 18002336600
Accommodation Near Statue Of Unity
How To Reach the Statue Of Unity
The Sardar Vallabhbhai Patel Statue has located 90 km from Vadodara, 150 km from Surat, and 200 km from Ahmedabad.