Dada Harir Vav is a classic example of the Indian Islamic architecture of the 15th century.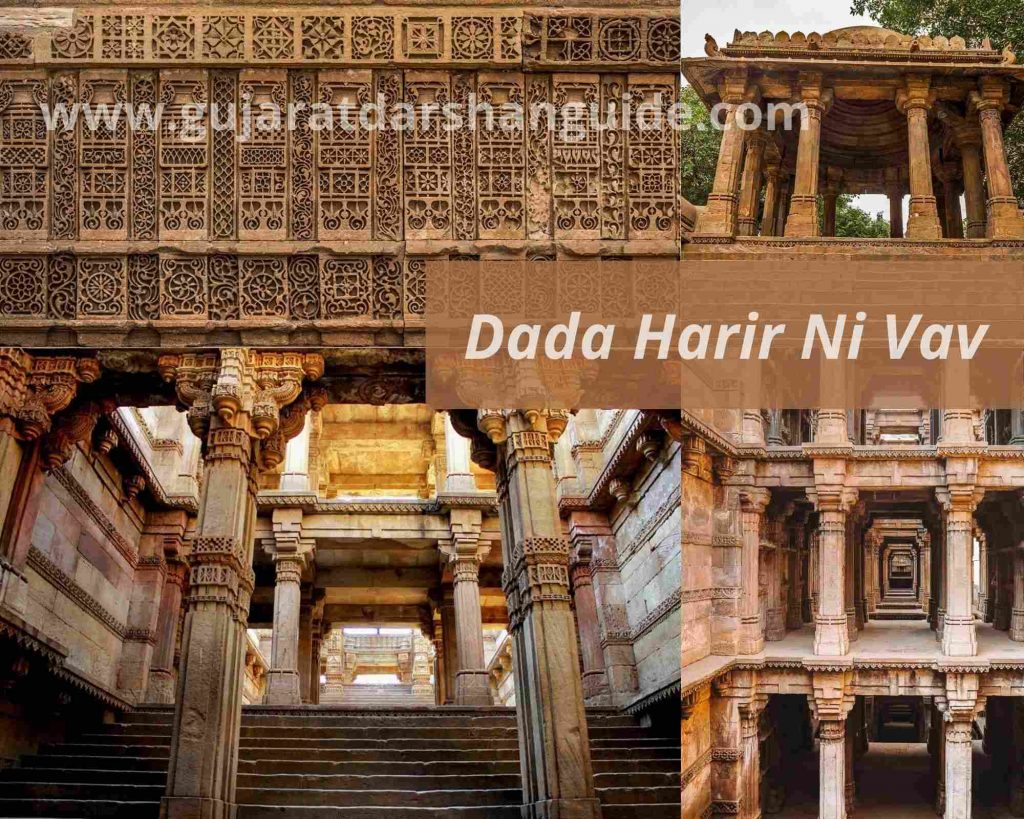 Vav means a step well and Gujarat is known for its iconic stepwell, rights from the ones in Baroda to those in Patan. There are almost 120 step wells in the state. These step wells were used to store water with the steps around it to make it easily accessible. The reason behind building these step wells was the climate of Gujarat. The climate here has always been semi-arid and the unpredictable and sometimes scanty rainfall.
Dada Harir ni Vav History
Ahmedabad has two such vavs and one of them is the Dada Hari ni Vav. It is a five-hundred-year-old vav, built during the reign of Sultan Mahmud Begada. There is a slight confusion as to the exact year of construction of this vav. A Persian inscription on the wall of this stepwell states that it was built in the year 1485 while a Sanskrit inscription on another wall states the year of its construction as 1499 A.D.
This vav was built by Bai Harir Sultani, who was the superintendent of the Royal Harem and the household lady of Mahmud Begada. Her tomb in the Sultani Mosque is right behind Dada Hari ni Vav. At that time, the cost of construction of this vav had come out to be almost 3,29,000 Mahmudis (money used during those days). This amount is more than one lakh rupees in today's times.
Entry Fee Of Dada Harir Ni Vav
No Entry Fee
Dada Harir Ni Vav Timings
The stepwell remains open on seven days a week from 9 am to 5 pm.
Nearby Places Of Dada Harir ni Vav
1. Mata Bhavani ni Vav: This is the second stepwell of Ahmedabad and is at a walking distance from Dada Hari ni Vav. Unlike Dada Hari ni Vav, the architectural style of this stepwell reflects the influence of Hindu culture. The lower gallery of this vav has a shrine of Mata Bhavani.
This vav is nothing less in beauty as compared to Dada Hari ni Vav. People generally visit both these stepwell together as they are quite close to each other. This vav was built during the reign of the Solanki dynasty in the 11th century.
People visiting both these stepwell notice another stark difference between the two. Where Dada Hari ni Vav might seem a little dark and dingy, almost lost in the pages of time, Mata Bhavani n Vav gives a vibrant, colorful, lively vibe.
Sculptures and figurines here are depicting important scenes from religious Hindu scriptures. One such scene is where Lord Krishna is being carried in a storm in the arms of his father. Restoration work was undertaken on this vav and that is why it is in much better shape than Dada Hari ni Vav.
2. Sultani Mosque: Sultani mosque is said to have been built around the same time as Dada Hari ni Vav, which is 1500 AD. This mosque is home to the tomb of Bai Harir who built Dada Hari ni Vav and is located right behind the stepwell. Bai Harir's son built the mosque as a remembrance of his mother.
There are five tombs in this mosque and the architectural work here reflects the attention to detail given by artisans of that era. The intricate jali work on the windows of this mosque is not only beautiful to look at but also brings in sunlight inside the mosque.
3. Akshardham Temple: Also known as the Swaminarayan temple, Akshardham temple pays homage to Lord Narayan Dev. It was built in the year 1822 under the orders of Swaminarayan, the founder of the Swaminarayan sect of Hinduism. The temple also depicts the personal aspects of Swaminarayan's life and the morning and evening aartis here are attended by a large number of devotees.
Best time to visit Dada Harir ni Vav
A good time to visit Ahmedabad would be during the month of November to February as during winters.
Dada Harir Ni Vav Contact Number
How to Reach Dada Harir ni Vav
Gujarat has one of the better-developed road networks in India.
Ahmedabad is well connected with all major cities and towns by road. State and private buses are a great option to travel between smaller towns in the state.