Prag Mahal is one of India's masterpieces of architecture. It is located next to the famous Aina Mahal in the city's heart, making it simple to reach.
About Prag Mahal Bhuj
The second-tallest clock tower in the nation provides a great perspective from its summit.  A portion of the palace has been turned into a museum, displaying the royal king's family photos, archives, and antiques. The stately palace is surrounded by Corinthian pillars and has windows in the Gothic style.
Bhuj Prag Mahal History
Prag Mahal was named after the famous King Rao Pragmalji II. The building started in 1865 and was completed in 1879. Colonel Henry Saint Wilkins designed the magnificent Mahal in the Italian Gothic style and was established by Rao Pragmalji II. Many other Italian skilled workers contributed to the Mahal's construction. Along with Colonel Wilkins, the local Kutchi builder community contributed to the creation of the Prag Mahal. The laborers who helped build the royal fort were compensated with gold coins.
The palace cost a stunning INR 3.1 million in total. Pragmalji II had a dream of building the fortress, but he passed away before it was finished.
The earthquake of 2001 caused significant damage to Prag Mahal as well. The Aina Mahal and the Prag Mahal both suffered damage as a result. These buildings still have marks of it in the form of cracks.
In 2006, the palace was stolen by thieves stealing and damaging antiques worth millions of rupees. However, after already being repaired, the palace and the tower are now accessible to the general public.
Architecture Of Prag Mahal
The palace's Gothic-style architecture is built from Rajasthani sandstone and Italian marble. The Durbar hall has chandeliers and antique statuary while the main hall is filled with rotting taxidermy. The lovely royal palace is surrounded by Corinthian pillars. The windows and walls are also decorated with the well-known Jali art, which features images of European plants and animals.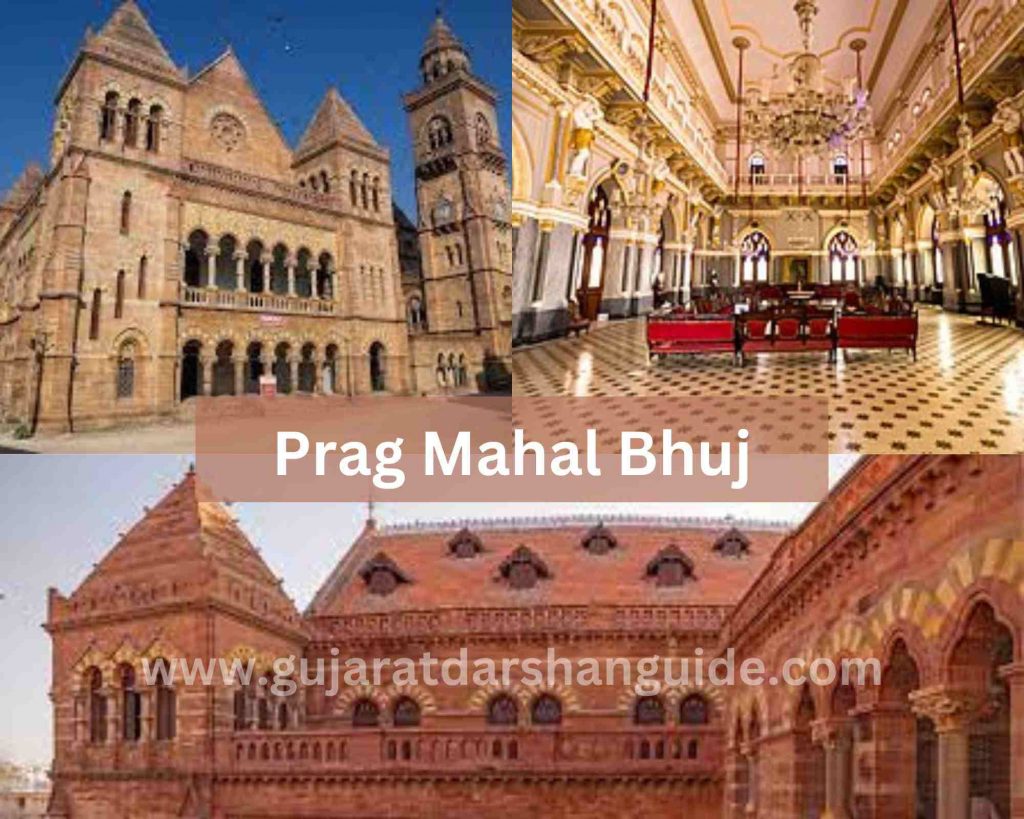 There, a 45-foot-tall tower with a clock is standing upright, offering visitors a panoramic view of the entire city of Bhuj. In the courtyard behind the main building of Prag Mahal, there is a little temple with exquisite stone carvings. The extravagant palace's astounding feature is the bell tower.
Prag Mahal Bhuj Entry Fee
Entry Fee: INR 20,
Photography: INR 30,
Videography: INR 100
Best Time To Visit Prag Mahal Bhuj
The best time to visit Prag Mahal is during the winter months from October to March.
Bhuj Prag Mahal Ticket Price
Ticket Price:- Rs. 20 For Adults, Rs. 10 For Child
Prag Mahal Bhuj Timings
Timings: 09 AM to 12 PM & 03:00 PM to 06:00 PM, Closed on Public Holidays
How To Reach Prag Mahal Bhuj
By Road
Prag Mahal is 3 km from Bhuj.
By Rail
Prag Mahal is 2.5 km from Bhuj Railway Station.
By Air
Bhuj is the nearest airport to Prag mahal.