Statue of Belief, also known as Vishwas Swaroopam, is the tallest Shiva statue of the Hindu god Shiva, built in Nathdwara, Rajasthan. It was the world's fourth tallest statue. The Statue of Belief is currently the tallest Lord Shiva statue in the world.
On October 29, 2022, the tallest Shiva statue in the world will be dedicated. Vishwas Swaroopam, a 369-foot-tall majestic figure, can be seen from 20 kilometers away. The 369-foot-tall Lord Shiva monument in Nathdwara town, Rajsamand district, is to be dedicated by Morari Bapu, a spiritual mentor, and religious preacher from Gujarat. Other dignitaries including Chief Minister Ashok Gehlot and Assembly Speaker CP Joshi will also be there. Spiritual guru Morari Bapu performed Ram Katha for nine days after the statue's dedication. Cultural and spiritual festivities continued till November 6.
About Statue of Belief
This statue also has elevators, stairs, halls, and other features. 3000 tonnes of steel and iron, as well as 2.5 lakh cubic tonnes of concrete and sand, were utilized in the building.
The statue's construction required ten years. It ranks among the top five tallest statues in the world. The statue can resist winds up to 250 kph. It took ten years to construct the statue of Ganesh Tekri of Nathdwara, which is spread across 51 bighas on a hill. Lord Shiva is shown in this statue in a meditative position. The statue is so tall that it can be seen from a great distance away. Additionally, special lighting has been set up to ensure that this monument may be seen well even at night.
Statue of Belief History
It's also fascinating to see how this 369-foot Shiva statue got to hold the record for the highest Shiva statue in the world. It was intended to preserve the statue's height at 251 feet when the construction plan for it was created on August 18, 2012. But later, while it was being built, its height was 351 feet. After that, it was intended to put the Ganga's water stream in Shiva's hair, raising the height to 369 feet. In Nathdwara, Rajasthan, a crew of 750 workers work tirelessly on the Statue of Belief.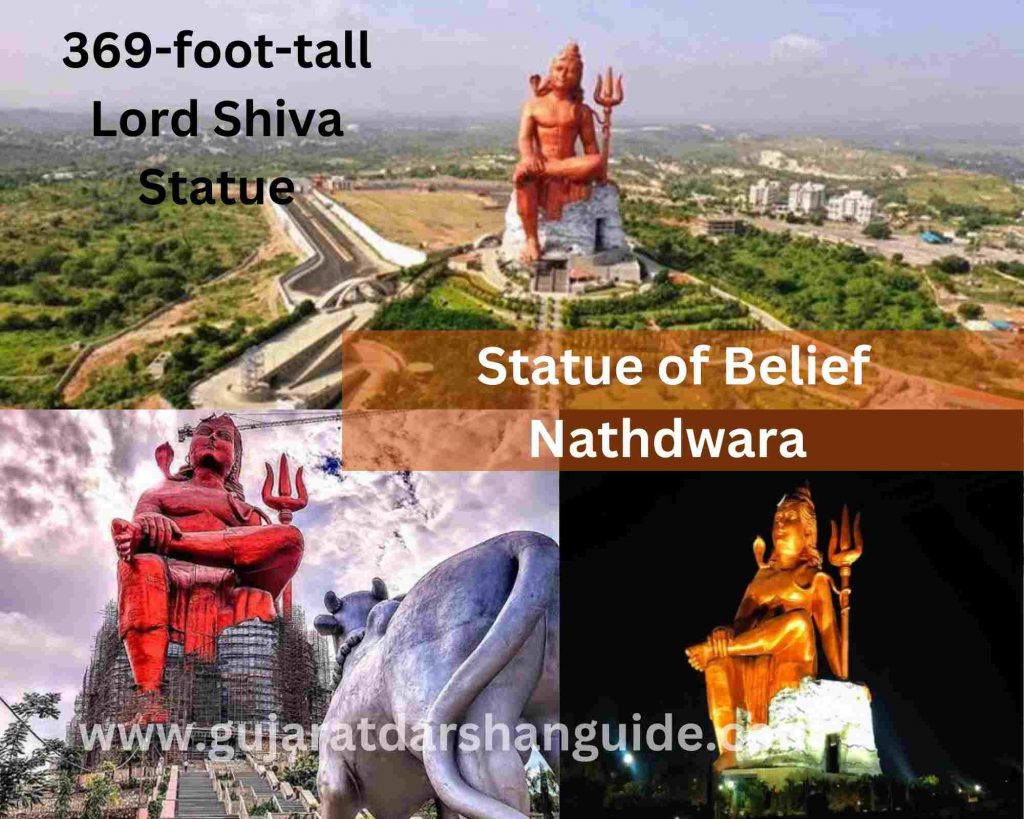 The statue won't be impacted by 250 km/h winds either. Chairman of the Miraj Group in Udaipur, Mr. Madan Paliwal, is the creator of the "Statue of Belief." The 351-foot-tall statue was designed by Studio Maturam Art, who also devised the concept. Skeleton Consultants provided the structural design, and work on the project got underway in early 2016.
Attractions At the Statue of Belief Rajasthan
Welcome Gate
Tallest Nandi Ji
Charan Vandna
Viewing Gallery 280 FT.
Glass Bridge at 280 Ft.
Top View 270 Ft.
Jal Abhishaikh
Musical Fountain
Harihar Setu
Amphitheater
Statue of Belief Entry Fees
The Statue of Belief Entry Fee has not been revealed yet.
Shiva Statue Nathdwara Height
Shiva Statue Nathdwara's height is 369 feet.
Statue of Belief Nathdwara Timings
Timings:-
05:00 am – 12:30 pm
03:00 pm – 08:30 pm
How To Reach Statue Belief Rajashthan
By Road
The Statue of Belief is approximately 45 kilometers away from Udaipur.
By Rail
Udaipur is the nearest Railway Station.
By Air
The nearest airport is Udaipur.
Statue of Belief Contact Number
Contact Number:- 1800-120-0351