Aina Mahal, also known as Mirror Palace, is located near the Prag Mahal Palace in Bhuj, Gujarat. The Aina Mahal is popular for housing an incredible Hall of Mirrors, which gives the palace its name.
About Aina Mahal Bhuj
In addition, the Aina mahal houses a large collection of weapons, glass paintings, canvas paintings, photographs, royal furniture and possessions, classic embroidery work, and the great ivory throne in Durbar Hall.
One of the most marvelous collections here is a 15-meter-long scroll painting depicting Maharao Shri Pagmalji Bahadur's royal procession. There is also a pendulum clock with gold and diamonds and antique work that is synced with the Hindu calendar and was built by Ram Singh himself.
Aina Mahal Bhuj History
Rao Lakhpatji, popularly known as Lakhaji, was the ruler of the Jadeja Rajput dynasty who ruled over the princely state of Kutch as a regent from 1741 to 1752 and then as the monarch until his death in 1760. He was obsessed with artistic beauty, and it was his dream to construct a palace unlike any other.
This is where Ram Singh Malam, the architect of Aina Mahal, comes in. He was a master craftsman who specialized in tiling, enameling, glasswork, clock making, and other delicate creative architecture and engineering. Ram Singh had mastered expertise in all of these from the Netherlands, putting him ahead of any indigenous artists.
Inevitably, he was assigned the task of constructing the royal palace, and thus Aina Mahal was born. Unlike other builders, he created everything from the ground up. Ram Singh adorned the palace with everything he had learned. Everything from the Venetian-style chandeliers and tinted glasses to the authentic forged cannons was made in his factories and iron foundries in Mandvi, Bhuj, and a few other places.
Architecture Of Aina Mahal
Aina Mahal is one of India's finest examples of Indo-Saracenic architecture. Ram Singh Malam meticulously constructed the two-story structure. It consists of a Darbar Hall or court, royal family residences, and a Hall of Mirrors.
The palace compound is highlighted by majestic archways, exquisitely designed balconies dotted with pillars, grand chandeliers hanging from the high ceiling, art pieces such as Hogarth's "The Rake's Progress" and a portrait of "Catherine the Great cheek" by Jowl, ornate fountains, and elaborate windows with stained glasses – all designed and made under Malam's direct supervision.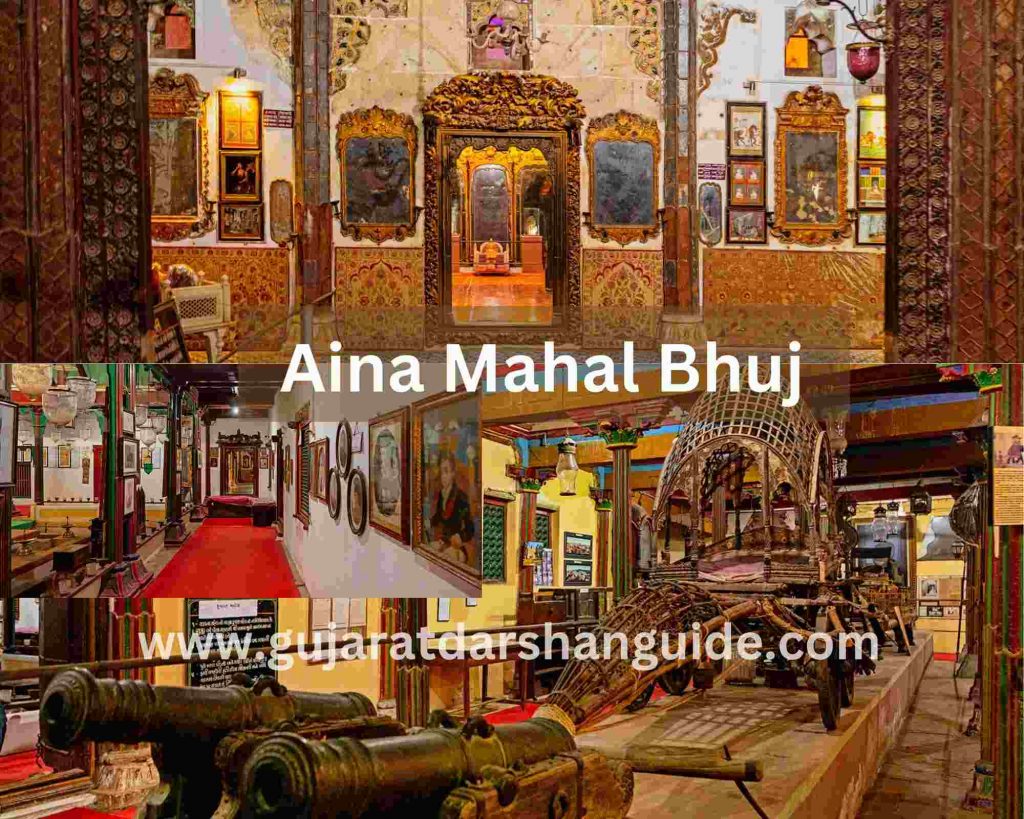 The palace's walls and pillars are adorned with numerous mirrors and glassworks of various sizes and designs, living up to its name.
Aina Mahal Bhuj Entry Fee
Aaina Mahal: INR 10,
Photography: INR 30
Best Time To Visit At Aina Mahal Bhuj
October to March is the best time to visit the Aina mahal Bhuj.
Bhuj Aina Mahal Timings
Timings: 09:00 AM – 12:00 PM, 03:00 PM – 06:00 PM
Attractions of Aaina Mahal Bhuj
Hall of Mirrors
The Hall of Mirrors is a one-of-a-kind room in the palace that you won't find anywhere else. It's a large room with stark white marble walls covered in mirrors of various shapes and sizes, as well as other gilded ornaments. With so many glasses shimmering and trying to reflect off each other, the whole place appears hypnotic once you step inside. This hall's floor is tiled in a European style but made locally.
Museum
The museum contains a large collection of weapons, glass portraits, canvas drawings, pictures, royal furniture and possessions, vintage embroidery work, and other items. Among the most exquisite collections is a 15-meter-long scroll depicting Maharao Shri Pagmalji Bahadur's royal procession. There is also a pendulum clock with precious gold and ivory work that is synced with the Hindu calendar and was built by Ram Singh himself.
Darbar Hall
The magnificent courtroom features an ivory royal throne on an elevated platform at the end, as well as a small moat around it. Because Bhuj is in a dry and arid region, the chamber used to be filled with water to keep the area cool. The courtroom features exquisite Chinese tiling, Venetian-style chandeliers, and glasswork throughout.
Places To Visit in Bhuj
Bharatiya Sanskruti Darshan Museum
Kutch Museum
Museum Quality Textiles
How To Reach Aina Mahal Bhuj
By Road
Bhuj is the nearest city to the Aaina Mahal.
By Rail
Aina Mahal is 3 km from Bhuj Railway Station.
By Air
Bhuj airport is the nearest 4 km away from Aaina mahal.
Aina Mahal Bhuj Contact Number
Contact Number:- 094275 69941