Champaner-Pavagadh Archaeological Park, located in the historical city of Champaner, is a UNESCO World Heritage Site. It is centered on Champaner. A significant ruler of the Chavda Dynasty, Vanraj Chavda in the 8th century founded the historical city. The Kalika Mata Temple on Pavagadh Hill is an important shrine that attracts a large number of pilgrims during the entire year.
About Pavagadh Archaeological Park
It is one of the famous places of heritage in Gujarat. Champaner – Pavagadh Archeological Park is a 1,329-hectare area that surrounds Champaner, a historic city. Champaner-Pavagadh is home to eleven different types of monuments, which are spread out over the fields of Champaner and the peaks of Pavagadh.
The heart of the development inside the park includes Jami Masjid, Sahar ki Masjid, Kalika Mata Temple, Tomb of Sikander Shah, Ek Minar ki Masjid, Kevada Masjid, Helical step well, Mandvi or Custom House, Nagina Masjid, Pavagadh Hill, and Citadel Walls. The Archaeological Survey of India is currently in charge of all these historical sites.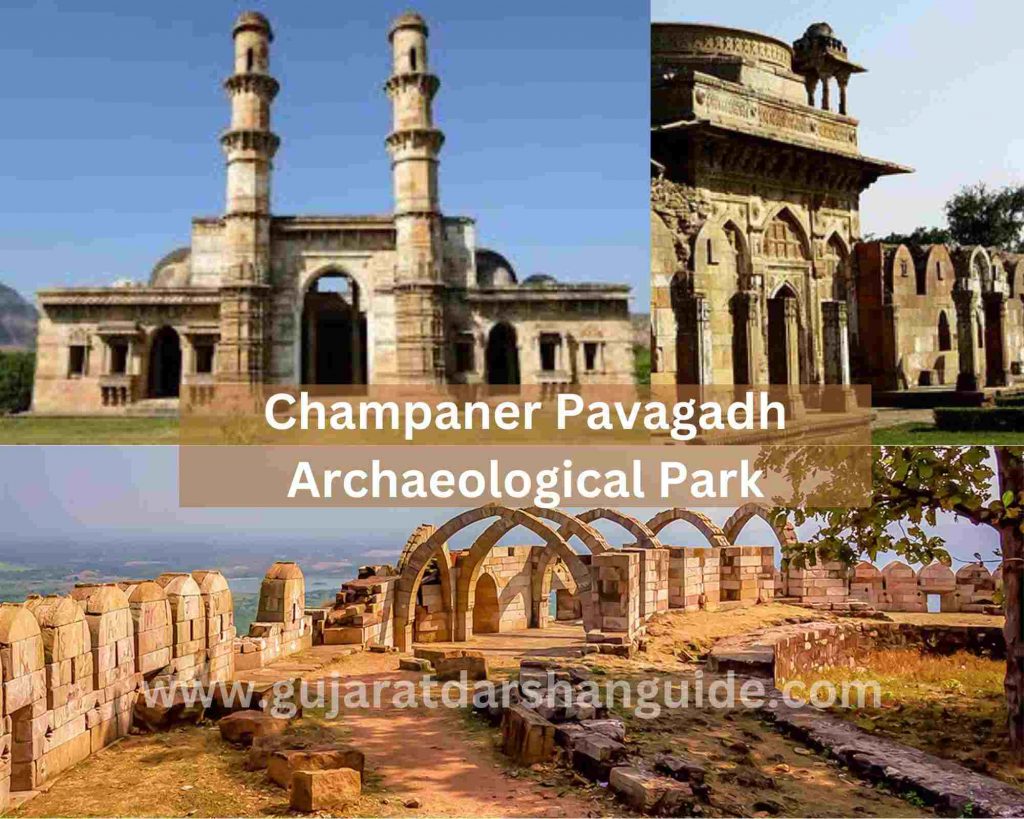 From the 8th to the 14th centuries, the site also contains other vestiges, fortifications, palaces, Jain and Hindu temples, mosques, residential precincts, agricultural structures, and water installations such as step wells and tanks.
Champaner Pavagadh Archaeological Park History
Champaner Pavgadh's history is also lengthy and complex. The township consists of the historical city of Champaner and Pavgadh Hill. Vanraj Chavda, the most prominent ruler of the Chavda Dynasty in the eighth century, founded Champaner. He named the town Champa after his Rajput general.
The city was ruled by Ram Gaur Tuar in the 11th century and remained so until 1297 when Alauddin Khalji conquered the kingdom and made it the Sultanate's stronghold. During this time, the Chauhan Rajputs established themselves in Champaner, while the Solanki kings and Khichi Chauhans established themselves in Pavagadh Hill.
The Khichi Chauhan Rajputs conquered the entire area in the 13th century, building their first settlement on the top of Pavagadh Hill and fortifying it with walls along the plateau below the hill. In 1484, the Gujarat Turkish ruler conquered the hill fortress. Champaner Pavgadh became the province's capital during Sultan Mehmud Begda's reign, ushering in a historical period for these twin towns.
Places To Visit Nearby Champaner-Pavagadh Archaeological Park
1. Pavagadh Fort
2. Jami Masjid
3. Kalika Mata Temple
4. Lakulisa Temple
Champaner – Pavagadh Archaeological Park Timings
Timings: 08:00 AM – 05:00 PM
Best Time To Visit At Champaner Pavagadh Archaeological Park
Winter (November – February) is the best time to visit Champaner because temperatures are low and the weather is relaxing.
Pavagadh Archaeological Park Online Ticket Booking
Click Here For Online Ticket Booking
Champaner – Pavagadh Archaeological Park Entry Fee
Entry Fee: Rs. 30 for Indians & Rs. 500 for Foreigners.
How To Reach Pavagadh Archaeological Park
By Road
Vadodara Railway Station (50 km) is the nearest railway Station.
By Air
The nearest airport is Vadodara Airport.
By Road
The Nearest City is Vadodara.
Champaner – Pavagadh Archaeological Park Ticket Price
Ticket Price:- Rs. 35
FAQ On Pavagadh Archaeological Park
Why is Champaner-Pavagadh Archaeological Park famous?
The Champaner-Pavagadh Archaeological Park is famous for, its historic buildings, temples, and unique water-retention systems, as well as its military, agricultural, and religious constructions.
Who built Champaner-Pavagadh Archaeological Park?
The Champaner park is built by Gujarat's Solanki kings and was fortified further by the Khichi Chauhans. Sultan Mahmud Begadah took control of the fort in 1484 and changed its name it Muhammadabad Champaner.
Why did UNESCO select Champaner as a World Heritage Site?
This town is rich in archaeological, historical, and heritage properties. So, The town was designated a UNESCO World Heritage site in order to preserve its cultural heritage.
When was Champaner built?
Vanraj Chavda built Champaner, at the foot of the Pavagadh hills, in 746 CE.
Is Champaner open?
Timings: 08.30 AM-05.00 PM on all days of the week.
Champaner-Pavagadh Archaeological Park Address
Address:- Champaner-Pavagadh Archaeological Park, Champaner, Gujarat 389360.