Makarpura Palace was a Gaekwad royal palace in the city of Vadodara, built-in 1870 by Maharaja Khende Rao in the Italian style. Maharaja Sayajirao Gaekwad III expanded and renovated it. At that time The Royal Family used it as a summer residence and hunting resort. The palace is now a training facility for the Indian Air Force. Because of security concerns, it is presently used as No. 17 Tetra School, a training facility for the Indian Air Force. Civilians are not permitted for security reasons.
Makarpura Palace Vadodara History
Maharaja Khende Rao constructed it in 1870. Malhar Rao Gaekwad, brother of Khanderao II Gaekwad and ruler of Baroda from 1970 to 1975, is said to have destroyed a portion of this palace. Maharaja Sayajirao Gaekwad III expanded and renovated it. For many years, the Indian Air Force used the palace as a training facility.
Vadodara Makarpura Palace Architecture
The palace is a three-story structure divided into two sections. Khanderao II Gaekwad built one section, while Maharaja Sayajirao Gaekwad III built the other. Both parts have the same appearance and are inspired by Italian Renaissance architecture. Both of these sections are linked by corridors on the ground and first floors. There is also a single-story porte-cochere with multifoil fountains in the Italian style.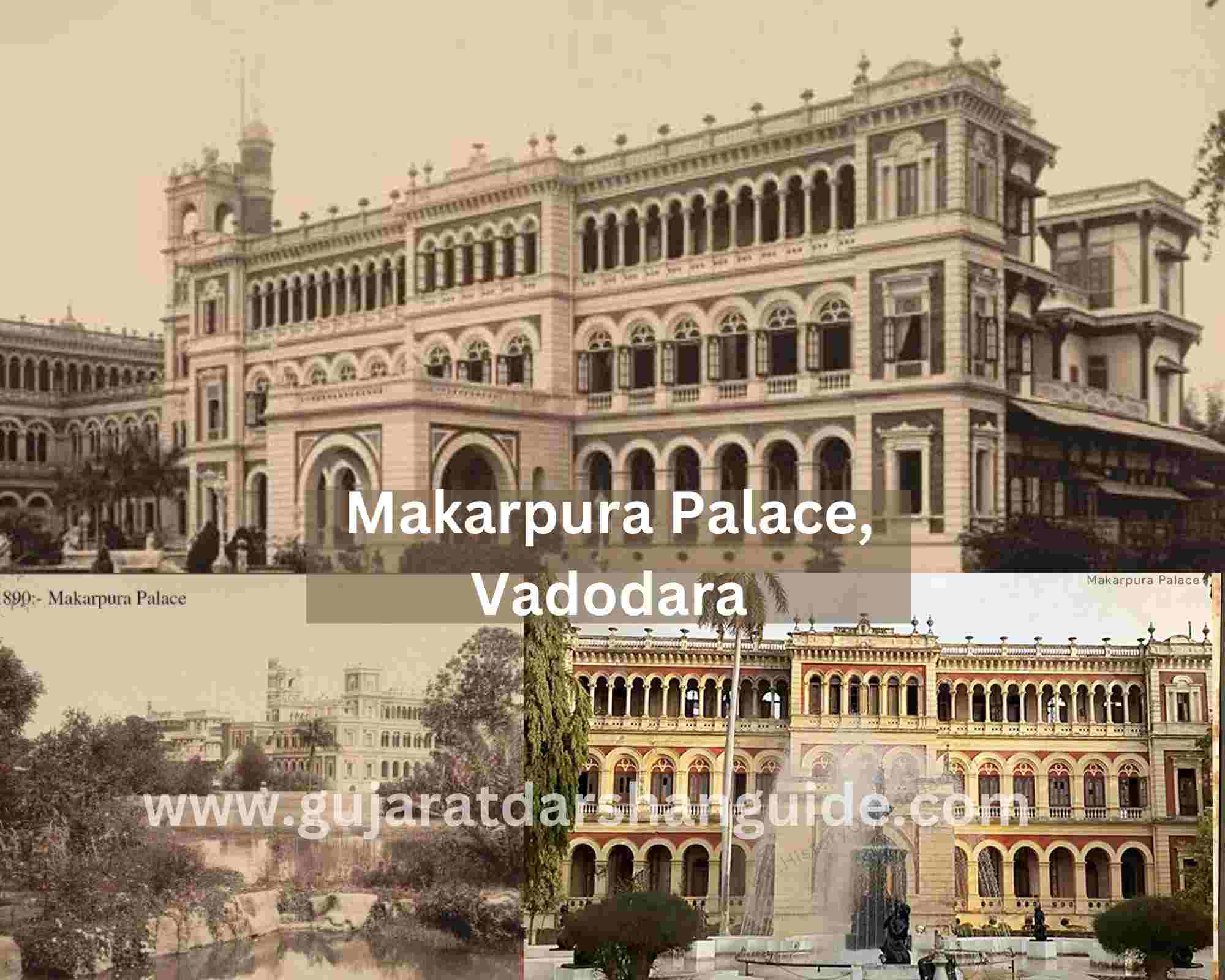 It has over a hundred ornate brick rooms, frame-arch balconies, and wooden staircases. The size of the arch decreases as it rises.
The palace's backside is made up of a series of terraces connected by staircases and shaded by chhajjas.
The palace has a Japanese-style garden that spans 130 acres. The royal botanical gardens' architect, William Goldring, designed it. The garden, known as Kew, included a swimming pool and a lake with swans. When the king visited the palace, ivory fountains were activated to greet him.
The palace's interior, which once had painted ceilings, grand wooden staircases, stucco panels, chandeliers, wooden furniture, and so on, is now in disrepair.
Makarpura Palace Timings
Timings: 09:30 am to 06:00 pm
Makarpura Palace Vadodara Entry Fee
Entry Fee: ₹ 125 per person
How To Reach Makarpura Palace Vadodara
Vadodara is well connected to other cities by rail, air, and road.