Jalaram Bapa Mandir is situated in Virpur near Rajkot. The birthplace of Sri Jalaram Bapa, a revered saint, has made this location famous.
About Jalaram Bapa Temple Virpur
The temple was actually Jalaram Bapa's home, where he lived till the moment of his death. The portrait of Jalaram Bapa and the actual photograph of Bapa, which was shot a year had passed after his passing, are the center of attention at the shrine. The statue of Bapa is standing with a stick in the left hand and is dressed in a dhoti-kurta and a white hat. The shrine houses Jalaram's possessions as well as the idols he adored, including Rama, Sita, Lakshamana, and Hanuman.
Jalaram Bapa Mandir Virpur Timings
Jalaram Bapa Mandir Darshan Timings
Darshan Timings:- 07:00 AM to 12:30 PM & 03:30 PM to 08:00 PM
Mandir Closed: 12:30 PM to 03:30 PM
Jalaram Bapa Mandir Aarti Timings
Aarti Timings:-07:00 AM, 09:00 AM & 07:30 PM​
Jalaram Bapa Mandir Prasad Timings
Prasad Timings:- 12 P.M. and around 8 P.M.
Jalaram Bapa History
Saint Shree Jalaram Bapa was born on the seventh day of Shukla paksha of Kartik month in Vikram Samavat 1799 (1856 AC) in Virpur, Gujarat. This day is celebrated as Jalaram Jayanti by Bapa followers. Jalaram Bapa is the son of Ma Rajbai and Pradhan Thakkar. Ma Rajbai was a kind woman who served saints and pilgrims, while Pradhan Thakkar was a businessman. Bapa inherited Ma Rajbai's gentle nature and the habit of putting others first. Bapa was a devoted follower of Lord Shree Ram since his childhood and had no desire to be a householder.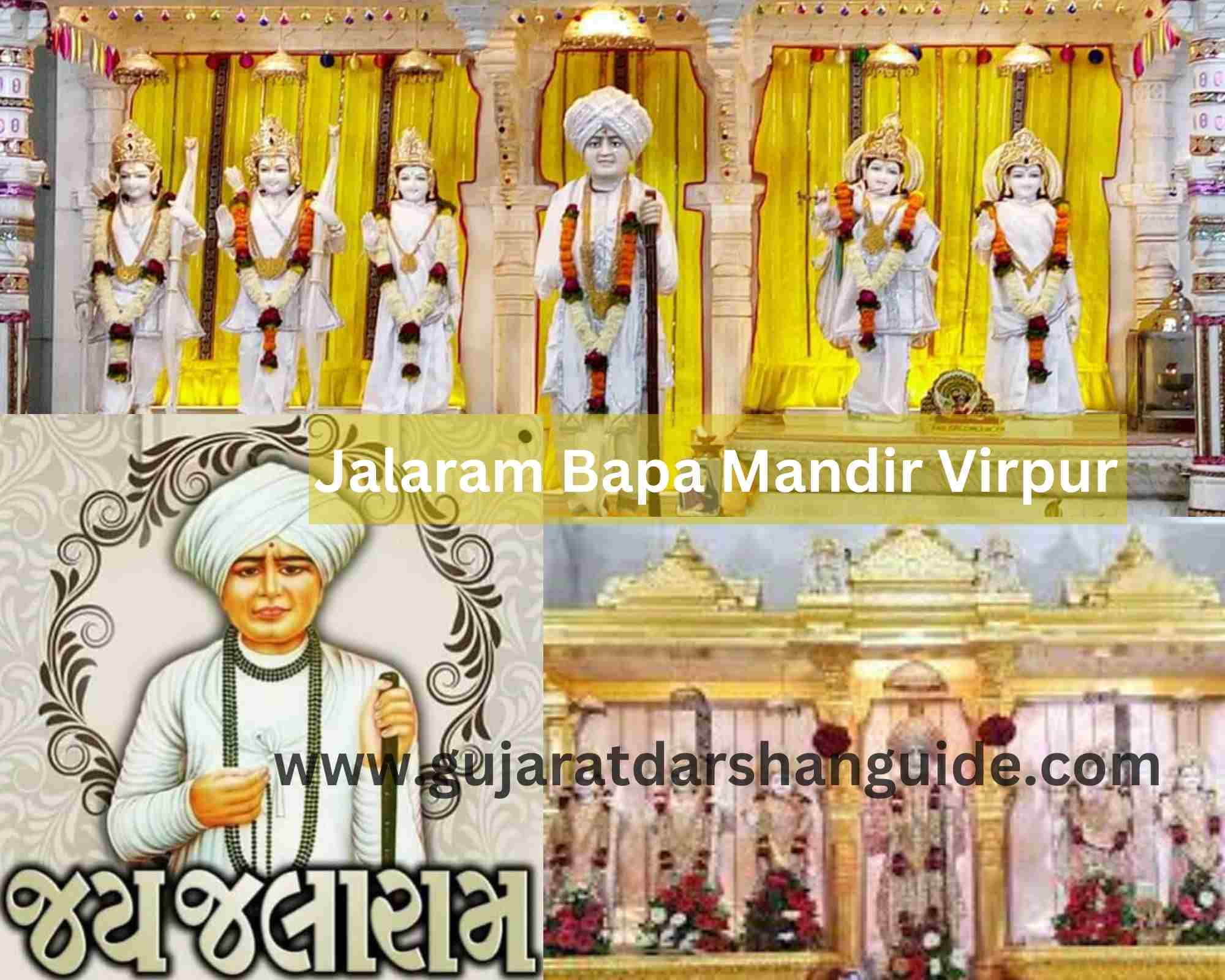 Best Time To Visit at Jalaram Bapa Mandir
The best time to visit that temple is from October to March.
Jalaram Bapa Miracles
There are numerous Parcha (experiences) about Saint Shree Jalaram Bapa's greatness. Shree Bapa had resurrected the birds that the Arabs had kept in a bag. Arabs were astounded and accepted that they were in the presence of a great divine being. Shree Bapa had saved the life of a Muslim's son, so even Muslim devotees addressed Shree Bapa as " Jalla so Allah kahevay!"
At one stage, God decided to put Shree Bapa to the test and appeared in the form of old Sadhu, instructing him to send Virbai to serve him. Shree Bapa dispatched VirbaiMa with Sadhu after consulting with VirbaiMa. Sadhu asked VirbaiMa to wait for him after walking a few miles, but Sadhu did not return. However, VirbaiMa overheard Akashwani say that it was just a test for you and Shree Bapa, so please take Jholi and Dhoko to your home. These Jholi and Dhoko are inside the virpur temple, with Ram Darbar as the Supreme Lord's Prasad.
Another legend holds that Ma Devi Ganga and the Yamuna themselves came to Jalaram Bapa's house every day to refill the water. Even today, devotees of Shree Bapa experience the Parcha of Shree Bapa in various ways. On Thursday, many devotees fasted and visited the temple.
Nearby Attractions Of Jalaram Temple Virpur
Khambhalida Caves
Virpur Gayatri Mandir
Ramaji Mandir(Choro), Tower Chowk
Jalaram Temple Virpur Accommodation
The temple trust offers a nice arrangement for devotees to get free lodging called 'Dharamshala' at no cost.
Hotel Madhav is primarily located in Virpur near the temple and is the best option for cheap and affordable rooms.
How to Reach Jalaram Temple Virpur
By Road
You must travel to Rajkot, from where Virpur is only 50–60 kilometers away. You can take a bus or a hired taxi to get there.
By Rail
The nearest railway station is Rajkot Railway station.
By Air
To take a flight to Rajkot and go to virpur via bus.