The Akshardham temple in Gandhinagar is one of India's largest temples. This temple is dedicated to Lord Swaminarayan and was built by the same organization that built the one in Delhi, BAPS Swaminarayan Sanstha. The Akshardham Mandir is located in the heart of the 23-acre complex, which was constructed with 6,000 metric tonnes of pink sandstone from Rajasthan.
About Akshardham Temple Gandhinagar
The Swaminarayan Akshardham temple is part of the Akshardham complex, which is a Hindu temple. A spiritual-cultural center, museum, fountains, gardens, and India's most beautiful temple are all part of the complex. There are three Akshardham temples in the world, located in New Delhi, Gandhinagar, and New Jersey, with New Delhi having the largest.
Akshardham Temple History
The construction of the Akshardham temple was inspected by an eight-person team of sages under the direction of Pramukh Swami Maharaj. The Pancharatra Shastra, an old Hindu text on gods and stone carvings, served as the sole architectural inspiration for the temple, whose construction began in 1998. The temple was influenced by structures like Angkor Wat, Jagannath Puri, Jodhpur, and the Orissan temple at Bhubaneswar, among others. The temple was built by more than 7000 carvers over the length of more than seven years using 6000 tonnes of pink sandstone.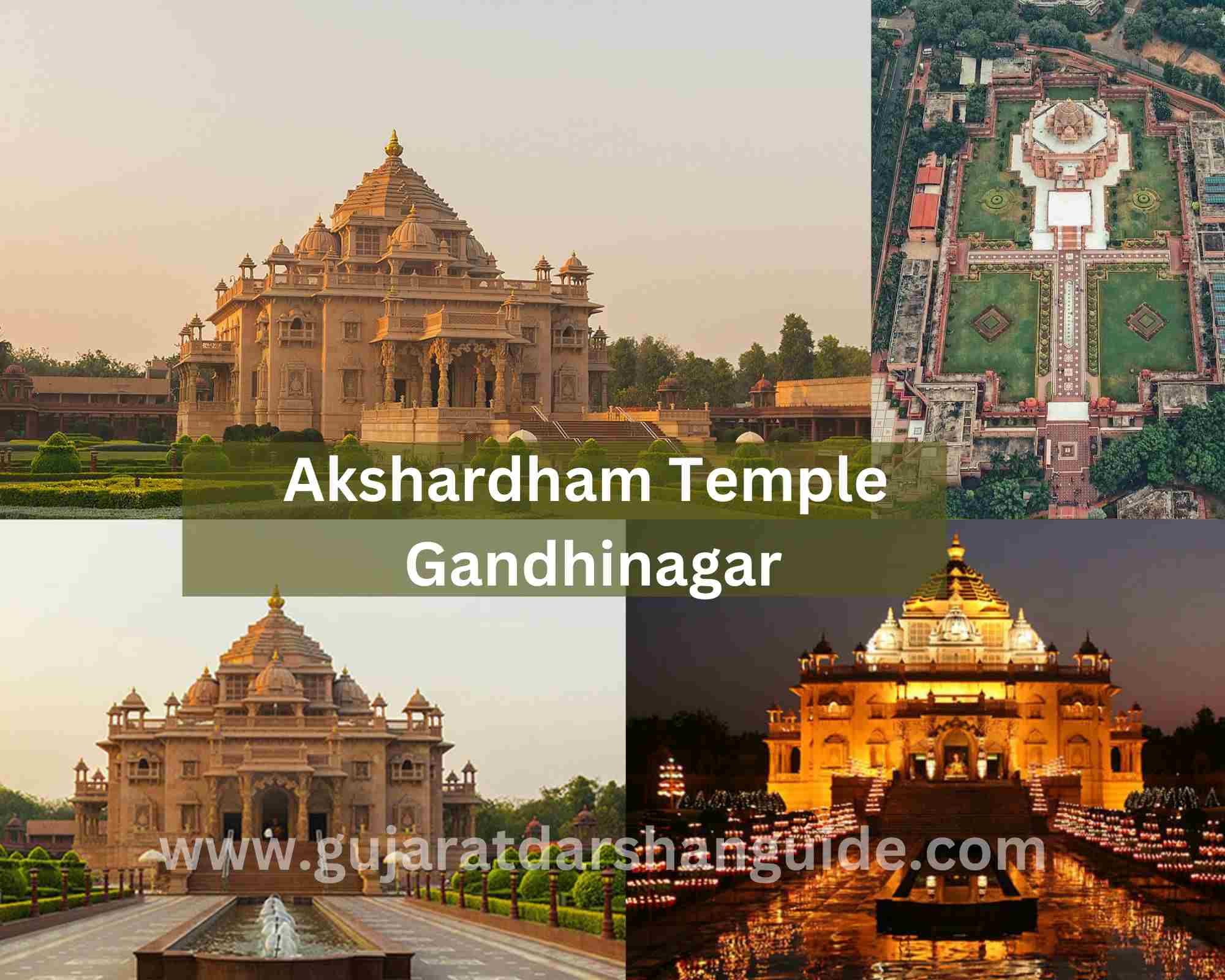 Pramukh Swami Maharaj accomplished the opening ceremony on November 6, 2005, and the temple was dedicated to APJ Abdul Kalam and the nation. The temple was inducted into the Guinness Book of World Records, where it was named the World's Largest Comprehensive Hindu Temple.
Akshardham Temple Gandhinagar Timings
Akshardham Temple will remain open10 am to 7.30 pm on Monday, July 12, the holy day of Rath Yatra. From Monday, devotees will be able to enjoy the water show along with darshan.
During their visit to Akshardham, visitors must strictly follow all government rules and guidelines regarding core pandemics to maintain their own and public health. They will have to wear masks throughout the premises and also follow social distancing.
Thermal screening and hand sanitization will be mandatory before entering the premises. People having above normal temperatures as well as having symptoms of covid will not be allowed to enter the premises. Akshardham will remain closed every Monday except that day.
Gandhinagar Akshardham Temple Darshan Timings
Darshan: 10:00 am to 07:30 pm
Entry Time of Akshardham Temple Gandhinagar

:
Entry: 10:00 am – 07:30 pm
Exhibition Timing of Akshardham Temple Gandhinagar

:
Akshardham Temple hosts a number of exhibitions that promote art, science, culture, and spirituality on a regular basis.
Exhibitions: 10:30 am To 06:30 pm
Water Show Timing of Akshardham Temple Gandhinagar

:
Water Show: 07:45 pm
The Architecture of Akshardham Temple
The Akshardham Mandir, the main complex, is a spectacular structure that is 108 feet high, 131 feet broad, and 240 feet long. 97 expertly carved pillars, and it has 17 decorative domes in the temple. There are 264 sculpted figures, 220 stone beams, and 8 balconies in this area.
Akshardham Temple Gandhinagar Ticket Price:
Holy Footprints, Mandir, and garden Ticket are free.
EXHIBITIONS TICKETS
Adults (Age 11+): ₹ 60
Children (Ages 3 – 11): ₹ 40
Children (Below Age 3): Free Tickets include all five exhibitions.
WATER SHOW TICKETS
Adults (Age 11+): ₹ 100
Children (Ages 3 – 11): ₹ 70
Children (Below Age 3): Free
Tips For Visiting Akshardham Temple
It is completely strictly prohibited to take photos or videos inside the temple grounds.
Food cannot be brought inside the building by visitors.
Other goods like as bags, luggage, radios, and other electrical devices are not allowed inside the temple.
It's also not permitted to smoke or use tobacco chewing.
Akshardham Temple Gandhinagar Contact Number
Phone: 9998999700, 9998999800, 9998993701, 9998993702
How To Reach Akshardham Temple
By Road
The nearest city is Gandhinagar. Ahmedabad is 30Kms away and is well connected with state transport buses.
By Rail
Gandhinagar railway station is 2km from the Akshardham temple.
By Air
Sardar Vallabhbhai Patel International Airport is the nearest Airport to the Akshardham temple.