Shree Khodaldham Temple is a holy temple situated near Kagvad in Gujarat. Located on Virpur-Jetpur road, it is one of the popular religious places in Gujarat and among the must-visit temples as part of Rajkot Packages.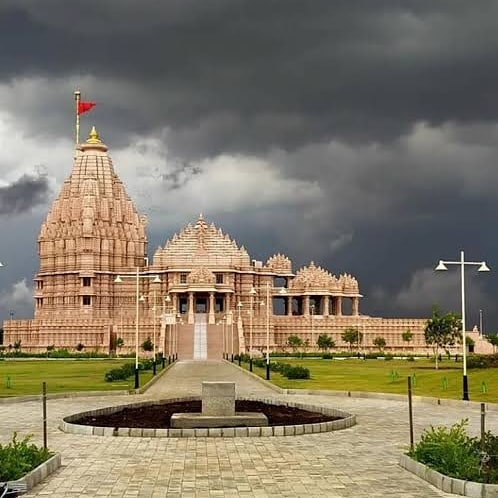 Khodaldham Temple Kagvad
Khodaldham Temple – the magnificent landmark temple at Kagvad, Rajkot is known not only for its sheer size but also for setting a new Guinness World Record in 2017 in the category of the highest number of people singing the national anthem simultaneously at a single venue. It is one of the largest comprehensive Hindu Temples in the country.
Khodaldham Temple History
Dedicated to Maa Khodiyar, the foundation stone for the temple was laid in the year 2012 and was opened to the public in 2017. Built by Shri Kodhaldham Trust of Leuva Patel community, Shree Khodaldham Temple is one of the largest comprehensive Hindu Temples, measures 299 feet long and 135 feet high. The temple houses the idols of Maa Khodiyar along with Maa Amba, Maa Bahuchar, Maa Verai, Maa Mahakali, Annapurna, Gaurtal, Randal, Butbhavani, Momai, Chamunda, and Shihori.
Architecture Of Khodaldham Temple
Khodaldham has a distinctive architecture that displays the tradition of Leuva Patel community. Its unique architecture and spiritual aura make this temple a must-visit for devotees as well as tourists. Besides Khodaldham, one can also visit the temples of Shri Mahadeva, Shri Ram Darbar, Shri Radhakrishna, Shri Shrinathaji, Shri Ganesha, and Shri Hanuman in the Khodaldham temple complex. There is a big garden beside the temple maintained by the forest department, housed with many plants both medicinal and flowering. The temple authorities also provide battery-operated vehicles for senior citizens. Besides, refreshment stalls outside the temple provide snacks and local food items.
Khodaldham Temple Timings
Timings: 6 AM – 9 PM
Entry Fee Of Khodaldham Temple Kagvad
No Entry Fee
Nearby Places Of Khodaldham Temple
Junagadh
Dwarka
Gir Nation Park
Tulshi Shyam
Somnath
Porbandar City
Jalaram Temple
Facilities in the Khodaldham Temple
– Free wheelchairs, e-rickshaws, golfers, ambulances, and primary health facilities are available for senior citizens and disabled visitors.
– Free tea and water is provided in the tea house for the visitors. Thousands of devotees are given tea at home every day.
– Prasad Ghar has been built to provide prasad for carrying.
– Breakfast canteens feature self-catering fast-food fast food. Snack foods include cold drinks, hot snacks, snacks, etc. Fast food is available.
– Two-time meals are arranged at the token rate at Annapurnalaya. In Annapurna, pure and pure food is served to the devotees.
– Pure cold water facilities, toilets, and bathrooms
– 18 yards have been constructed for the visitors to sit on.
– Different rides are placed in Crazy World.
– A large lawn area has been set up for the devotees to sit quietly in which the colorful flowers and plants have been grown.
– Shaktiwan is built by the Government of Gujarat in the courtyard of Khodaldham.
– Satsang hall, amphitheater, and party plot arrangements
Khodaldham Temple Contact Number
Phone: 02823-252000,
Mo. No.: +91 8780460015
Email: [email protected]
Accommodation At Khodaldham Temple Kagvad
You can Book your room on this website
https://www.khodaldhamtrust.org/online-services/booking/
How To Reach Khodaldham Temple
By Road
At a distance of 7 km from Virpur, 47 km from Junagadh, and 67 km from Rajkot.
By Rail
The nearest railway station from Khodaldham Temple is Virpur and Jetpur.
By Air
The nearest airport from Khodaldham Temple is Rajkot Airport (65 km).
Khodaldham Temple Kagvad Address
Mu-Kagwad, Ta-Jetpur,
Dist: Rajkot,