Zanzari Waterfall is situated on the bank of the River Vatrak close to the small village of Dabha, halfway between Manpur and Jodhpur, in the Bayad Taluka of the Aravalli district.
About Zanzari Waterfall
Zanzari Waterfall is One of the nicest and most picturesque one-day picnic locations is close to Ahmedabad and Gandhinagar.
Small Hanumanji Temple is situated in the heart of a large River Vatrak area on a small hilltop that is submerged during a river flood. You can also arrange to visit the historical Utkantheshwar Mahadev, also known as Utadia Mahadev of Lord Shiva, temple, which is situated on the Vatrak River's bank only 15 kilometres from the Zanzari Waterfall. During the holy month of Sravan, you can take a holy bath here and ride a camel close to a river.
Additionally, during Navratri, an aarti of over a lakh diyas appeared from a nearby village. Near the water fall, some work for a resort and a shrine is now underway.
The Gangeshwar Mahadev temple, where abhishek on Shivlinga is done by a spring 24 hours a day, is only 5 kilometres away and is a must-see during your visit to Zanzari.
Zanzari Waterfall History
During the conversation with the owner of a local stall, we found a few unknown facts about Zanzari waterfall and the surrounding area. There is a large body of water here called Kunta Mata no Dharo, where it is believed Pandava and Kunta Ma, the great characters of Mahabharat, stayed for a while during their Agyatvas.
Best Time To Visit At Zanzari Waterfall
The Zanzibari waterfall is the best time to visit in the monsoon season, between July and February. In fact, these months represent the winter and rainy seasons, when the waterfall and other natural beauty are at their best. With your lover, friends, and family, you can therefore enjoy and spend quality time together.
Sunrise and sunset are ideal times to visit to avoid the heatwave summer heat.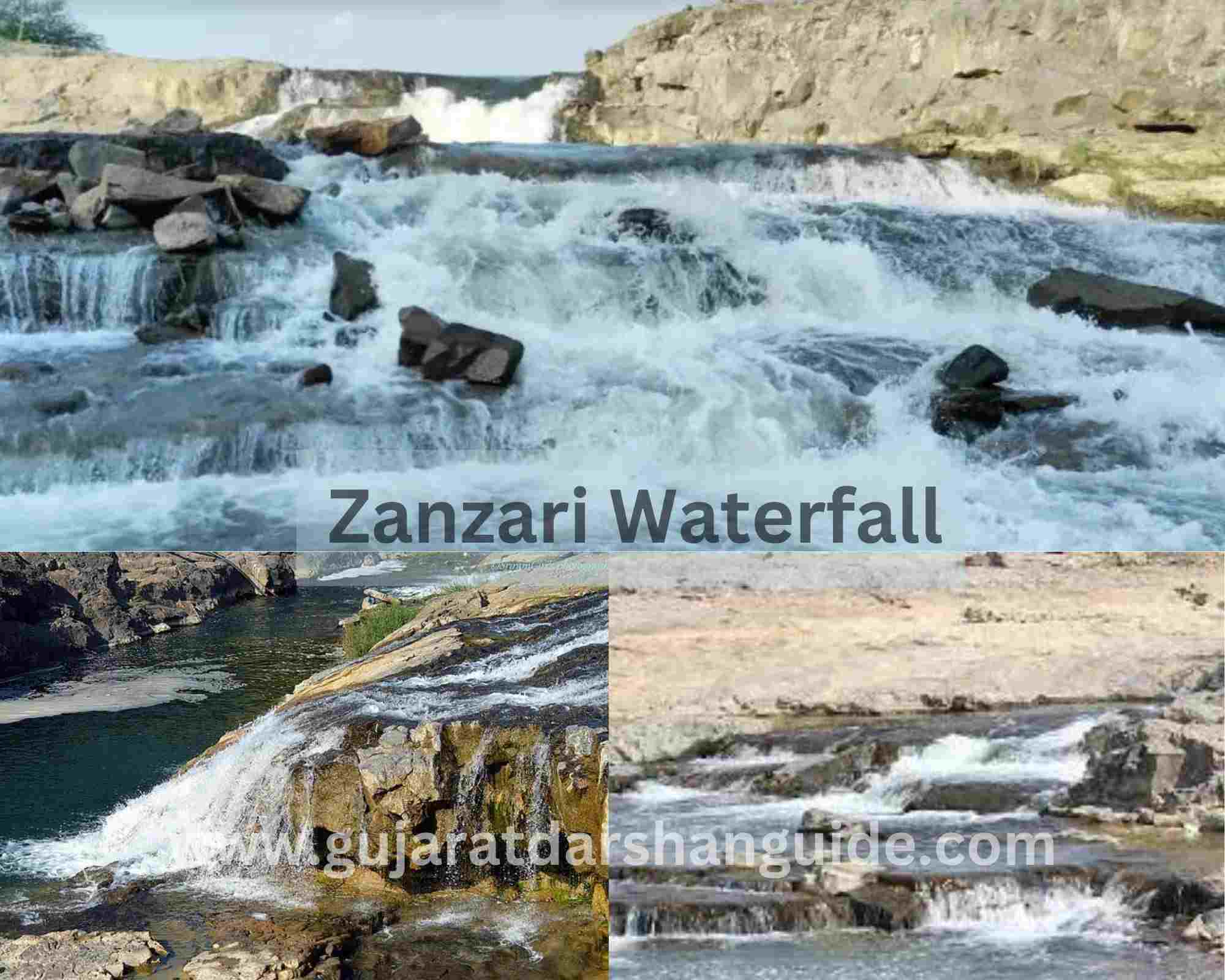 Zanzari Waterfall Timings
Timings:- Open everyday (24 Hours)
Things To Do At Zanzari Waterfall
Enjoy Waterfall
Take Selfies
Camel Ride
Zanzari Waterfall Entry Fee
No Entry Fee
Tips For Zanzari Waterfall
It is preferable to bring your own food and drinking water because there are no fancy restaurants here except for a small shop near the parking area.
You must wear shoes for easy climbing because there is a rocky pathway to the water fall.
Never dump plastic wrappers or other trash carelessly.
Avoid the rainy season as the river flow is forceful and the rocks become very slippery, making it risky.
To get there, either use a vehicle you own or rent one.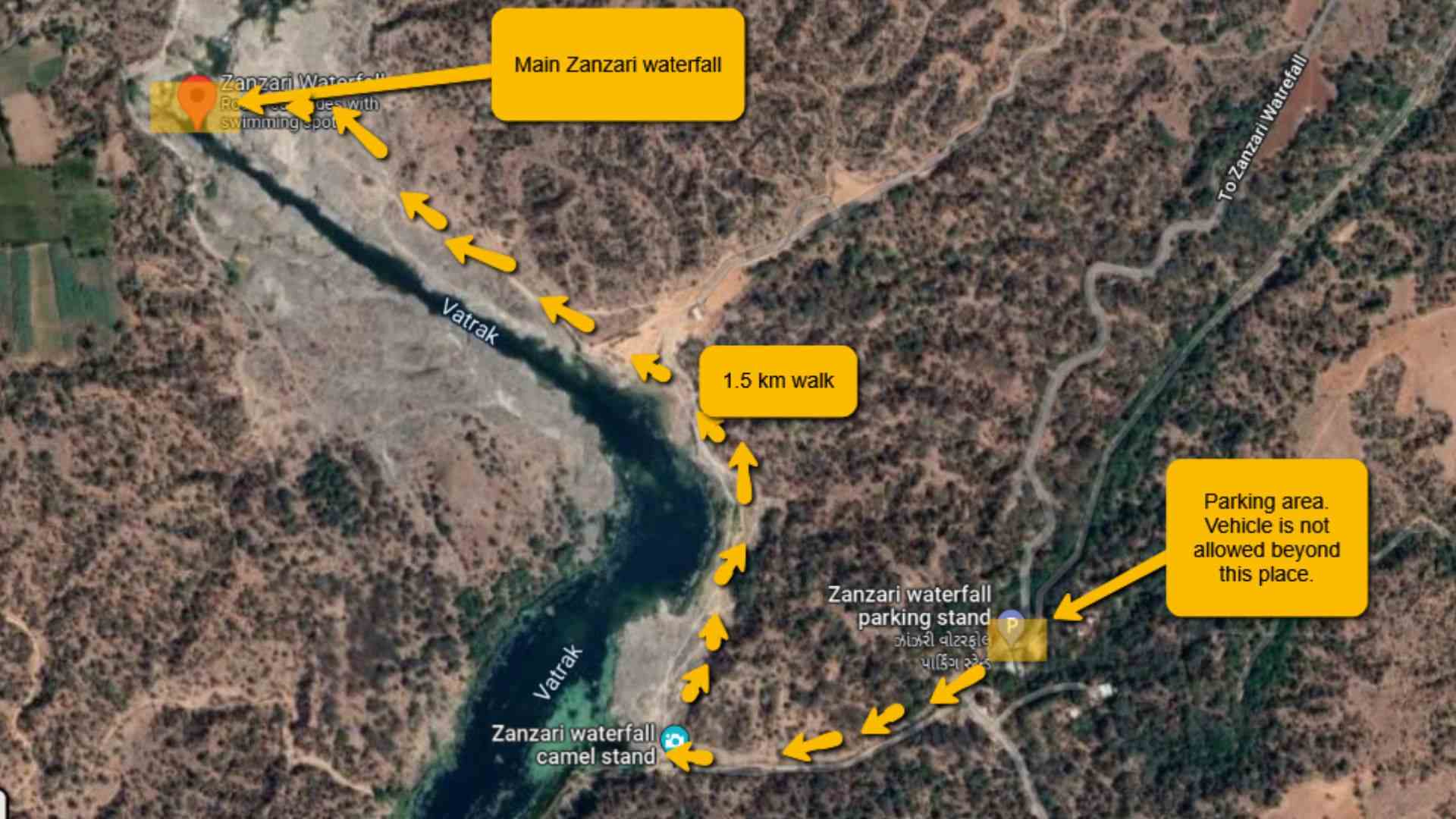 Zanzari Waterfall Contact Number
There is no contact information.
How to Reach Zanzari Waterfall
By Road
Buses run frequently from other major cities in the country to Bayad Taluka (Aravalli District).
By Rail
Local trains run every day and are only suitable for traveling from Modasa to Nadiad.
By Air
The nearest airport is Ahmedabad (100km).