One More Attraction and Airport beautification is The Gir Gallery Developed by Reliance Industries Ltd (RIL).
The location of The Gir Gallery is outside the domestic terminal of Sardar Vallabhbhai Patel International Airport in Ahmedabad.
The Gir is a miniature replica of the Sasan Gir, the only habitat of the rare Asiatic Lions in the world.
About The Gir Gallery at Ahmedabad Airport
The Gir was first developed by RIL in the departure area of SVPI in 2018.
It has been relocated and redeveloped outside the departure area at SVPI so that not only the passengers but the people coming to receive the passengers can also be benefitted.
The project is a part of RIL's Corporate Social Responsibility (CSR).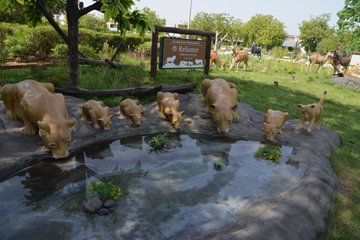 Inauguration of The Gir Gallery at Ahmedabad Airport
The redeveloped project was inaugurated on Gujarat Day by Shri Parimal Nathwani, Member of Parliament (Rajya Sabha) and Director of Corporate Affairs at RIL, on May 1, 2022, in the august presence of Shri Jeet Adani, Director, Adani Airport Holding, and Shri Hemant Desai, President, Corporate Affairs, Reliance Industries Limited.
Benefits of The Gir Gallery at Ahmedabad Airport
RIL has always been at the forefront when it comes to giving back to society.
The project has been developed in around 8000 square feet area.
The beautification project includes placing 60 life-size models of different kinds of animals and birds found in the Gir forest including famous Asiatic Lions, Leopard, Black Buck, Spotted Dears, Python, Eagle, etc.
The famous Gir forest is covered mainly with dry brown grass, therefore, in the replica at the airport also artificial brown grass is used to create the impression of the original forest area.