The Sun Temple is a Hindu temple in Gujarat's Mehsana district in village Modhera that honors the solar deity Surya. It is located along the Pushpavati River. It was constructed following 1026–1027 CE, during the rule of Chalukya dynasty leader Bhima I. The Archaeological Survey of India looks after this protected site, which is not now used for worship.
At the moment, the Archaeological Survey of India is renovating and restoring the temple. Modhera Sun Temple was added to the list of UNESCO World Heritage Sites in 2014.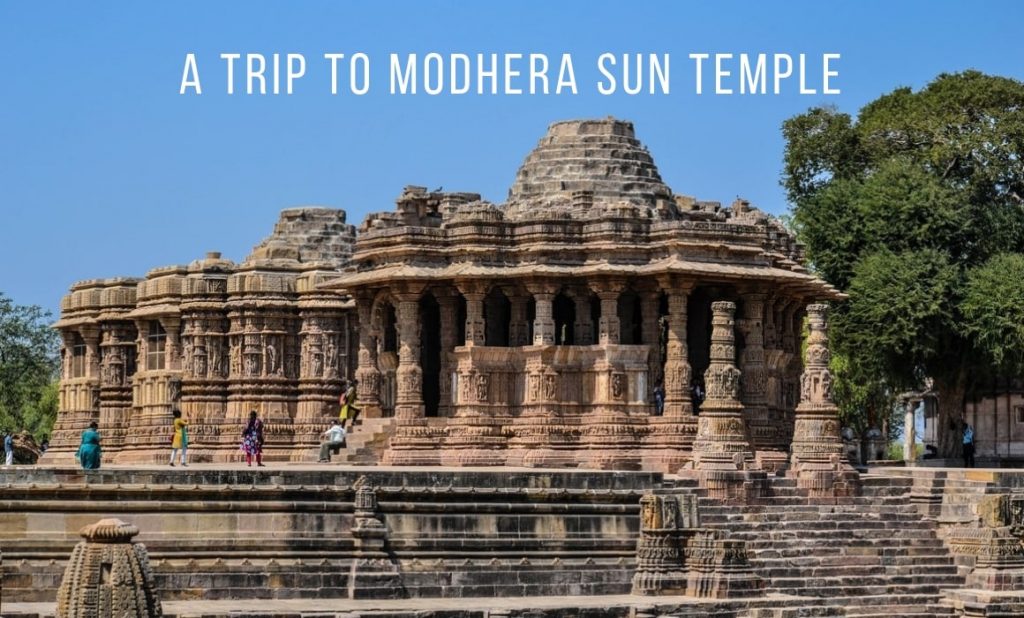 About Sun Temple Modhera
The village of Modhera is accessible via a pleasant journey through lush farmland only 30 km from Mehsana, where the goddess Bahucharaji's shrines are located. The renowned Sun temple of Modhera is situated against the backdrop of the River Pushpavati, encircled by a terra-formed landscape of blossoming trees and the chirping of birds.
People playing various musical instruments are sculpted. Deities rule over the flora/fauna/life. Dwadash Gauri refers to 12 idols of Parvati in various forms. There are 12 Sun idols as if he is all-powerful. Some Sun idols are dressed in Irani style, with gumboots and a long cap. According to the guide, this is because sun worship began in Iran.
Sun Temple Modhera History
The Sun Temple was constructed between 1026 and 1027 CE, during the reign of Bhima I of the Chalukyas dynasty. The tank's miniature and niche shrines were built shortly after 1026 CE. There is no longer any worship here, and it is a protected monument maintained by the Archaeological Survey of India.
Architecture of Sun Temple Modhera
The temple was built in such a way that the first sunrays would fall on a diamond placed on the Sun God's head at each equinox. And the entire temple would be bathed in a golden light.
The temple was constructed using a locking system that is said to be earthquake-resistant. As in an earthquake, the structure would shake but not collapse.
Gudhamandapa, the shrine hall; Sabhamandapa, the assembly hall; and Kunda, the reservoir comprising the temple complex. The halls' exteriors and pillars are intricately carved. Steps lead down to the reservoir's bottom, and there are numerous small shrines.
Surya Kund
Ramakunda or Suryakunda are two names for Kunda, a tank or reservoir. The reservoir is reached via a flight of steps through Kirti-Torana. It is rectangular. It is 176 feet long from north to south and 120 feet long from east to west. To reach the tank's bottom, descend four terraces and recessed steps. The main entrance is located to the west. Steps connect one terrace to another at a right angle to the terrace. Except for the first step of each flight of steps, which is semicircular, these steps are rectangular or square. Images of gods, including various Vaishnavite deities and goddesses like Shitala, may be seen in a number of miniature shrines and niches in front of the terrace wall.
There were 108 shrines on these steps, according to legend. It is difficult to estimate how many of these are still around, but they are very stunning. The formations' geometry is astounding.
Sabhamandapa
The Sabhamandapa is an elegant toran that welcomes you inside its diagonally placed octagonal hall. The wonderfully carved pillars supporting the Torana arches, which vary between triangular and semicircular shapes, are its finest feature. According to the literature, there are 52 pillars that stand for 52 weeks in a solar year. Ramayana, Mahabharata, and Krishna Leela scenes may be seen on the intricately carved pillars. I can still picture Sita in the Ashok Vatika in Sri Lanka, Vanar Sena building the bridge with stones in their hands, Krishna holding Govardhan Parvat on his fingertip, and Arjuna shooting his bow in Draupadi's Swayamvar. They are being made up by Vishkanyas.
The Assembly Hall
This hall was used for public functions such as councils, performances, and public meetings, whether religious or not.
Sun Temple Entry Fee
INR 25 for Indians and
INR 300 for foreign tourists.
Modhera Sun Temple OnlineTicket Booking
Sun Temple Modhera Timings
Timing:- 06:00 am To 06:00 pm
Best Time To Visit At Modhera Sun Temple
November To March is the best time to visit this place.
Sun Temple Modhera Ticket Price
Indians have to pay INR 25
Foreigners have to pay INR 300
How to Reach Sun Temple Modhera
By Road
The distance from Ahmedabad to Modhera is 105 km and it takes around 2 hours. From Mehsana, it is 25 km.
By Train
Mehsana Railway Station is the nearest railway station.
By Air
Sardar Vallabh Bhai international airport Ahmedabad is the nearest airport.
Sun Temple Modhera Contact Number
Contact Number:- +91 2734 284 327