Dandi Beach is one of the most well-known beaches in Dandi Village, Gujarat. Dandi beach is one of the most beautiful beaches in the Arabian Sea.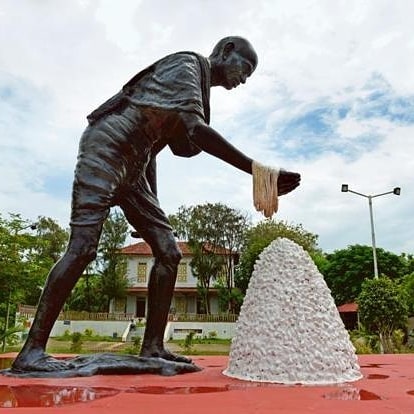 About Dandi Beach
Dandi Beach is historically significant because it was the site of Mahatma Gandhi's salt satyagraha from Sabarmati Ashram to Dandi. This is the beach where, following the Salt March, Mahatma Gandhi violated the British salt tax law.
Dandi Beach History
Dandi had a significant historical role in India's struggle for independence from British rule. Mohandas Karamchand Gandhi started the Dandi March, also known as the Salt March, which was an act of civil disobedience in colonial India. All locals' operations to produce salt were ruled illegal once the British government instituted a salt tax, which was a gross violation of the people's rights. In 1930, Dandi became famous and earned historical significance when Mahatma Gandhi decided to stage a protest there against the imposition of a salt tax.
On March 12, 1930, Mahatma Gandhi and a group of 78 persons started the march in Sabarmati, Ahmedabad. The 24-day period ended on April 6, 1930. As the march went on, word of the protest spread throughout the nation, and Mahatma Gandhi was joined by supporters from all over India.
By the time they arrived in Dandi, thousands of supporters had gathered to protest the ridiculous tax on salt. When the Satyagrahis arrived at Dandi, Mahatma Gandhi produced salt from the Arabian Sea and spoke to his supporters, encouraging them to use this action to achieve Purna Swaraj (Complete Sovereignty and Self-Rule). The march inspired a Civil Disobedience Movement that spread across the nation and served as the foundation for India's independence from British rule.
Dandi Beach Entry Fee
No Entry Fee
Best Time To Visit At Dandi Beach
The best time to visit Dandi Beach is between October and March as the weather is pleasant to explore the location.
Sunrises and sunsets are the best time to visit Dandi beach.
Dandi Beach Surat Timings
It will be open for 24 hours.
How To Reach Dandi Beach
By Road
Surat lies 235 km from Ahmedabad, 135km from Vadodara, and 300 km from Mumbai.
Bus stations, both ST and private, are on the eastern edge of the city.
By Air
Surat Airport, which is about 60 km away, is the closest airport.
By Train
Dandi Beach is 20 km from Navsari Railway Station.
Dandi Beach Contact Number
There is no contact number information at that place.