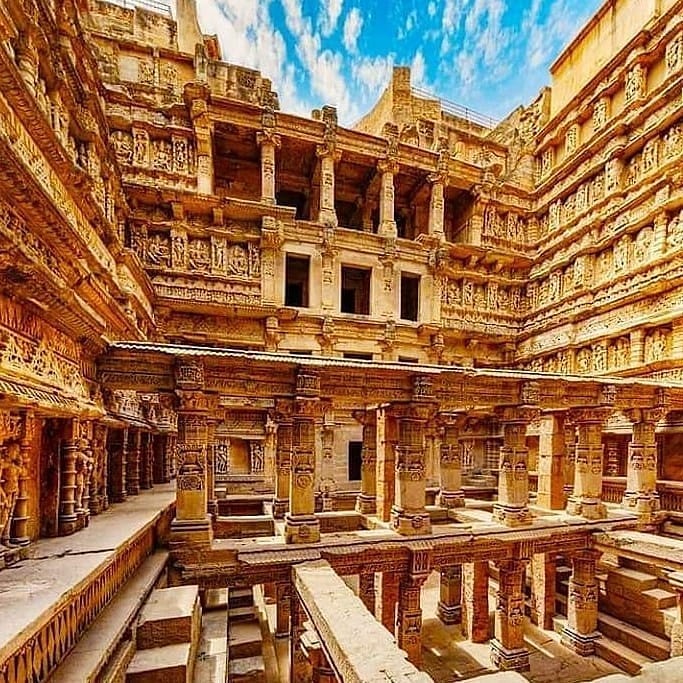 About Rani ki Vav
Rani ki Vav or Ranki vav ( 'Queen's stepwell') is a stepwell situated in the town of Patan in the Gujarat state of India. It is located on the banks of the Saraswati river.
The new ₹100 currency note has raised curiosity about Gujarat's historic architectural beauty of Rani-ki-Vav which is designed like a temple-cum-water storage system.
Rani ki Vav History
It is believed that Rani ki vav was constructed by Rani Udaymati in the memory of Raja Bhimdev, son of Mularaja, the founder of the Solanki dynasty.
Its construction is attributed to Udayamati, daughter of Khengara of Saurashtra, queen of the 11th-century Solanki dynasty, and spouse of Bhima I. Silted over, it was rediscovered in the 1940s and restored in the 1980s by the Archaeological Survey of India. It has been listed as one of UNESCO's World Heritage Sites since 2014.
Facts About Rani ki Vav
The statues and sculptures of Lord Vishnu are the most prominent pieces of embellishment here.
Rani Ki Vav's overarching theme is 'Dashavatars,' or the ten incarnations of the deity.
The well descends to subterranean levels, where you can see 800 different sculptures spread across seven galleries.
Matsya, Kurma, Varaha, Narasimha, Vamana, Parashurama, Rama, Krishna, Buddha, and Kalki are accompanied by statues of sadhus, Brahmins, and celestial dancers or 'Apsaras.'
The most imposing imagery is found at the Rani ki Vav's water level, where Vishnu is reclining on the thousand-hooded serpent Shesha.
Entry Fee Of Rani Ki Vav
Entry Fee:
Rs. 40 for Indians &
Rs. 600 for Foreigners
Rani ki Vav Architecture
The stepwell is divided into seven levels of stairs with sculptural panels.
Rani ki Vav is 64 meters long, 20 meters wide and 27 meters deep, and is designed like an inverted temple.
There are around 230 pillars in this stepwell that remain intact even after the repetitive floods. The corridors, pavilions, and pillars are intricately carved with the figures of Hindu deities, gods, and apsaras or celestial dancers.
Best Time To Visit At Ranki ki Vav
October to March is the best time to visit Patan, as the weather would be pleasant and not as humid and dry.
The best time to visit Rani ki vav is in the morning when it first opens. There are few people there and the golden sunlight will make it very photogenic.
Rani ki Vav Timings
Timing:- 8:00 am to 6:00 pm
Rani ki Vav Online Ticket Booking
Attraction At Rani ki Vav
Patan City Museum
Patan Patola Heritage
Karandiyaveer Temple
Sahastralinga Talav
Panchmukhi Hanuman
Khan Sarovar
Patola Saree Making Unit
Shopping in Patan
How To Reach Rani ki Vav
By Air
The nearest airport to Patan is Ahmedabad, which is located 125 kilometers away.
By Train
The city is well connected with the rest of the country via a number of trains.
By Road
The State Transport Corporation operates buses that connect Patan to all of Gujarat's major cities and towns, as well as other states across the country.