Shivrajpur Beach has located Dwarka-Okha Highway which recently got a Blue Flag beach certification.
Dwarka makes an excellent base for a holiday of sightseeing, pilgrimage, beach activities and even watching birds and marine life.
Shivrajpur Beach Latest News
Shivrajpur Beach Strictly Prohibited For Bath
As per the notification issued by Devbhoomi Dwarka Collector Shri. Declared that Visitors can not able to enjoy bathing from 01/06/2022 to 30/07/2022.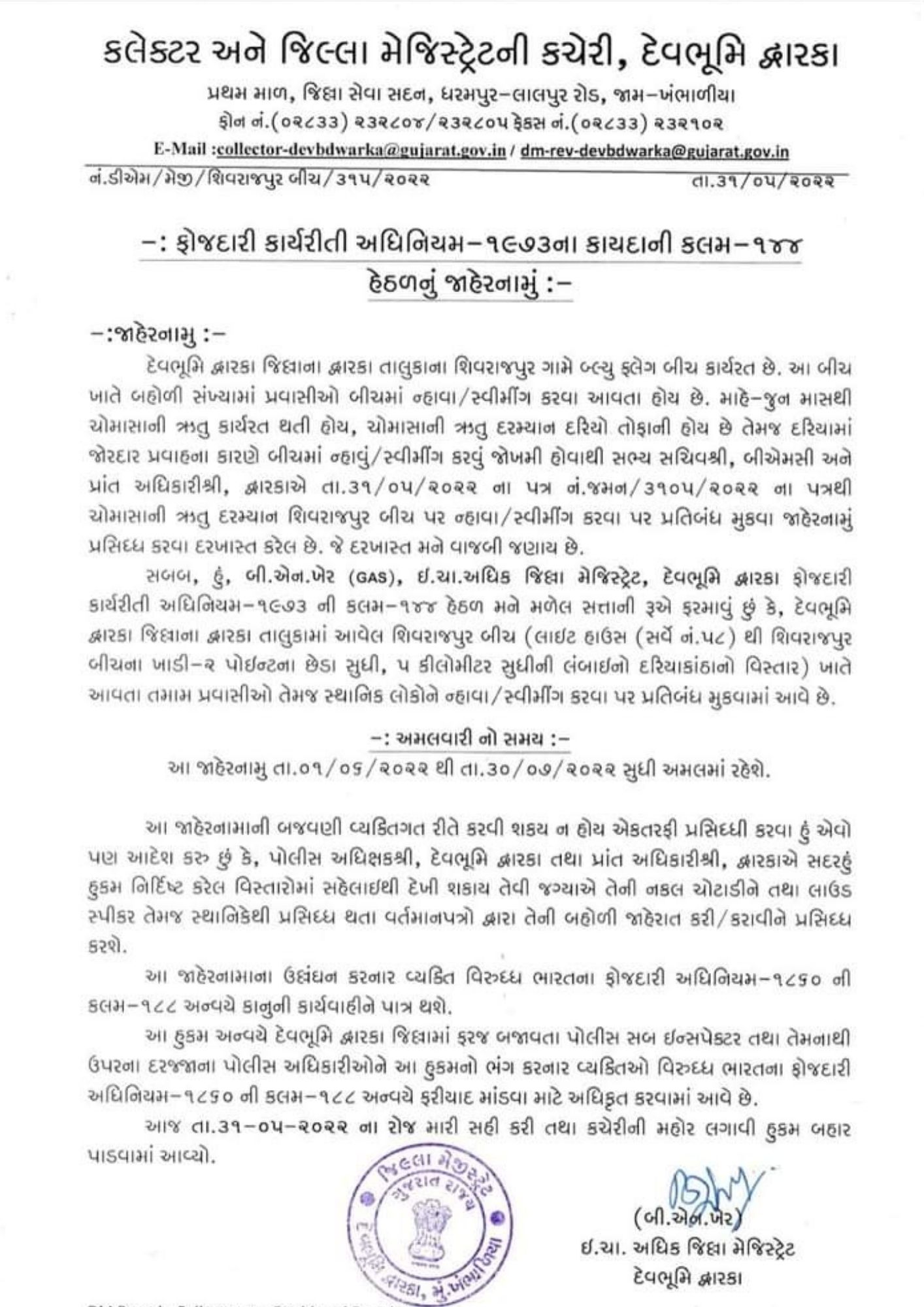 About Shivrajpur Beach
Shivrajpur Beaches is One of the most popular beaches in Gujarat. It is the best location to spend weekend time with family and kids. You can spot their Dolphin and some beautiful birds, depending on luck. After blue flag certification, Shivrajpur beach is now attracting tourists from all around India. The state government is also improving the beach by offering various facilities around.
The Gujarat Ecology Commission has developed the Shivrajpur beach, under the guidance and supervision of the Forest & Environment Department.
The beach management has introduced water sports, food, and shopping areas for the visitors. Be careful while, venturing into the water as there is no rescue team available.
Dwarka, Porbandar, Somnath, Sasan Gir, and Diu are nearby places that would make the experience of a visitor complete with access to historical, cultural, and wildlife experiences.
Shivrajpur Beach Photos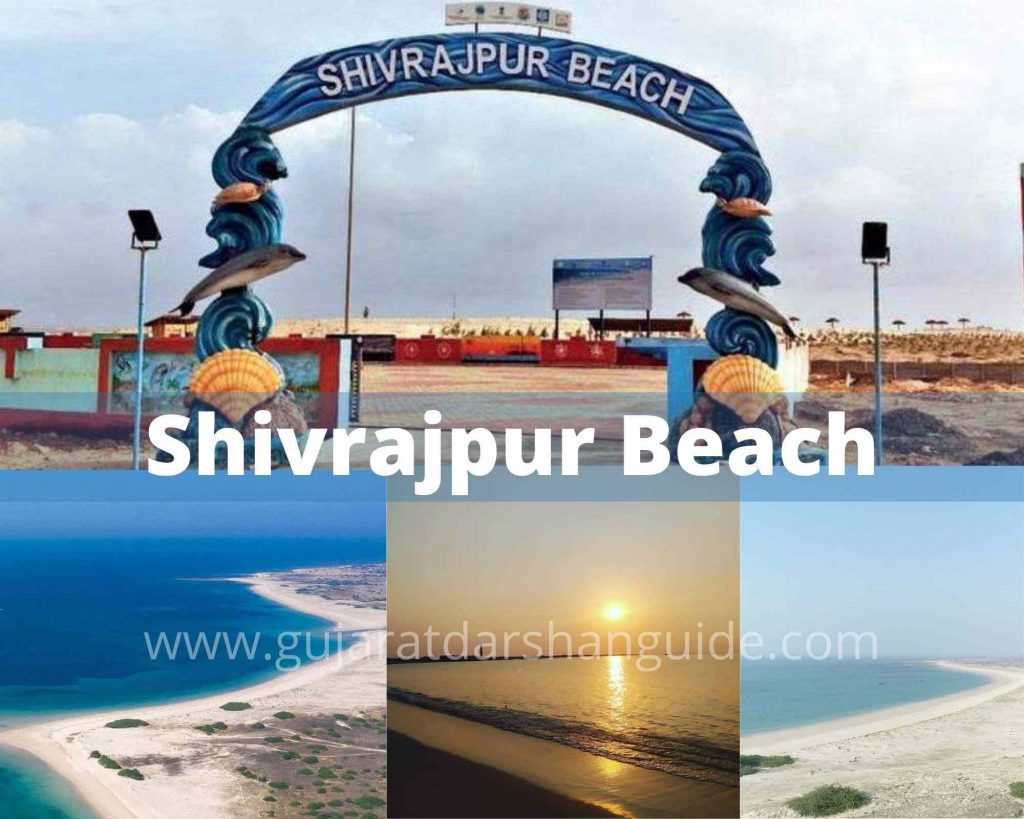 Video of શિવરાજપુર બીચ | Shivrajpur Beach Dwarka | Blue Flag Beach
What is Blue Flag Beach?
Blue Flag beaches are considered the cleanest beaches in the world and with this coveted recognition, It has now placed itself on the global map as one of the cleanest beaches in the world that offers world-class amenities and facilities to its visitors.
Facilities at the Shivrajpur Beach
Drinking water
First-aid station
Showers/Changing room
Children Park
Fitness Centre
Things to do at Shivrajpur Beach
1. Scuba Diving
Scuba Diving is one of the best sports that you can enjoy here. These are the three best scuba diving service providers whom you may contact after reaching there.
2. Snorkeling
Snorkeling can be a very rewarding activity on this beach where you can explore the captivating underwater marine life.
3. Boating
Boating gives you the opportunity to explore on-the-water activities like wake surfing, tubing, day cruising, and fishing.
4. Island Tour
Island Tours provides a very unique experience to people who love the blue-green ocean, scuba diving, coral reef, snorkeling, catamaran ride, etc.
5. Sea bath
Sea salt bath can help you relax and ease sensitive muscles of your body, arousing blood circulation.
6. Sunset
Sunset gives you a pleasant experience of walking in front of the cold breeze of the sea.
Shivrajpur Beach Timings
Timings: 8 am to 7 pm
Shivrajpur Beach Entry Fee
Entry fees: Rs 30
Shivrajpur Beach Ticket Price
Scuba Diving Ticket Price- 2500 INR Per Person
Snorkeling Ticket Price- 700 INR per Person
Boating Ticket Price- 1500 INR Per Boat
Island Tour Ticket Price- 2350 INR per Person
Best Time To Visit At Shivrajpur Beach
October to April
Places To Visit Near Shivrajpur Beach
Dwarkadhish Temple
Beyt Dwarka
Nageshwar Jyotirlinga
Rukmini Devi Temple
Sunset Point Dwarka
Shivrajpur Beach Location
Shivrajpur Beach is located near Shivrajpur village on the Arabian Sea in the Devbhoomi Dwarka district.
How to Reach Shivrajpur Beach
From Shivrajpur Beach nearby town Dwarka is only 13 km and Okha is 23 km.
Dwarka is on the state highway from Jamnagar to Dwarka. Direct buses are available from Jamnagar and Ahmedabad.
Ahmedabad to Shivrajpur Beach
Ahmedabad to Shivrajpur beach is 450 km.
Rajkot to Shivrajpur Beach
Rajkot to Shivrajpur beach is 240 km.
Dwarka To Shivrajpur Beach
Dwarka to Shivrajpur Beach is only 13 km.
Jamnagar To Shivrajpur Beach
Jamnagar to Shivrajpur Beach is 145 km.
Hotels Near Shivrajpur Beach
There are various options for staying in Dwarka while visiting Sivrajpur Beach. One can choose from luxurious resorts to budget hotels in Dwarka and in the vicinity.
Frequently Asked Questions (FAQs) On Shivrajpur Beach
Shivrajpur beach in which district?
Shivrajpur beach, near Shivrajpur village, is located in the Dwarka district of Gujarat, India.
Where is Shivrajpur beach?
Shivrajpur beach, near Shivrajpur village, is located in the Dwarka district of Gujarat, India.
Is Shivrajpur beach Blue Flag?
Yes, It has Blue Flag Certification Beach.
Can we bath in Shivrajpur Beach?
people are allowed to bath, swim and play with the water in the marked area.
What is the best time to visit Shivrajpur Beach?
Best Time to Visit: October to April.
Can we swim on Shivrajpur Beach?
people are allowed to swim.