Dwarkadhish Temple is located in Dwarka, Gujarat, and is one of the Char Dham pilgrimages. Dwarka is located in Saurashtra, on the banks of the Gomti River. It is thought to have been Lord Krishna's capital in the past. Except for the Temples, the city was eventually submerged under the sea.
About Dwarkadhish Temple
The Dwarkadhish Temple, also known as the Jagat Mandir, is a Hindu temple devoted to Krishna, who is known as Dwarkadhish, or 'King of Dwarka,'. The temple is located in Dwarka, Gujarat, India, which is one of the Char Dham pilgrimage circuit's attractions.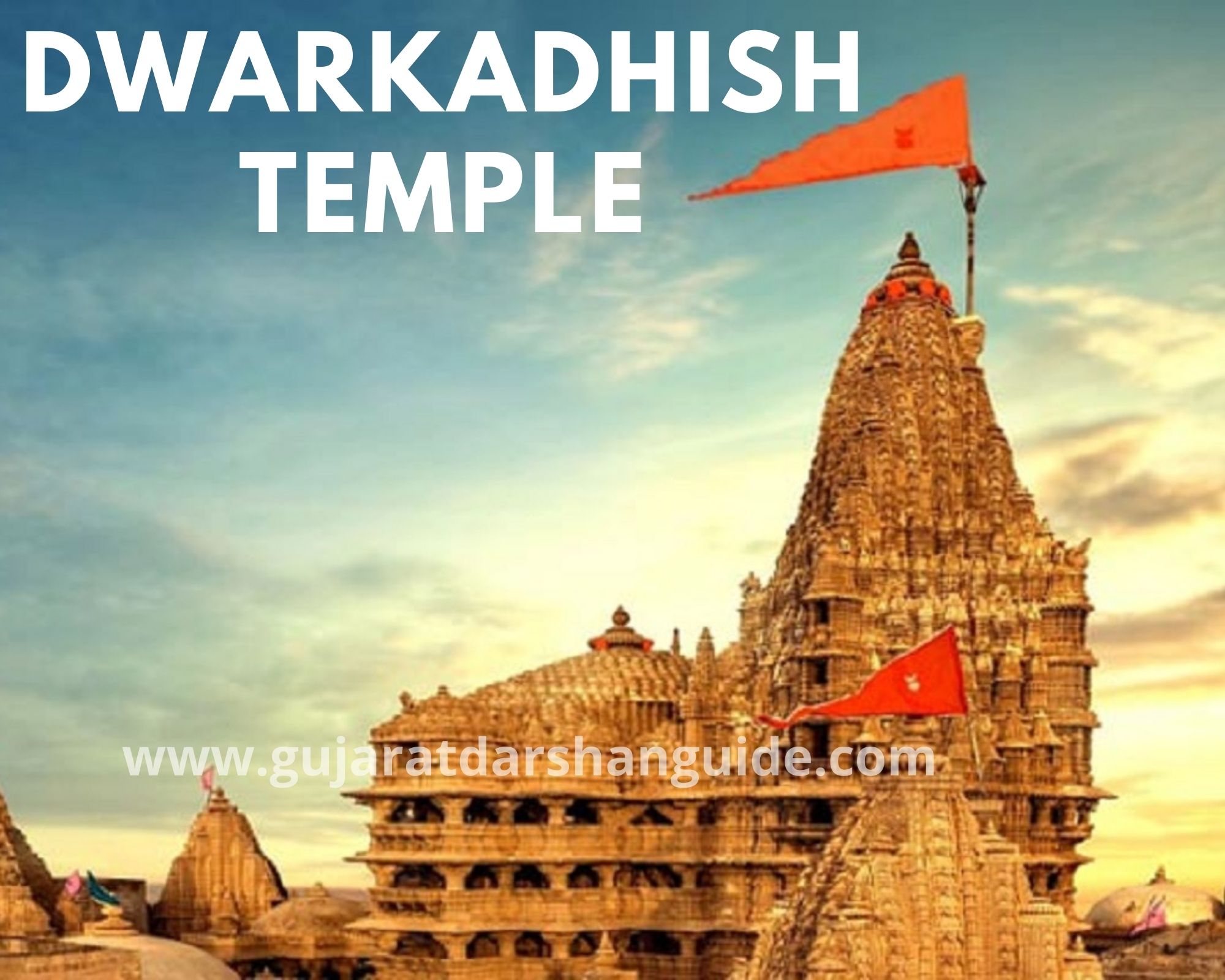 Dwarkadhish Temple History
It is said to have been built above Hari-Griha by Vajranabha (Krishna's grandson), according to legend. As a result, the Dwarkadhish temple is dedicated to Lord Krishna, the Lord of Dwarka. After Rameshwaram, Badrinath, and Puri, the temple is regarded one of the Char Dham sacred pilgrimage sites by Hindus. This was after Adishakaracharya, an 8th-century theologian and philosopher who founded the Sharda Peeth in this location, paid a visit. The Dwarkadhish temple is Shri Vishnu's 108th Divya Desam in the world, as described in the Divya Prabhanda scriptures.
Architecture of Dwarkadhish Temple 
Made of limestone and sand, the magnificent temple is a sight to behold. Its impressive five-story tower is supported by 72 pillars and a 78.3m high spire with elaborate carvings. It boasts a Shikhar that stands 42 metres tall and flies a banner made of 52 yards of fabric. The sun and moon motifs on the flag represent Lord Krishna's kingship over the temple for as long as the sun and moon remain. The two entrances Swarg Dwar (where pilgrims enter) and Moksha Dwar (where pilgrims escape) add to the temple's magnificence, which includes a vestibule, sanctum, and a rectangular hall with porches on either side. 56 stairs go to the banks of the Gomti river from the edifice's south portal.
Dwarkadhish Temple Timings
Timings : 06:00 AM – 01:00 PM & 05:00 PM – 09:30 PM
Dwarkadhish Temple Arti Timings
07:00 AM
Mangla Arti
7.00 AM to 8.00 AM
Mangla Darshan
8.00 AM to 9.00 AM
Abhishek Pooja (Snan vidhi) : Darshan closed
9.00 AM to 9.30 AM
Shringar Darshan
9.30 AM to 9.45 AM
Snanbhog : Darshan closed
9.45 AM to 10.15 AM
Shringar Darshan
10:15 AM to 10.30 AM
Snanbhog : Darshan closed
10.30 AM to 10.45 AM
Shringar Arti
11.05 AM to 11.20 AM
Gwal Bhog Darshan closed
11.20 AM to 12.00 Noon
Darshan
12.00 Noon to 12.20 PM
Rajbhog : Darshan closed
12.20 PM to 12.30 PM
Darshan
12.30 PM
Anosar : Darshan closed
Evening
05:00 PM
Uthappan First Darshan
5.30 to 5.45 PM
Uthappan Bhog Darshan closed
5.45 to 7.15 PM
Darshan
7.15 to 7.30 PM
Sandhya Bhog Darshan closed
7.30 to 7.45 PM
Sandhya Arti
8.00 to 8.10 PM
Shayanbhog Darshan closed
8.10 to 8.30 PM
Darshan
8.30 to 8.35 PM
Shayan Arti
8.35 to 9.00
Darshan
Dwarkadhish Temple Entry Fee
No Entry Fee
Nearby Places Of Dwarkadhish Temple
Nageshwar Jyotirlinga
Beyt Dwarka
Dwarka Beach
Rukmini Devi Temple
Dwarka Lighthouse
Swaminarayan Mandir, Dwarka
Sudama Setu
Bhadkeshwar Mahadev Temple
Gomti Ghat
Dwarkadhish Temple Online Darshan Booking
Click Here For https://www.dwarkadhish.org/
Best Time To Visit At Dwarkadhish Temple
The best time to visit is between November and February, and during Janmashtami which is celebrated grandly here.
Dwarkadhish Temple Contact Number
Contact Number:- 02892-234080, 02892-234080
How To Reach Dwarkadhish Temple
By Road
Dwarka is well connected by all the cities. you can take NH-947 directly takes to Dwarka city.
By Train
Dwarka is well connected by a rail network from all over india.
By Air
Porbandar and Jamnagar are the nearest airports to Dwarka.