Dholavira is an archaeological site in the western Indian state of Gujarat that is located near Khadirbet in the Bhachau Taluka of the Kutch District. It gets its name from a modern village that is located 1 kilometer south of it.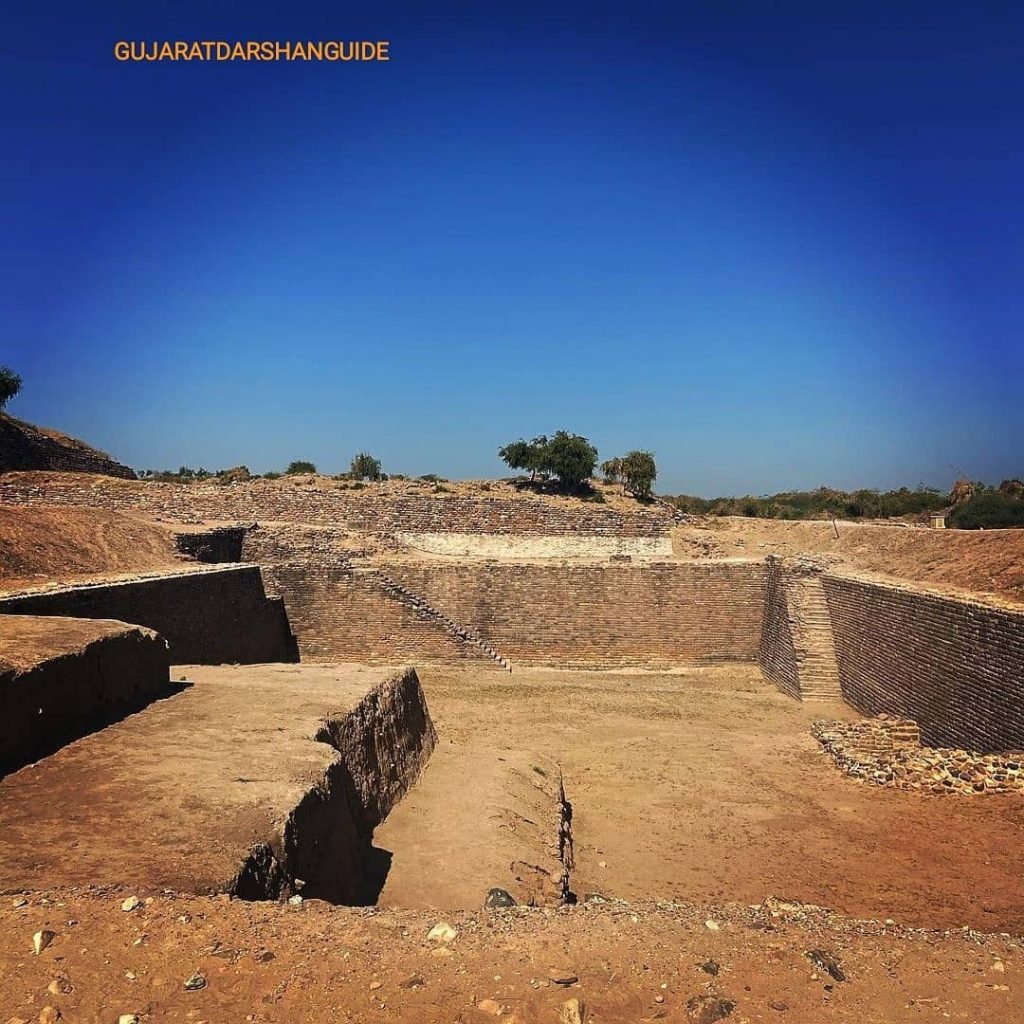 About Dholavira
It is also known as Kotada (large fort) and extends over 100 hectares of semi-arid land in the northwest corner of the island of Khadir.
It is one of India's largest Harappan cities and the subcontinent's fifth largest.
The journey to Dholavira is breathtaking, taking you through the saline desert plains of the Great Rann, where you can see wildlife like chinkara gazelle, nilgai, flamingos, and other birdlife.
Dholavira Timings
Timing:- 06:00 AM to 08:00 PM.
History of Dholavira
The site was believed to have been occupied from around 2650 BCE, slowly declining after around 2100 BCE, and briefly abandoned then reoccupied until around 1450 BCE; however, the current study reveals that occupation began around 3500 BCE (pre-Harappan) and continued until around 1800 BCE (early part of Late Harappan period).
Shambhudan Gadhvi, a Dholavira village resident, discovered the location in the early 1960s and worked to bring official attention to it. Director General Jagat Pati Joshi of the Archaeological Survey of India (ASI) "officially" found the site in 1967-68, and it is the fifth largest of eight important Harappan sites. The ASI has been excavating it since 1990, with the conclusion that "Dholavira has certainly added new dimensions to the personality of the Indus Valley Civilization." Harappa, Mohenjo-Daro, Ganeriwala, Rakhigarhi, Kalibangan, Rupnagar, and Lothal are the other significant Harappan sites discovered so far.
On July 27, 2021, it was recognized as a UNESCO World Heritage Site under the name Dholavira: a Harappan City.
Dholavira Entry Fee
Entry Fee:- No Entry Fee
Architecture Of Dholavira
The ruins also show a citadel with a middle and lower town. Sun-dried brick and stone masonry was used to construct these structures. The residents also constructed an underground drainage system for sanitation. Visitors can see a large stadium with seating arrangements built according to the complex structure. In addition, archaeologists discovered ten large-scale inscriptions carved in Indus Valley script that has yet to be deciphered. The archaeological museum, which houses relics from the Indus Valley civilization, is another highlight of the site. Dholavira declined between the fifth and seventh stages of Harappan culture.
Dholavira's water conservation speaks volumes about the ingenuity of the people who devised a system based on rainwater harvesting to sustain life in a parched landscape with scarce sweet water.
Dholavira's residents were expert water conservationists. There were no significant rivers flowing by, only two seasonal streams, Mansar and Manhar. To store water, nine reservoirs were built around the city.
Best Time To Visit Dholavira
The Best Time To Visit At October to December & January to March.
Other Attraction At Dholavira
WOOD FOSSIL PARK
BHANJANO DUNGAR
Shangwari Mataji
Flamingo City
Chipper
Bhimguda
Dholavira Address
Address:- Khadirbet, Bhachau, Kutch district, Gujarat, India.
How to Reach Dholavira
By Air
The airport nearest to Dholavira is the Rudra Mata Airport in Bhuj.
By Rail
Bhuj Railway Station is the nearest railway station to Dholavira.
By Road
Dholavira is 250 kilometers (six hours' travel) from Bhuj through Rapar village and Bhachau.
FAQ On Dholavira
Is Dholavira open today?
Yes, Dholavira is Open Today. The timings for Dholavira are 06:00 am to 08:00 pm.

What is Dholavira famous for?
The Dholavira site is India's most important Indus Valley Civilization archaeological site. The site is the larger of the two most outstanding Harappan Civilization excavations, dating back around 4,500 years.
How to visit Dholavira?
Dholavira is 250 km(around 6 hours) from Bhuj and is reached via Bhachau and Rapar.
What is Dholavira also known as?
Dholavira, known locally as Kotada (which means large fort).
What are the three parts of Dholavira?
The city itself is divided into three parts — the Citadel, the Middletown, and the Lower town.
Who invented Dholavira?
It was discovered in 1968 by archaeologist Jagat Pati Joshi.