Wild Ass Sanctuary in the Little Rann of Kutch in northwest Gujarat is a completely unique experience. The wildlife sanctuary of Little Rann was established in 1972 and came under the Wildlife Protection Act in the same year.
About Wild Ass Sanctuary
The Sanctuary covers an area of 4954 km². The most well-known wildlife of the region includes the Indian Wild Ass, as well as the chinkara, desert fox, jackal, desert cat, caracal, nilgai, wolf, blackbuck, and striped hyena.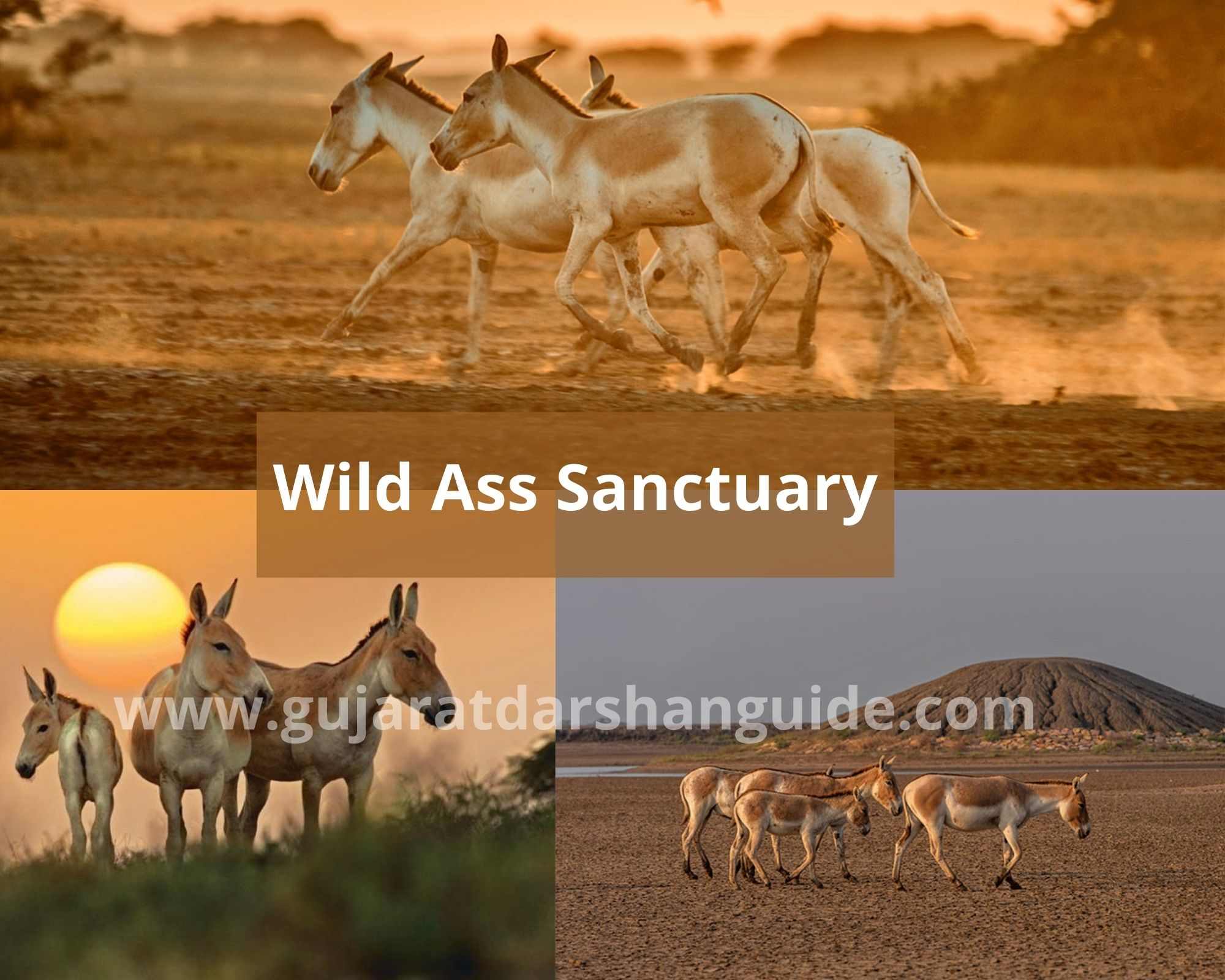 This sanctuary attracts many across the world threatened birds like houbara bustard, dalmatian pelicans, hawks, harriers, and falcons. Many of those birds migrate to this area, which falls on the migratory route of birds coming to the Indian subcontinent Large part of Little Rann of Kachchh has been covered through Prosopis chilensis. The different plants and trees are Morad, unt Morad, theg, dolari, khijdo, kerdo, mithi jar, kheri pilu, akado etc.
Wild Ass Sanctuary Timings
Timings:- 06:00 AM to 06:00 PM
Best Time To Visit Wild Ass Sanctuary
The best time to visit is between November and February.
Flora and Fauna At Wild Ass Sanctuary
The main wildlife and the biggest attraction is the Indian Wild Ass. There are many different birds among the animals.
The wild ass, blue bull, hare, wolf, Indian fox, jackal, hyena, wild boar, desert cat, etc. are important creatures.
Important bird species include the Houbara bustard, eagle, pale harrier, black-shouldered kite, spoonbill, larger and lesser flamingos, great crested grebe, common cranes, etc.
The Sanctuary is habitat to about 93 species of invertebrates, including 25 species of zooplanktons, 1 species of annelid, 4 crustaceans, 24 insects, 12 mollusks, and 27 spiders.
Wild Ass Sanctuary Entry Fee
The permit fee is charged per vehicle of up to six people. During the week, from Monday to Friday, the rate is 600 rupees for Indians and 2,600 rupees for foreigners.
Wild Ass Sanctuary Contact Number
Phone(O) : 02754 260716
How to Reach Wild Ass Sanctuary
By Road
The Wild Ass Sanctuary is 130 km from Ahmedabad, 45 km from Viramgam, 175 km from Rajkot, and 265 km from Bhuj.
By Rail
The Nearest railway station is in Dhrangadhra (16 km).
By Air
Ahmedabad is the nearest airport.