Ahmedabad is the fifth-most-populous city in India.
About Ahmedabad
Ahmedabad, in western India, is the largest city in the state of Gujarat. The Sabarmati River runs through its center. On the western bank is the Gandhi Ashram at Sabarmati, which displays the spiritual leader's living quarters and artifacts. Across the river, the Calico Museum of Textiles, once a cloth merchant's mansion, has a significant collection of antique and modern fabrics.
Founded by Sultan Ahmad Shah in 1411 AD, Ahmedabad, in the state of Gujarat, has grown into one of the most important modern cities in India.
There are nine bridges on the river Sabarmati that connect the eastern and western regions.
Narendra Modi Stadium(Gujarat), a cricket stadium with 54,000 capacity, in Motera, Ahmedabad.
Straddling the Sabarmati river, this prosperous city of six million is a delight for archeologists, anthropologists, architects, historians, sociologists, traders, bargain hunters, and plain tourists.
Dekho Ahmedabad is providing the best service as a travel company for Many Years. For the last many years, Dhekho Ahmedabad is consistently providing its top-level service to its customers. We would like to introduce ourselves as the leading Ahmedabad-based Travel & Tourism Company, offering a wide array of travel services to the Individual tourist, families & groups & Corporate Sector. For the last many years, we are continuously striving to improve our service facility system so that customers get a memorable tour.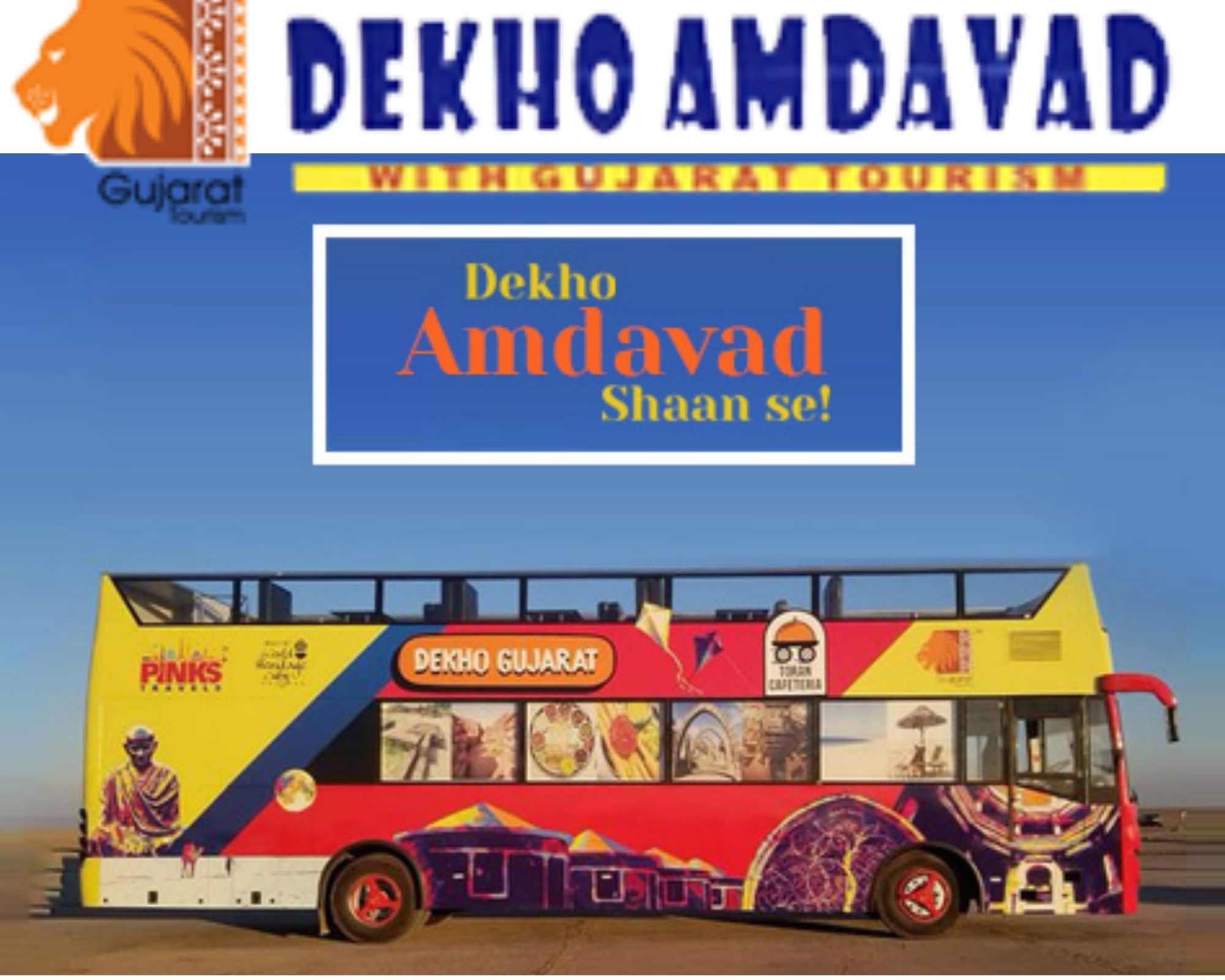 Ahmedabad is divided by the Sabarmati into two physically distinct eastern and western regions. The eastern bank of the river houses the old city, which includes the central town of Bhadra. This part of Ahmedabad is characterized by packed bazaars, the pol system of closely clustered buildings, and numerous places of worship. A Pol (pronounced as a pole) is a housing cluster that comprises many families of a particular group, linked by caste, profession, or religion.
Dekho Ahmedabad Timings
8:45 AM – Reporting Time at Gandhi Ashram Main Gate.
9:00 AM – Tour Start time.
5:00 PM – End the tour With Rememberable Memory.
Monday Closed
Dekho Ahmedabad Ticket Price
Adult: Rs. 500/-
Reporting Place: Gandhi Ashram
Dekho Ahmedabad Online Ticket Booking
https://www.dekhoamdavad.com/taketour.php
Places To Visit In Dekho Ahmedabad
8:45 AM – Reporting Time at Gandhi Ashram Main Gate
9:00 AM – Tour Start time
Visit the following places by walk
– Sidi Saiyad mosque
– Bhadra Fort
– Bhdrakali Temple
– Teen Darwaza
– Jama Masjid
– Driver Through
– Astodiya Road
– Rani Sipri Masjid
– Kankariya Lake
– Shaking Minarets
– Hutheesing Jain Temple
Lunch (Own cost)
Riverfront watersports
Arrival at 5 PM and Visit Gandhi Ashram
Inclusion And Exclusion For Dekho Ahmedabad
Inclusion
HUTHEESING JAIN TEMPLE
SIDI SAIYYED MOSQUE
BHADRA FORT
BHADRAKALI TEMPLE
TEEN DARWAZA
JAMA MOSQUE
GANDHI ASHRAM
KANKARIA LAKE
SHAKING MINARETS
RIVERFRONT
RANI SIPRI'S MOSQUE
Exclusion
Lunch (Own cost)
Term and Conditions For Dekho Ahmedabad
A child below 05 years is complimentary without a seat (ID proof compulsory).
This tour will not be operated on Monday.
Guided Tour.
Entry fees to monuments and sightseeing places is not included.
Rates are subject to change.
GST 5% is extra.
ID Proof/ID card is necessary for your travel(Aadhar card/Passport/Birth Certificate/Driving License/Voter ID).
Management will not be responsible for the cancellation or alteration of the trip due to any natural/political or social influences.
All rights reserved by M/S Pinks Travels.