Tadoba National Park, popularly known as the "Tadoba Andhari Tiger Reserve," is one of the country's 47 project tiger reserves. It is located in Maharashtra's Chandrapur district, around 150 kilometers from Nagpur.
Visitors can choose to go on a jeep safari, a canoe safari, or even a walking safari, depending on their preferences and the time of year.
Tadoba National Park History
Tadoba Andhari National Park takes its name from the God "Tadoba" or "Taru" worshiped by the local tribes. Taru was the brave village leader who was killed in a tiger attack. As a reason, a shrine was built in his name.
The Tadoba Region's national park was established in 1955, covering an area of 116.54 square kilometers. Andhari Wildlife Sanctuary was established close to the national park in 1986, and the two were merged in 1995 to form India's 41st Tiger Reserve under Project Tiger.
Tadoba National Park Timings
Timings:- 06:30 AM – 11:00 AM & 02:30 PM – 06:30 PM
Best Time to Visit Tadoba National Park
According to the tropical environment of Tadoba National Park, the best time to see a tiger is from March to May, when summer is at its peak, especially in May.
October to November is also the greatest season to visit Tadoba National Park because you'll be able to experience the green nature's livelihood.
Tadoba National Park Nagpur Entry Fee
Entry fee for Adults: 20 Rs.
Entry fee for Children: 10 Rs.
Jeep and Car: 20 Rs. (per day)
Fee for Local Guide: 60 Rs.
Rate of Photography in Tadoba National Park: 200 Rs.
Things To Do in Tadoba National Park
Jeep Safari for Tiger and wildlife sighting in Tadoba
Boat ride in Irai lake
See Bird Around the Lakes of Tadoba
Night Safari in Tadoba
Loghut Stay In Tadoba
Butterfly Garden
Visit Ramdegi – Temple
Visit Sevagram, Gandhiji's Ashram
Tadoba National Park Ticket Price
Jeep Price
INR 5500 / Jeep (Maximum 6 Persons are allowed in ONE Jeep)
Canter Price
INR 1000 / Person (Maximum 18 Persons are allowed in ONE Canter)
Zones
Moharli Gate, Kolara Gate, Nawegaon Gate, Khutwanda Gate and Zari Gate
Safari Timing
06:30 AM – 11:00 AM & 02:30 PM – 06:30 PM
The price includes
Jeep & Driver, Permit Charges, Guide Charges, Online Payment Gateway Charges & Our Service Charges and Taxes.
Note
Jeep Safari & Canter Safari are non-refundable.
Safari Booking will be CLOSED after 5:00 PM for the Next Day booking.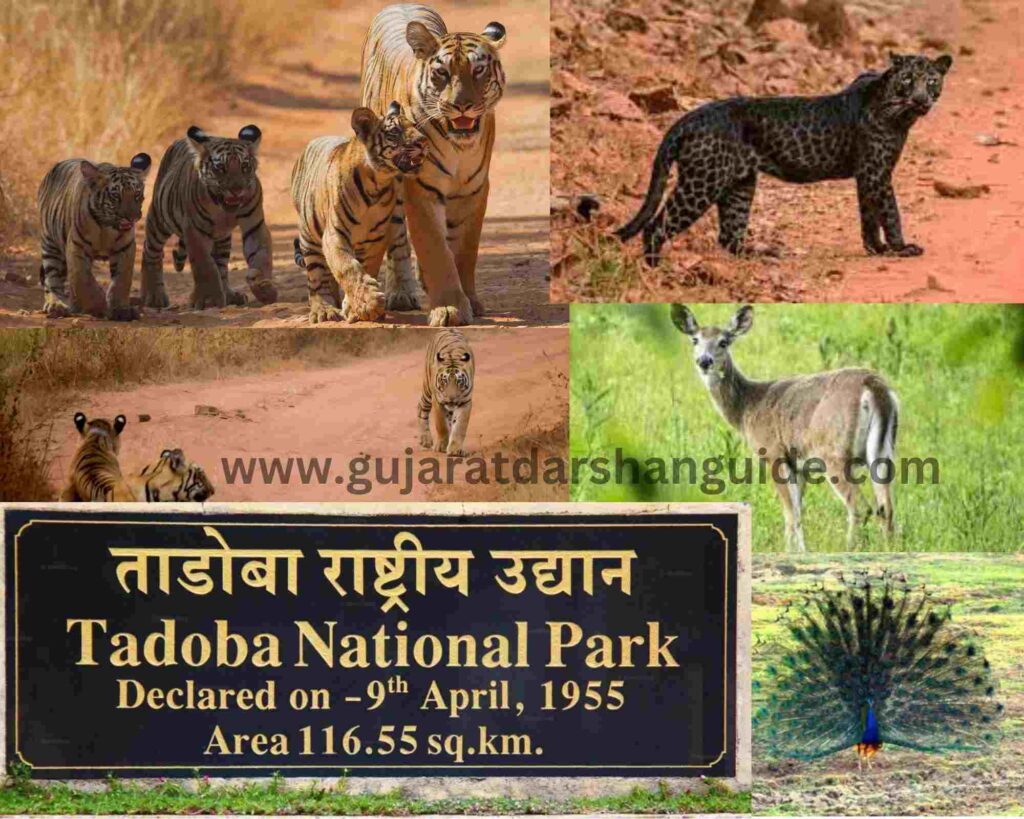 Flora and Fauna at Tadoba National Park
The park covers an area of 625.40 square km and is home to a diverse range of flora and fauna, including over 105 species of mammals and reptiles, around 285 species of birds, and numerous species of plants and trees. The park is also known for its stunning landscapes, which range from dense forests and rolling hills to tranquil lakes and rivers.
While on safari, visitors are likely to see a variety of animals, including tigers, leopards, sloth bears, gaurs, and many species of deer and antelope. Visitors may also see various bird species, such as the Indian Peafowl, the Indian Roller, and the White-eyed Buzzard.
Tadoba National Park Accommodation
There Are Some Lodge, Hotel & Resorts In Tadoba.
Stay Details At Tadoba National Park
Accommodation Details
The Average Rate starting room price is 8000 Rs.
How To Reach Tadoba National Park
By Air
Nagpur Airport is the nearest airport around 163 km.
By Train
Chandrapur Railway Station is the nearest railway station around 36km.
By Road
Chandrapur Bus Stand at 35 Km.
Tadoba National Park Jeep Safari Booking
Click Here For Tadoba National Park Jeep Safari Booking