Statue of Equality is dedicated to Swami Ramanujacharya located in Muchintal, Srirramnagar, Shamshabad, Telangana near Hyderabad city.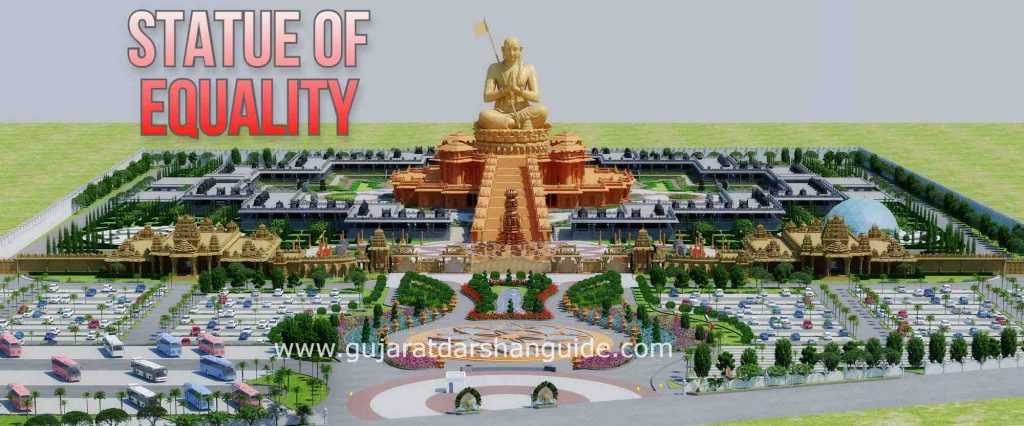 The Statue of Equality is made at a cost of Rs. 216 crore. The inauguration of the Statue of Equality will be done by Prime Minister Narendra Modi on 5th February 2022. The height of the Statue of Equality is 216 feet from the ground. Also, it is the second-largest sitting statue in the world following Great Buddha Statue in Thailand which is the first-largest sitting statue.
Statue of Equality Inauguration
The inauguration date of the Statue of Equality is 5th February. The inauguration will be done by Prime Minister Narendra Modi. Before that on 2nd February Yagna will be performed. In the Yagna 1.5kg of desi ghee will be used. The desi ghee is collected from various places across the country. From 2-14 February 2022 Puja will be performed over here. 1035 Kund Lakshmi Narayan Yagna will be performed.
Why Statue of Equality?
Saint Ramanujacharya was a great social reformer, spiritual leader, constant inspiration in his lifetime and across the span of time. He presented the essence of Vedas in the form of 9 scriptures. Ramanujacharya ensured equality across Social Status, Gender, Religions, castes and is considered an "icon of equality".
Chinna Jeeyar Swami came up with this idea in 2014 which was completed after 8 years. The aim behind building the Statue of Equality is to commemorate the 1000th anniversary of Swami Ramanujacharya. Along with that to educate new generations about the most influential thinker of devotional Hinduism, Swami Ramanujacharya.
About Statue of Equality
The Statue of Equality symbolizes "equality" propounded by Ramanuja. Sri Ramanuja Statue is constructed in an area of 40 acres inside a 200-acre ashram. It took over 18 months to build the complete statue of Sri Ramanuja. A small statue of Sri Ramaujacharya is also made from 120 kg of gold where puja is performed & is located right below the main statue. The statue contains 54 petals of Lotus, 36 elephants below petals, 18 shells & 18 chakras. 108 temples are built of the Vaishnava sect near the statue.
There is also a 42 feet tall musical fountain – Leela Jala-Neeranjanam (Dancing Fountain) brought from China. It beautifully depicts the life and leelas of Swami Ramanujacharya. There is also an Omni-max theatre.
Statue of Equality Architecture
The statue is made with great details, research, analysis, and planning.
Chief Architect Anand Sai & Prasad Sthapati with the team prepared 14 clay statues as how the statue would look like.
Out of which 4 were selected by Chinna Jeeyar Swami and his advisor.
1600 parts of statues were made.
All the parts of the Statue are made in China and were assembled in Muchintal, Sri Ramnagar, India. It took 9 months to assemble.
From the best parts of the statue from the 4 selected by Chinna Jeeyar Swami, a new statue was created- the final one.
A unique model was prepared on a computer with 3D scanning in Bengaluru.
The 108 temples(Divya Desams) are built of black stone. It has the same architecture as the original temple.
Best craftsmen from Mount Abu, Jaipur, Tamil Nadu & Andhra were selected for different tasks.
Around 1800 corrections were made on the face.
As you enter, there are statues of Hanumanji (18 feet) and Garudji (18 feet).
Stones from 3 different states were brought.
Pink Stone from Bansi Pahadpur, Rajasthan. Black Marble from Bheslana, black stones from Tamil Nadu, and a special kind of black marble were brought from China.
Statue of Equality Height
The full height of the Statue of Equality is 216 feet from the ground. While the height of the statue of Sri Ramanujacharya is 108 feet. The height of Bhadradevi is 54 feet, Tridandam is 135 feet & padmapitham is 27 feet. The width of the eyes is 6.5 feet and height 3 feet.
Statue of Equality Cost
Around 1400 crore is spent on this entire project under the supervision of Saint Chinna Jeeyar Swami. The statue is made at a cost of Rs. 216 crores. The entire amount came through donations from all over the world.
How to Reach Statue of Equality
Statue of Equality is located in Sriram Nagar, in Hyderabad – Muchintal Road.
By Road
Hyderabad to Sriram Nagar – 17.1 km
By Air
The nearest airport is Rajiv Gandhi International Airport(15 km) in Shamshabad.
By Train
The nearest railway station is Umdanagar Railway Station(12 km) in Shamshabad.