Gujarat Science City (or simply Science City by locals) is a bold government initiative to popularise science and promote scientific temperament among Gujarati communities.
About Science City Ahmedabad
Gujarat is a state located on the western side of the Indian Subcontinent. It is considered to be one of the most progressive and prosperous Indian states of the 21st century for varied reasons ranging from economic conditions to social and much of it can be attributed to Narendra Modi. He was the Chief Minister of the State before becoming the Prime Minister of India.
Gujarat came into existence after separating itself from the erstwhile 'Bombay'of the 1960s and now spans over 1,96,024 odd square kilometers and provides habitation to more than 64 million Indians. The Government of Gujarat possesses around 107 hectares of land for a registered society that has been formed, that regulates and maintains the Gujarat Science City mandate.
The fast-paced environment of today demands some knowledge of basic science and a lot more of the scientific temperament and hence this initiative has been a priority for a long. And this priority was soon realized in May of 2009 when Gujarat Science City was established.
This Science City has been developed to foster education with a blend of entertainment for the general mass. It hosts an amazing center with imaginative and informative yet contemporary exhibitions of labs, working models, interesting activity corners, and virtual reality with live demonstrations to provide an understanding of science and technology to the common man.
Image Gallery of Science City Ahmedabad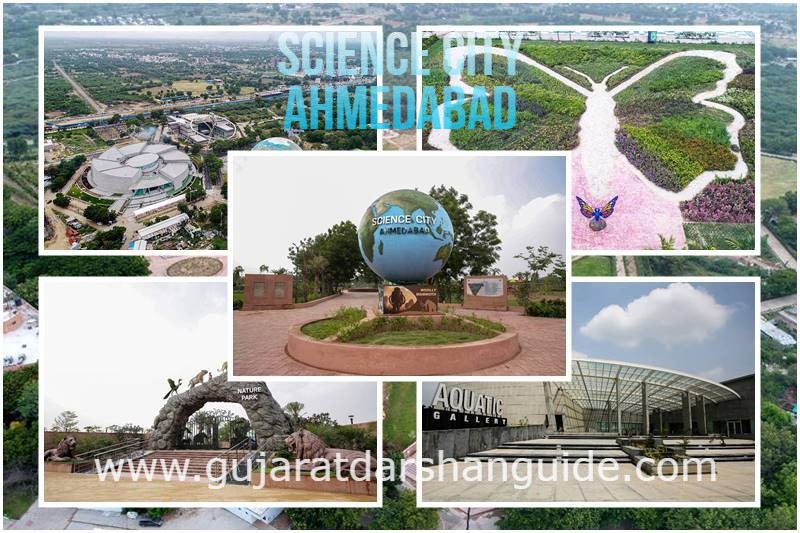 The Architecture of Science City
The architecture of Science City is very well designed with each attraction separated into different sections or modules. The center has a plethora of cool things the likes of which are an amazing Hall of Science, an amphitheater, a very informative Life Science Park, an IMAX 3D theatre, and a few quirky musicals fountains that dance to songs and rhythms. A dedicated center for exams is also provided.
On getting a bird's eye view of the map of Science City, we will find that the parking lies just outside the main entrance. Although there are multiple entry points, the main entrance is the easiest to spot due to the presence of the above-mentioned parking facility. One cannot simply miss the bustling cars that are parked here every day and thereby miss the entrance!
The entire complex has roads and pavements connected in polygons to give rise to a hexagonal shape. In fact, it seems the inspiration for this design has been derived from that of a beehive.
There are essentially 13 main sections in the Science City complex viz.:-
1. IMAX Theatre
2. Electro-dome
3. Hall of Space & Science
4. Amphitheatre
5. Expo Ground
6. Children Activity Centre
7. Restaurants
8. Planet Earth
9. Life Science Park
10. Energy Park
11. Musical Fountain
12. Thrill Ride
13. Auda Garden
14. Robotics Gallery
15. Aquatic Gallery
16. Nature Park
For the visual learners, here's a map of Gujarat Science City that provides a bird's eye view straight from the official website of the Gujarat Council of Science City.
Science City Ahmedabad History
There is no major backstory to Gujarat Science City other than the government's desire to educate the public about science and develop their scientific temperament. The Gujarat Science Council was established, and the complex itself opened in May 2001.
Things To Do At Science City Ahmedabad
1. There's an IMAX 3D theatre that has screens as big as a 10-storeyed building. 3D movies with Dolby sound functionality are provided in these theatres. The tickets can be booked beforehand and the timings can be inquired about at the booth itself if required.
2. There's a hall of science, that, much like the hall of fame, displays all the successful models in science that made an impact and changed the future of humanity in some way or another. This hall encourages the visitors to touch and explore the models so that they can read and understand the science behind them by themselves.
3. In this age of computers, computer vision has become so advanced that it can now provide ultra-realism. Technically, it's called a simulation. Science city provides some of the best simulations in the form of simulator rides. These rides vary from roller-coaster rides to Jurassic park rides. They're some of the fun rides available out there. The rides usually last for 20 minutes and the tickets can be pre-booked as well.
4. One of the famous tourist attractions in Science city is the musical dancing fountain. It is essentially a jet stream of water that is programmatically controlled to emulate the human behavior of dancing. A very clever choice of music, lights, and applied logic work in unison to create the illusion that something as simple and clear as water can dance to a tune. The lights add to this smoke and mirrors trick to make it more believable. This dancing fountain is active in the evenings almost every weekday. Visitors can experience this marvel for free.
Ahmedabad Science City Timings
Timings:- 10:00 AM To 07:30 PM
Gujarat Science City will remain closed to visitors every Monday.
Entry fee for Science City Ahmedabad
The entry fee for children is Rs.10, for schoolchildren, it's Rs.5 and for adults, it's Rs.20. The parking fees are Rs.5 for two-wheelers and Rs.10 for four-wheelers. If a bus is parked, a fee of Rs.25 will be charged.
The different rides and attractions inside Science City have different rates. They're as follows:
Space hall ticket rate – Rs. 25 per individual
Musical fountain ticket rate – Rs. 20 per individual
Planetarium Entry fee – Rs. 15 for adults and children and Rs.10 for school children
Thrill ride ticket rate – Rs.25 per individual
Places To Visit Near Science City
1. Ahmedabad One Mall is a shopping mall close to Science City and is worth a visit for anyone who wants to satisfy their shopping demands. The mall caters to all types of visitors as there are multiple sub-complexes housing different shops, cafes, and boutiques.
2. Bhadra Fort is one of the few places to visit near Science city. Built of red stones, the architecture and history of this fort draw the attention of many tourists and locals alike. It reflects the Mughal architecture and their lifestyle through the carvings on the walls. The fort houses cannons, small rooms, and dens that all come together to depict the past life of the people that once ruled the country.
3. Another famous location to visit near Science city is Chandola Lake. This artificial lake was formed with its application planned to be that of a reservoir. It is a peaceful, serene area with clear, blue lake water and huge trees that provide shade to the weary mind. People are fond of this place due to the serenity it provides and also because of the scenic beauty. People from different walks of life visit Chandola lake all the time to spend a little time and maybe reflect a bit about their day here.
4. For anybody who wants to truly appreciate the inception of architecture, Adalaj stepwell is the place to visit. It is essentially a stepwell that was once a bathhouse. The building may seem eerie at first sight, with bats hovering around the dark corners of the monument, but it is one heck of a beauty that is appreciable if looked at from a correct perspective.
5. Finally, for anyone who wants to learn more about the everyday things we use in our kitchens, specifically the utensils, there is the Utensils Museum. Situated at a distance of approx. 8.7 km from Science city, the museum houses a collection of Indian utensils from different regions of the country, clearly depicting how cooking has evolved in the kitchen through the generations. Some of the pieces have worn out due to improper maintenance and care, but most of the showpieces are still in working condition.
Interesting facts about Science City
1. To promote more visitors, the government has employed a discounting scheme on tickets for people who visit this place in crowds or in groups.
2. Science museum features hands-on exhibits and a 3D IMAX theatre, plus a simulated spacecraft ride, all of which are one of a kind in the entire state.
3. The annual footfall of Science City is approx. 10,00,000.
4. Various kinds of celebrations and events are held inside the complex throughout the year regarding Health, Environment, Weather, Science achievement as well as the celebration of eminent scientists' birthdays, etc. There is also a Vacation Training Programme on Bio-resources, an Orientation program on Science Olympiads, Summer Science Enrichment Programme, etc.
Things To Do At Science City Ahmedabad
1. You can book tickets in advance to enjoy a hassle-free experience via the official website of Gujarat Science City.
2. The duration of the I-MAX films is 40 – 45 minutes and the theatre itself houses a max. of 647 seats. Therefore it is advisable to book a movie ticket in advance if you're keen to watch one.
3. No outside eatables are allowed inside the premises of the Science City complex.
4. There are cloakrooms or luggage rooms for the visitors.
5. Gujarat Science City is open throughout the year but the winter season is the best period for a visit.
6. Bird's eye view map link of Science City can also be accessed from the official website.
How To Reach Science City Ahmedabad
Science City has located 0.5 km from Sadbhav Circle on the S. P. Ring Road in Ahmedabad, Gujarat, India. To get here, one can easily hire a taxi from one of Ahmedabad's top car rental companies or drive their own private vehicle. Buses are plentiful and can also be used to travel to Gujarat Science City.
Gujarat Science City Ahmedabad Thrill Ride Ticket Rates