About Saputara Hill Station
Saputara is a wonderful hill station located in the Dang district of Gujarat. The unmatched scenic beauty of this place beckons tourists from across the country all around the year. Saputara is blessed with marvelous waterfalls, a cool climate, snow-capped mountains, magnificent gardens, scenic beauty and oodles of attractions that entice tourists from various parts of the world, Saputara in Gujarat is a holistic tourist destination.
Saputara is the only hill station in Gujarat and it boasts the cultural and religious values of the various Adivasis tribes living in the region. According to Hindu myths, Lord Rama had stayed for 11 years in the dense woods of Saputara.
There are plenty of things to do in Saputara to have a fascinating yet relaxing vacation. It is indeed the perfect place for nature lovers, families, and youth offering spectacular sights of natural beauty.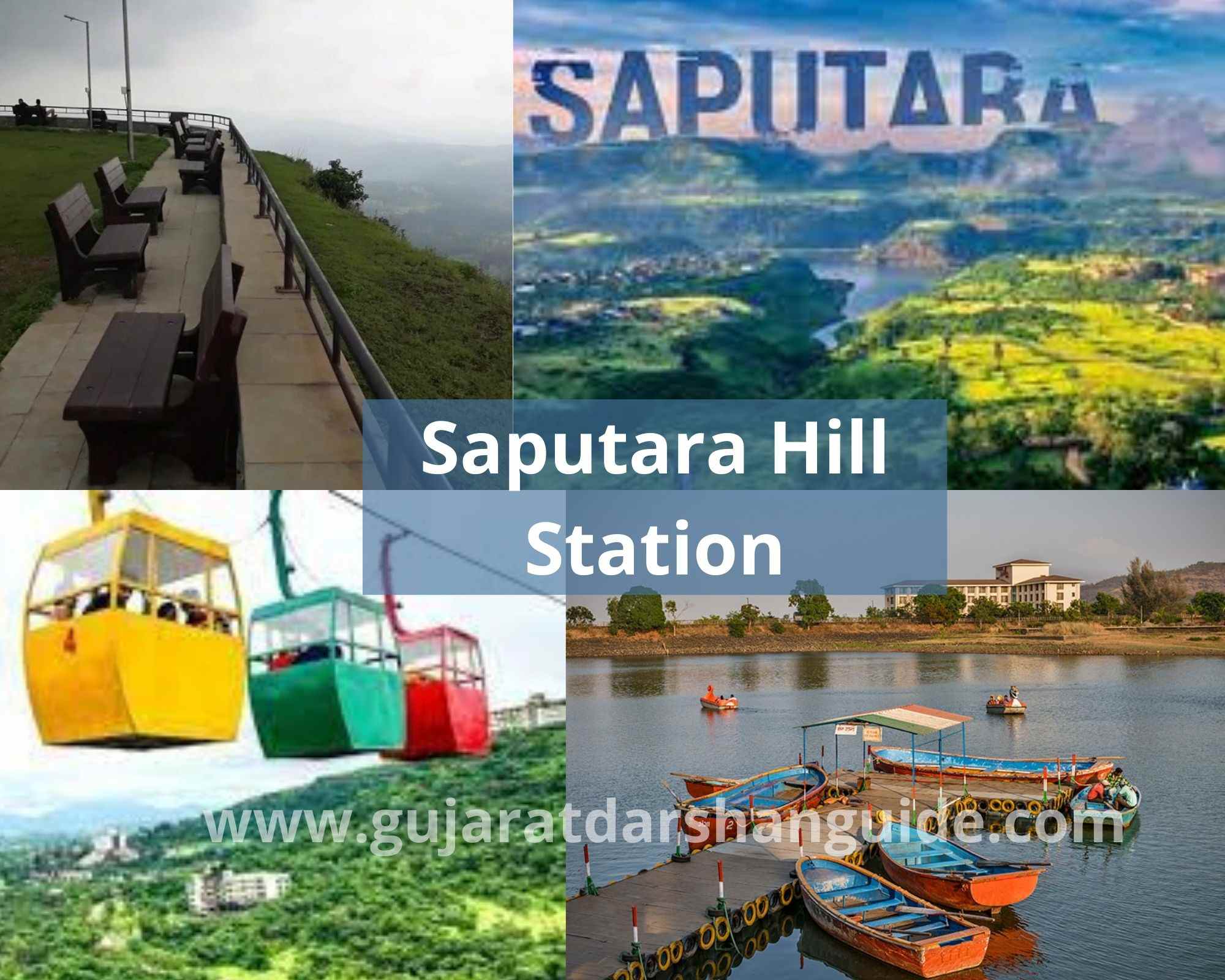 Popular for lush green forests, undulating mountains, dazzling waterfalls, dreamy winding roads, livid landscapes, and plenty of charming cubbyholes to spend time with your loved ones, the town is the first favorite among tourists. It is located at a height of 875 meters above sea level and is a perfect getaway for eco-lovers, wildlife enthusiasts, and people who love adventure sports.
Things To Do In Saputara:
Paragliding
Parasailing
Zip lining
Zorbing
Water Rolling
Boating
Best Hotels In Saputara:
Aakar Lords Inn Saputara
Patang Lords Eco Inn
Hotel Lakeview
Saputara Hill Station Nearby Places:
Rose Garden
Tourists visiting Saputara should never miss this sight. Here, a variety of roses are grown. The day that visitors spend here is usually spent being lazy.
Sunset Point
The sunset point, also known as Gandhi Shikhar peak, is close to the town and offers visitors a spectacular view of the setting sun.
Sunrise Point
One should never pass up the chance to visit Sunrise Point in order to explore the surroundings and take in the breathtaking view of the area.
Saputara Lake
Rowing and paddling the boats here in Saputara Lake is a romantic way for couples to spend time together. This lake is just about 70 feet deep, making it a shallow body of water. Along with adults, kids can enjoy a variety of activities near the lake's edge.
Saputara Lake Ticket Price
| | |
| --- | --- |
| Pedal Boat | INR 35 |
| 4 Seater Boat | INR 140 |
| 5 Seater Boat | INR 175 |
| 6 Seater Boat | INR 210 |
| Row Boat | INR 25 |
Saputara Ropeway
A ten-minute ride by ropeway straddles the valley to Sunset Point. On the way to the Governor's Hill, in the Vaity Resort, one can use the cable car to go up to sunset point (15 Mts ride).
Gira Waterfalls
a fantastic journey about 52 kilometers from Saputara. should not be missed, particularly from June to November.
Saputara Tribal Museum
There are exhibits of the native Dangis' daily lives, artwork and handicrafts, jewelry, agricultural implements, musical instruments, and other items in this little tribal museum. Entry costs INR 2 for adults and INR 1 for children and students. To enter the tribal museum, foreign visitors must pay INR 50. The hours are 10.30 am to 5:00 pm.
Purna Sanctuary
Purna Sanctuary is a part of the lush green forests of northern Dang and is situated 60 km from Saputara, Gujarat. It has been noted that this woodland receives the most rain on average in the area.
Echo Point
One of Gujarat's most popular tourist destinations is Echo Point, where visitors can hear their voices reverberate. It is situated in Matheran adjacent to Saputura and is a popular tourist destination nearby.
Pandava Caves
Pandava Caves, also known as Aravalem Caves, are known for housing the epic tales of the Pandavas and are tucked away in a stunning environment. It is also one of Saputara's most visited tourist destinations.
Waghai Botanical Garden
The largest botanical garden in Gujarat is the Waghai Botanical Garden, which occupies an area of about 24 hectares. It has a variety of flora from Gujarat and India. This location is appealing to nature lovers thanks to its 270 trees, 50 shrubs, 29 fruit trees, 119 medicinal plants, 28 tuberous plants, 82 ornamental plants, and 89 cacti & succulents.
Best Time To Visit At Saputara Hill Station
You can go there any time of year to enjoy the magnificent beauty of Mother Nature.
Saputara Hill Station Travel Tips
Many mobile networks do not work in most areas in Saputara. However, do not expect great connectivity on the hills or the interiors such as the area around Girmal Waterfalls.
Saputara is pretty cold during monsoons/winters. Make sure you carry a light jacket at least.
Monsoons are wet and rains are unpredictable. Carry a raincoat or umbrella.
Carry a pair of good walking shoes.
Saputara Ropeway
The most famous attraction in the mountainous town of Saputara is the cable car trip. Since its construction in the late 1900s, it has provided tourists with an exciting journey over the Sahyadris.
You can ride from Saputara's Sunset Point to Sunrise Point. It takes only 5–6 minutes one way and offers breathtaking views of Saputara Lake and the winding Sahyadri roads on either side.
Right after a rain, when the hills are lush and green, there is a light mist in the air, and wildflowers are in bloom, the journey is extremely pleasant. at the conclusion of a trip on the ropeway, enjoying a hot bowl of Maggi or a cup of chai.
There are three sets of cable cars, with three vehicles in each set. The red, yellow, and green painted cars resemble floating confetti in the sky. The vehicles are compact and hold up to four passengers.
Saputara Ropeway Timings
Timings:- 09:00 AM – 07:00 PM
Saputara Ropeway Ticket Price
Saputara Ropeway costs INR 80 for one ride both ways.
Saputara Ropeway Online Ticket Booking
You can go there and book an offline ticket.
How To Reach Saputara Hill Station
By Road
The town of Waghai is 51 km away. Ahmedabad: 400 km. Surat: 165 km. Mumbai: 260 km. Vadodara: 310 km.
If you are coming by private car, then National Highway might be quicker, but the state highway will offer a stunningly scenic drive.
By Bus
There are State Transport buses and private luxury coaches from Waghai and Ahmedabad.
By Rail
The nearest railway station is Waghai, on the Billimora-Waghai narrow gauge section of the Western Railway.
By Air
Chatrapati Shivaji International airport in Mumbai would be the nearest airport to reach Saputara, about 360 km away.
Saputara Hill Station Distance
Surat To Saputara
160 km
Nashik To Saputara
80 Km
Ahmedabad To Saputara
401 km
Vadodara To Saputara
288 km
FAQ Saputara Hill Station
Which is the best time to visit Saputara Hill Station?
Saputara is best visited during the rainy season when the waterfalls are at their fullest and the area is covered in a thick layer of greenery.
What is the height of Saputara Hill Station?
Saputara has a height of about 1000 meters.
What is famous Saputara?
Gujarat's only hill station, Saputara, is famous for its natural scenery, comfortable atmosphere, waterfalls, and gardens.
How many days are sufficient for Saputara Hil Station?
To properly see Saputara Hill Station and the Dang district's adjacent attractions, you would need two to three days.