Ranthambore National Park is one of northern India's largest national parks. It is 14 kilometers from Sawai Madhopur district and approximately 180 kilometers from Jaipur in India's southeastern Rajasthan.
About Ranthambore National Park
Ranthambore National Park, located in the Sawai Madhopur area of Rajasthan, is a popular wildlife safari destination in India. The park is well-known for its tiger population, who may be seen walking freely in their natural environment.
Ranthambore National Park History
The reserve was first established in 1955 by the Indian government as the Sawai Madhopur Gaming Sanctuary.
It was then designated as one of India's Project Tiger Reserves in 1973.
Ranthambore was designated a national park in 1980.
In 1984, Keladevi and Sawai Mansingh sanctuaries were established in the nearby forests.
In 1991, the Sawai Mansingh and Kaladevi Sanctuaries were added to the tiger reserve.
One of the best places to see beautiful carnivores in the jungle living natively in India is the Ranthambore National Park, which is most renowned for its tiger population. The tigers can be seen there at any time, making it the only reserve in the area where this is possible.
Ranthambore Safari Timing
| | | |
| --- | --- | --- |
| Month | Morning Trip | Afternoon Trip |
| October 1st to October 31st | 6.30 A.M. to 10.00 A.M. | 2.30 P.M. to 6.00 P.M. |
| November 1st to January 31 st | 7.00 A.M. to 10.30 A.M. | 2.00 P.M. to 5.30 P.M. |
| February 1st to March 31st | 6.30 A.M. to 10.00 A.M. | 2.30 P.M. to 6.00 P.M. |
| April 1st to May 15th | 6.00 A.M. to 9.30 A.M. | 3.00 P.M. to 6.30 P.M. |
| May 16th to June 30th | 6.00 A.M. to 9.30 A.M. | 3.30 P.M. to 7.00 P.M. |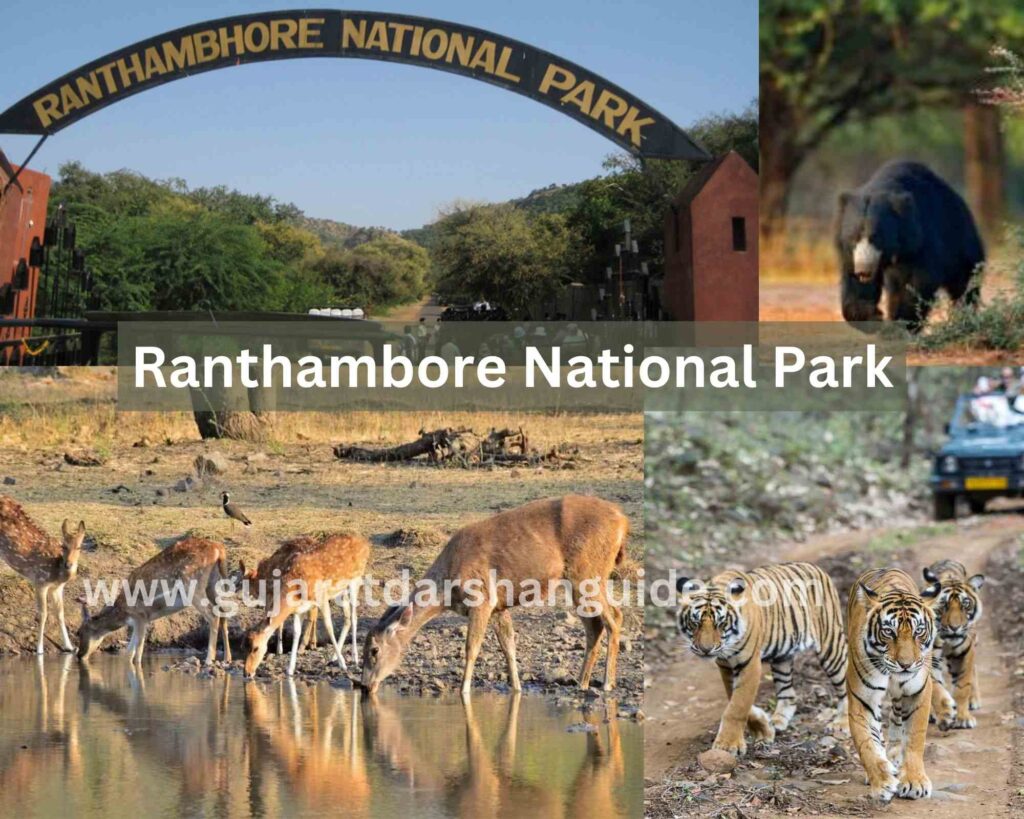 Best Time To Visit Ranthambore National Park
The winter season, from October to March, is considered the best time to visit Ranthambore National Park due to the good weather conditions, with temperatures ranging from 10°C to 30°C. During this season, animals can be observed in the open daylight basking under the sun.
RANTHAMBORE SAFARI TICKET PRICES
| Safari | Indian National (Per Person ) | Foreign National | Time Duration | Zone |
| --- | --- | --- | --- | --- |
| Canter Safari | 1200.00 INR | 3000.00 INR | 3.30 Hrs | Single Zone |
| Gypsy Safari | 1800.00 INR | 4200.00 INR | 3.30 Hrs | Single Zone |
| Private Gypsy | 10800.00 INR | 25200.00 INR | 3.30 Hrs | Single Zone |
| Private Canter | 24000.00 INR | 60000.00 INR | 3.30 Hrs | Single Zone |
| Tatkal Gypsy | 25000.00 INR | 35000.00 INR | 3.30 Hrs | Single Zone |
Flora and Fauna at Ranthambore National Park
Flora
The flora of Ranthambore National Park is very rich. Water is sufficient to support a wide range of plants and fauna. The Ranthambore National Park is inhabited by about 300 different plant species, according to estimates.
The Reserve has a diversity of plant communities or associations due to its shallow perennial lakes, high hills, moderate slopes, plateaus, narrow valleys, etc.
Dhok, or scientifically Anogeissus pendula, covers the majority of the forest's area. Along with fruit-bearing trees like mango, imli, jamun tree, and others, this forest also contains banyan, neem, and peepal trees.
Fauna
The Royal Bengal Tiger is the top predator and a well-known animal of the Ranthambhore National Park. Here, you may see numerous more cat species, like the leopard cat, desert cat, fishing cat, and others. You may also see Sloth Bears, Jackals, Striped Hyenas, Common Mongooses, Pythons, Palm Civets, Crocodiles, and more animals on your Ranthambore jungle safari.
Over 300 kinds of migratory birds nest in the Ranthambhore National Park, which is another attraction. Bronze-winged Jacana, Sandpiper, Nightjar, Kingfisher, Painted Spurfowl, Great horned owl, Painted Sandgrouse, Sarus Crane, big Cormorant, and many other species are a few of these that can be easily and frequently spotted on your Ranthambore safari.
Nearby Attraction In Ranthambore
Ranthambore Fort
Trinetra Ganesha Temple
Bakula Region
Kachida Valley
Jogi Mahal
How To Reach Ranthambore National Park
By Air: Jaipur, the nearest airport to Ranthambore, is just 180 kilometers away from the reserve.
By Rail: Sawai Madhopur Railway Station, which is located on the main line connecting Delhi and Mumbai, is about 11 kilometers from Ranthambore National Park.
By Road: There is a road that takes you to Ranthambore. To go to Sawai Madhopur, it is recommended to hire a car or cab. Only 1.5 kilometers separate you from the Kota-Ranthambore super highway.