Palitana Jain temples are located on Shatrunjaya hill in Bhavnagar district, Gujarat. The Palitana Jain temple's live darshan is incredible. The same-named city, formerly known as Padliptapur, has been dubbed "The City of Temples." Shatrunjaya means "a place of victory over inner enemies" or "a place that conquers inner enemies."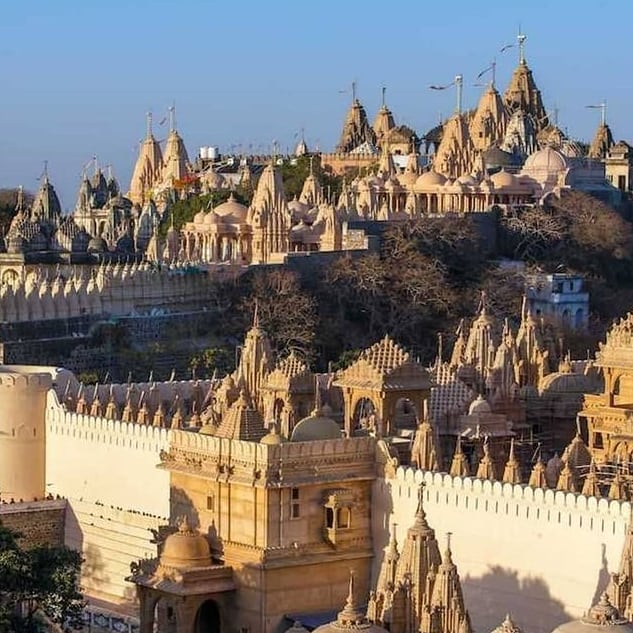 About Palitana Jain Temple
"Welcome to Palitana, the world's first vegetarian city in India's Gujarat."
Yes, that is right, India is home to the world's first entirely vegetarian city, and it's called Palitana. A small city, located in the Bhavnagar district of Gujarat in India, it is counted among the purest and most revered destinations for those who follow Jainism. In fact, it is absolutely illegal to kill animals for eating purposes here, and selling eggs or meat is a strict no.
Back in the year 2014, the government put a ban on animal slaughter in the region and since then, not a single animal has been killed here. The ban was implemented when around 200 Jain monks protested by going on a hunger strike to show the government that they'd prefer to die than let animal slaughter and consumption be allowed in the area.
The monks demanded that all 250 butcher shops are shut down and the state government was forced to do so. Thus, the city was declared a meat-free zone. However, dairy products are still allowed and people in the city consume milk, ghee, butter, etc.
This is because Palitana is home to hundreds of temples, and is also a major pilgrim center for Jains. It is said that their savior,1008 Bhagwan Adinatha, once walked its hills and the place has been important for the followers since then. There is no definite figure about how many people follow Jainism but the number ranges between four to five million worldwide!
Palitana Jain Temple Steps
Steps:– 3364
Heights Of Palitana Temple
Height:-2000 feet
Palitana Temple Total Mandir
Pratima – 27007
Jinmandir-3507
Pagla-1500
Palitana Jain Temple History
The Palitana temples on Shatrunjaya Hill were constructed over a 900-year period beginning in the 11th century. The first temples on this site were built by Kumarpal Solanki, a great Jain saint. The temples were destroyed by Turkish Muslim invaders in 1311 AD when the temples were presided over by the saint Jinaprabhasuri, who was then 50 years old, but they were later restored to their glory.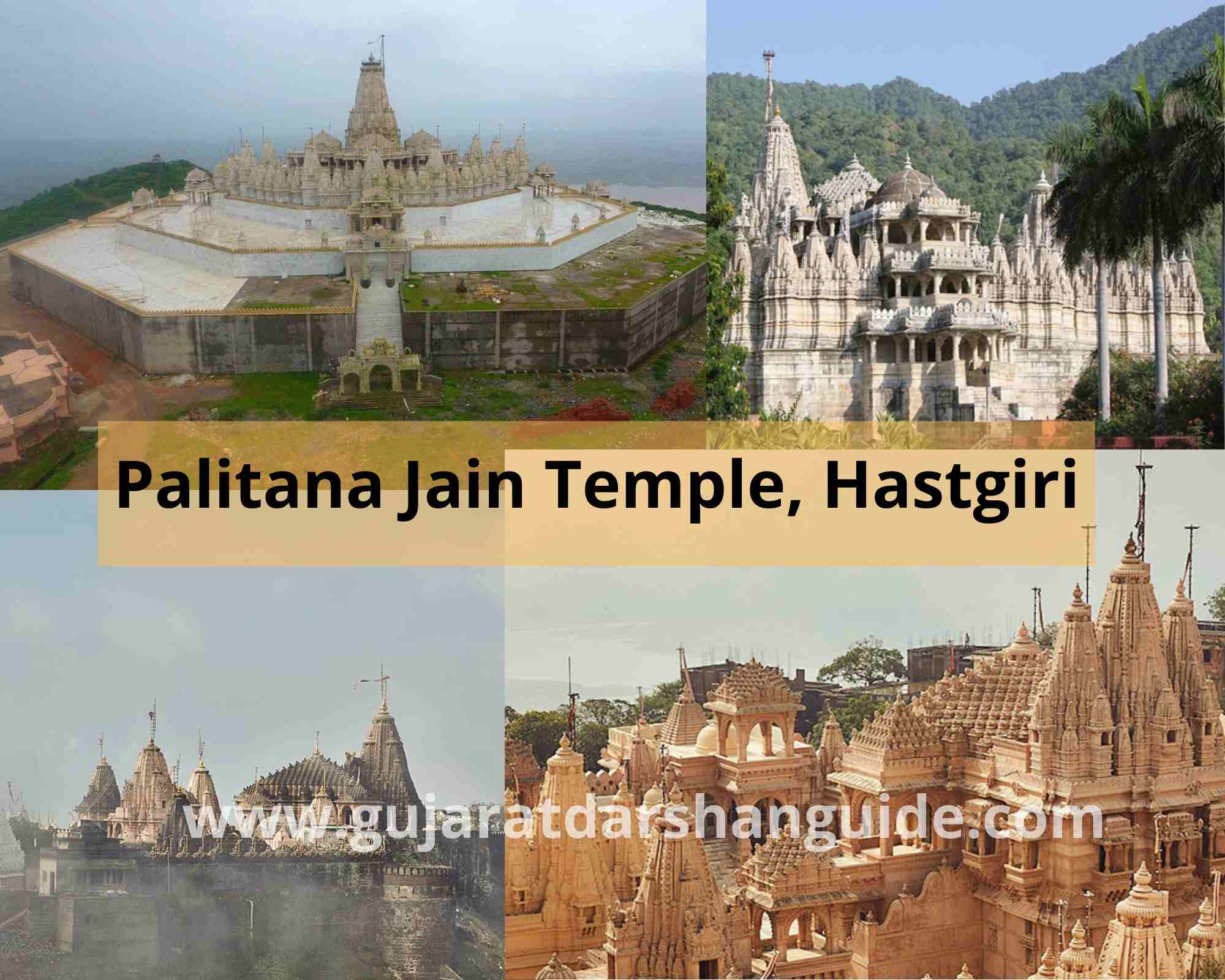 Hastagiri Jain Tirth Palitana
Hastagiri Jain Tirth, located 25 kilometers from Palitana, is a well-known Jain temple in Gujarat. It is one of the most popular Jain pilgrimage sites in Gujarat and one of the must-see places in Palitana, located on a hill on the bank of the Shetrunjaya River.
The temple is dedicated to Bhagwan Rishabhdev or Shri Adishwar Bhagwan. This mountainous region is also known as Hastisengiri. According to the temple's history, the location was a sacred site during the reign of Bhagawan Adishwar. Bharat Chakravartin, Bhagawan Adishwar's eldest son, founded the sacred site. Even today, the foot images of Bhagawan can be seen in a small temple on an ancient hill. Bharat Chakravartin had found salvation in this place. He had fasted until death and attained moksha here. The King's elephant also followed him, so the tirth is known as Shri Hastagiri Tirth.
Hastagiri Palitana Contact Number
+91 2848 284 101
Palitana Temple Entry Fee
No Entry Fee
Best Time To Visit At Palitana Jain Temples
The best time to visit is November–February the temple town.
Palitana Jain Temple Timings
Timings:- 06:00 AM to 06:00 PM
How To Reach Palitana Jain Temples
By Air: The nearest airport at Bhavnagar lies 51 kilometers from Palitana, with daily flights to Mumbai, Surat, and Ahmedabad, 215 kilometers away by road, and has an international airport with regular flights to many important cities.
By Rail: Palitana has a small railway station, Palitana railway station, that is connected to Sihor and Bhavanagar. Most of the trains stop at Sihor, which is connected to Ahmedabad and Gandhinagar.
By Road: There are hourly buses for Bhavnagar from Palitana. Regular buses are also available for Ahmedabad, Talaja, Una, and Diu. Taxis are also available on hire for Palitana from Bhavnagar, Ahmedabad, or Vadodra. The bus stand is situated 800 meters away from the Palitana railway station.