Jessore Sloth Bear Sanctuary is situated in the Banaskantha district formerly under Palanpur State at the Gujarat-Rajasthan border.
It is located on the way to Mount Abu from Ahmedabad.
About Jessore Sloth Bear Sanctuary
It is home to the endangered sloth bear. The sanctuary derives its name from the picturesque Jessore hills of Aravalli ranges cutting across the sanctuary. The area was declared a wildlife sanctuary in May 1978.
Jessore Sloth Bear Sanctuary has many rare species of flora and fauna. The forests generally belong to the forest types of southern dry mixed deciduous and desert thorn forests.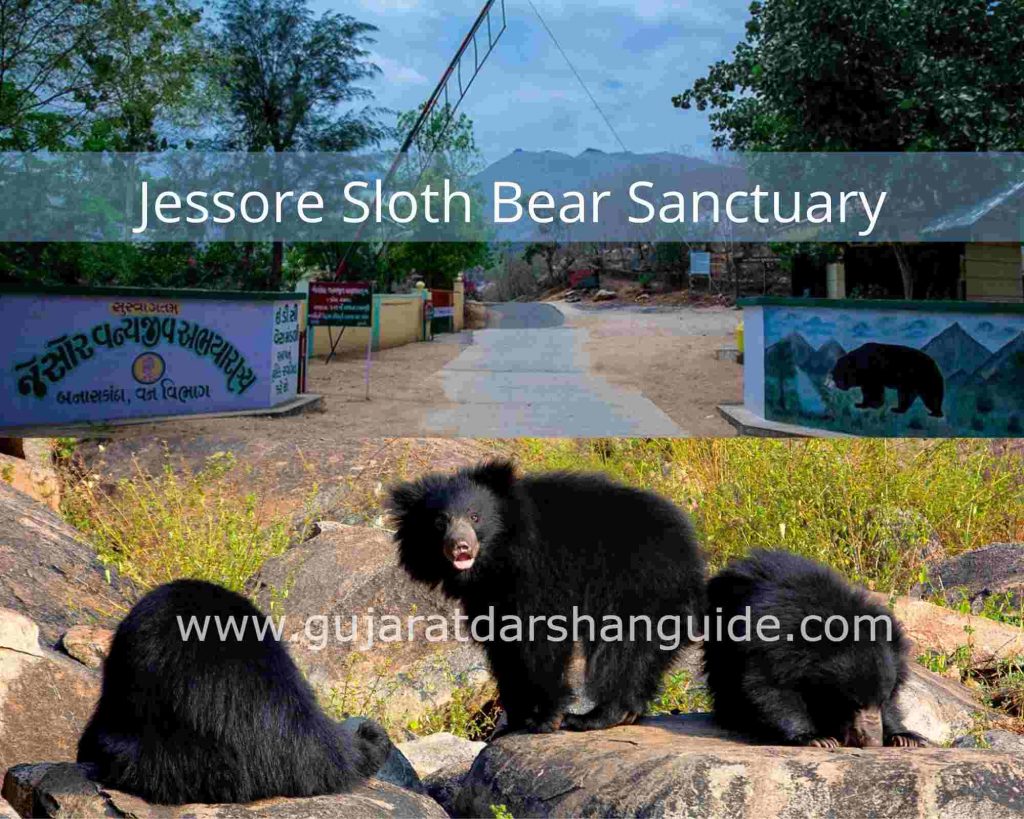 The area has great ecological significance as it acts as a buffer between the desert ecosystem and the dry deciduous type of forest ecosystem.
Flora and Fauna At Jessore Sloth Bear Sanctuary
The major floral species comprise Ber, gando baval, khair, Isaraily baval, dhav, dudhalo, gando baval, dhavado, saledi, kadaya, siras, gorad etc.
The flagship species of the area is the Sloth bear. The top carnivore, the leopard cohabits the area with other vertebrates. Other important animals include rhesus macaque, Indian civet cat, Indian porcupine, striped hyena, fox, jackal, blue bull, wild boar, hare, langur, wolf, etc. The reptiles include snakes, tortoises, and lizards. The avifauna includes spurfowls, cuckoos, barbets, woodpeckers, tree pies, flycatchers, shrikes, spoonbills, storks, cranes, egrets, and many raptors.
Nearby Attraction At Jessore Sloth Bear Sanctuary
Balaram Mandir Visit
Vishweshwar Mahadev Temple Visit
Kedarnath Mahdev Jungle Trek
Forest Rest House
River bath in Banas after monsoon (Sept-Oct)
Bird watching
Night stay in jungle (Prior permission required)
Booking At Jessore Sloth Bear Sanctuary
Contact the number of the sanctuary.
Jessore Sloth Bear Sanctuary Contact Number
Phone(O) : 02742 257084
Best Time To Visit At Jessore Sloth Bear Sanctuary
The best time to visit Jessore is After the monsoon. In August, September, and October month when the river is filled with water and the mountain remains lush green. Winter is also a good time for Dry adventure trekking.
How to Reach Jessore Sloth Bear Sanctuary
The Nearest bus station is Palanpur (28 km).
Ahmedabad to Jessore Sloth Bear Sanctuary
It's around 150 km from Ahmedabad.