Good news to Bhavnagar People who love food so much. Newly open Ghee Gud Restaurant at Bhavnagar.
You will get a good experience if you love Gujarati cuisine. It would be a great experience with your friends and family. The price for adults will be an online payment of Rs 380 and an offline payment of Rs 410.
Menu Items of Ghee Gud Bhavnagar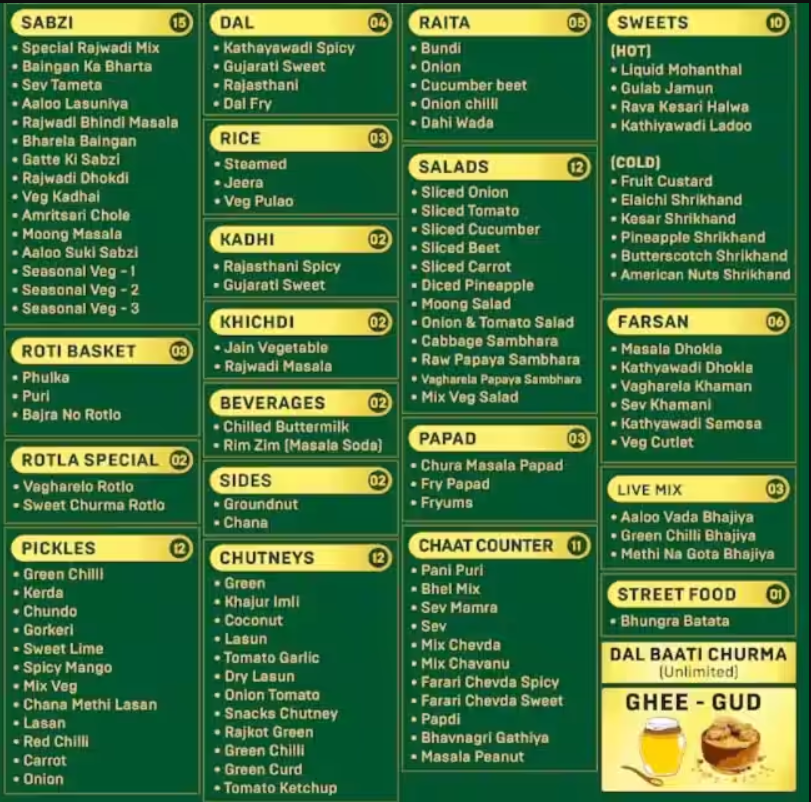 Thali Price of Ghee Gud Restaurant Bhavnagar
Ghee Gud Restaurant Bhavnagar Thali Price Rs 380/ Per person Unlimited.
Online Payment:- Rs 380 and Offline Payment:- Rs 410.
Contact Number of Ghee Gud Restaurant Bhavnagar
Bhavnagar Restaurant Ghee Gud Contact Number is 9316994971
Timing of Ghee Gud Restaurant Bhavnagar
| | |
| --- | --- |
| Mon: | 11:00 am – 4:00 pm, 7:00 – 11:00 pm |
| Tue: | 11:00 am – 4:00 pm, 7:00 – 11:00 pm |
| Wed: | 11:00 am – 4:00 pm, 7:00 – 11:00 pm |
| Thu: | 11:00 am – 4:00 pm, 7:00 – 11:00 pm |
| Fri: | 11:00 am – 4:00 pm, 7:00 – 11:00 pm |
| Sat: | 11:00 am – 4:00 pm, 7:00 – 11:00 pm |
| Sun: | 11:00 am – 4:00 pm, 7:00 – 11:00 pm |
Restaurant Timing
Address of Ghee Gud Restaurant Bhavnagar
First Floor, Victoria Bliss, opp. Victoria Park Road, Vidhyanagar, Bhavnagar, Gujarat 364002
Review of Ghee Gud Restaurant Bhavnagar