EME Temple is Also known as the Dakshinamurthy temple. The name EME stands for the word Electrical and Mechanical engineers corps of the Indian Army. This temple is built beautifully by the Electrical and Mechanical Engineers of the Indian Army, the EME Temple in Vadodara is an aluminum-clad abode, constructed at the intersection of ancient and modern.
About EME Temple
Its architecture is so different that it has attracted many people from various countries to experience the beauty of the temple.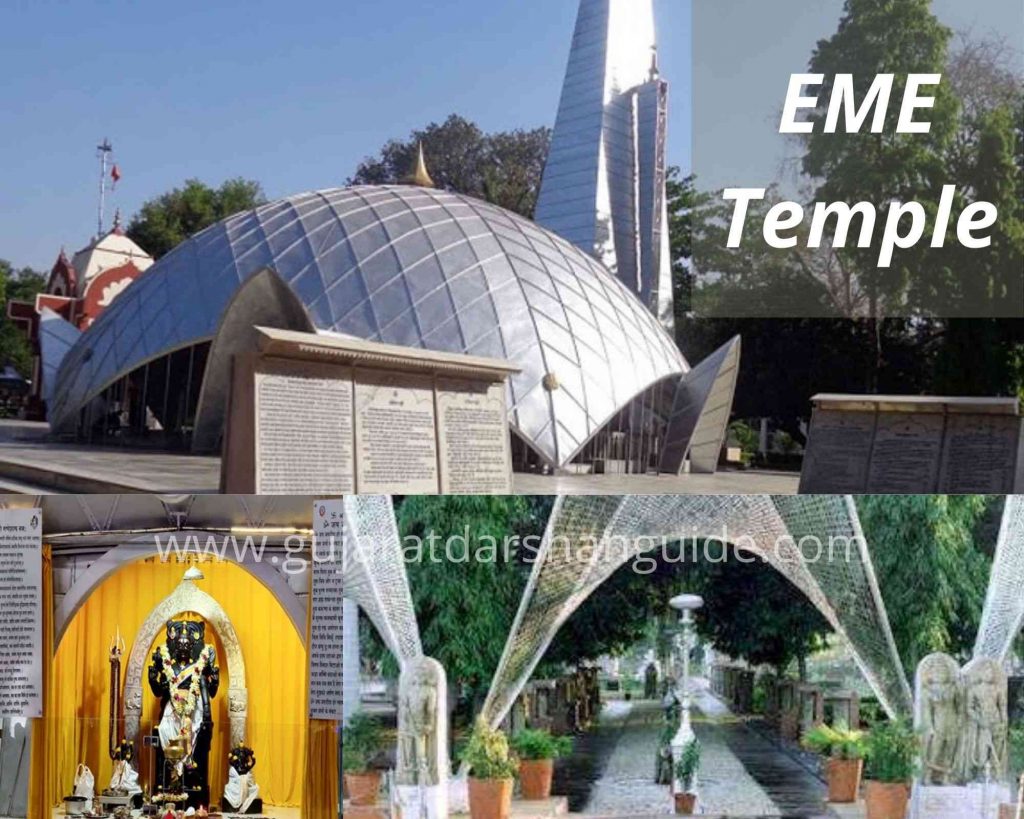 The temple primarily houses a massive idol of Lord Shiva, along with a miniature Lord Ganesh. There is also a silver arch with the holy words 'Om Namah Shivaya' engraved on it. The temple is surrounded by a garden featuring a rich collection of 106 ancient statues from the 7th to 12th centuries. Due to its unique design, the temple attracts huge crowds.
History of EME Temple
EME temple was built in the year 1966. The name EME stands for the word Electrical and Mechanical engineers corps of the Indian Army. The temple was planned, sketched, and constructed under the then Christian commandant – Brig A.F. Eugene of the EME School. The main deity of the temple is Lord Shiva and the temple is surrounded by small temples of small saints and gods, creating an exact copy of the holy Amarnath temple that houses age-old deities from the 7th to 12th centuries.
Architecture of EME Temple
Each substructure of the building is representative of a different faith –
The 'Kalash' on top of the dome symbolises Hinduism
The dome is found in the design of mosques, thus representing Islam
The tower is symbolic of Christianity
The golden cap above the tower represents Buddhism
The main gateway of the temple ropes in the Jain way
The fire in the temple represents Zoroastrianism.
EME Temple Timings
6:30 AM – 8:30 PM
(closed on Sunday)
EME Temple Entry Fee:
No entry fee
Best Time To Visit EME Temple
March to June
EME Temple Contact Number
How To Reach EME Temple
EME temple is positioned in Vadodara, in the Gujarat State of India. Vadodara is 112 kilometers away from Ahmedabad and the distance from Mumbai to Vadodara is 420 kilometers. EME temple is located on National Highway 8. You can find different types of buses plying from different states to reach this city.