Dwarkadhish Temple is considered one of the Char Dham sacred pilgrimage sites among Hindus after Rameshwaram, Badrinath, and Puri.
About Dwarkadhish Temple
Dwarkadhish Temple also known as the Jagat Mandir, is a Chalukya styled architecture, dedicated to Lord Krishna. The town of Dwarka has its history dated back to the Kingdom of Dwaraka in Mahabharata.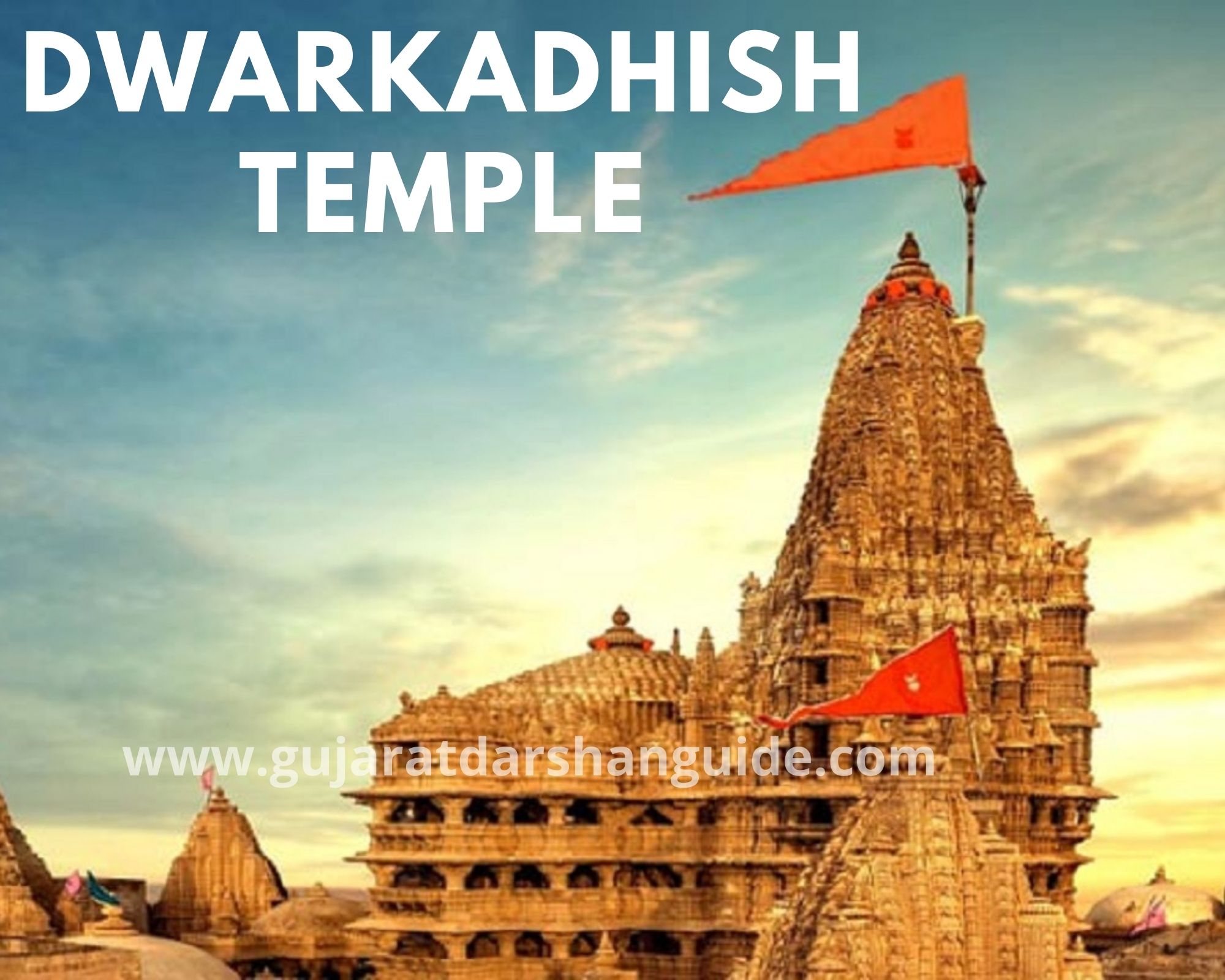 This was after the visit of Adi Shankaracharya, the 8th-century theologian, and philosopher who established the Sharda Peeth at this place. The Dwarkadhish temple is the 108th Divya Desam of Shri Vishnu in the world which is glorified in the Divya Prabhanda texts.
Dwarkadhish Temple History
Dwarkadhish Temple also known as Jagat Mandir is located at the meeting place of Holy River Gomati and the Arabian Sea at Dwarka, Gujarat. This most sacred temple is connected with the life of Lord Shree Krishna, the eighth incarnation of Supreme Lord Shree Vishnu. More than 5250 years ago Demon King Kansh was the ruler of Mathura and he had increased the Adharma on the earth. To maintain the Dharma, Lord Shree Krishna took birth in a family of Vasudev and Ma Devaki, sister of Kansh.
Lord Shree Krishna killed demon king Kansh at the age of 11 years only at Mathura and released his father Vasudev, Mother Devaki, and King Ugrasen, father of Kansh. After some time, Jarasangh, father-in-law of Kansh, started attacking Mathura to take revenge. Jarasangh attacked the Mathura seventeen times, and every time he was defeated by Shree Krishna and his army.
Even though he did not give up and attacked the 18th time on Mathura, this time Lord Shree Krishna and Yadav dynasty decided to leave Mathura as during each battle Yadav also suffered many casualties. Shree Krishna decided to move to another place and Dwarka was the place chosen by the Garuda, the divine eagle as this is far away from Mathura.
Shree Krishna request the Vishvkarma the god of architecture to construct the capital for Yadav and requested Samudradev, the god of the sea to provide the land. Lord Sea was blessed and offered 12 yojans of land around 773 km. Then Lord Shree Krishna established his kingdom at Dwarka and lived here for his remaining life.
Dwarkadhish Temple Timings
Dwarkadhish Temple Darshan Timings
Morning 6.30 to Afternoon 13.00
and Evening 5.00 to 9.30
Dwarkadhish Temple Arti Timings
Morning Timings
| | |
| --- | --- |
| 07:00 AM | Mangla Arti |
| 7.00 AM to 8.00 AM | Mangla Darshan |
| 8.00 AM to 9.00 AM | Abhishek Pooja (Snan vidhi): Darshan closed |
| 9.00 AM to 9.30 AM | Shringar Darshan |
| 9.30 AM to 9.45 AM | Snanbhog : Darshan closed |
| 9.45 AM to 10.15 AM | Shringar Darshan |
| 10:15 AM to 10.30 AM | Snanbhog : Darshan closed |
| 10.30 AM to 10.45 AM | Shringar Arti |
| 11.05 AM to 11.20 AM | Gwal Bhog Darshan closed |
| 11.20 AM to 12.00 Noon | Darshan |
| 12.00 Noon to 12.20 PM | Rajbhog: Darshan closed |
| 12.20 PM to 12.30 PM | Darshan |
| 12.30 PM | Anosar: Darshan closed |
Evening Timings
| | |
| --- | --- |
| 05:00 PM | Uthappan First Darshan |
| 5.30 to 5.45 PM | Uthappan Bhog Darshan closed |
| 5.45 to 7.15 PM | Darshan |
| 7.15 to 7.30 PM | Sandhya Bhog Darshan closed |
| 7.30 to 7.45 PM | Sandhya Arti |
| 8.00 to 8.10 PM | Shayanbhog Darshan closed |
| 8.10 to 8.30 PM | Darshan |
| 8.30 to 8.35 PM | Shayan Arti |
| 8.35 to 9.00 | Darshan |
Dwarkadhish Temple Architecture
The enchanting temple is made of limestone and sand. Its majestic five-story tower is supported by 72 pillars and an intricately carved spire that's 78.3m high. It has an exquisitely carved Shikhar that soars 42 m high with a flag made of 52 yards of cloth. The flag consists of sun and moon symbols, personifying Lord Krishna's reign over the temple, as long as the sun and moon exist. The grandeur of the temple is enriched by the two gateways Swarg Dwar (where pilgrims enter) and Moksha Dwar (where pilgrims exit) and comprises a vestibule, sanctum, and a rectangular hall with porches on either side. Outside the south doorway of the edifice, 56 steps lead to the banks of the Gomti river.
Dwarkadhish Temple Live Darshan
Dwarkadhish Temple Entry Fee
No Entry Fee
Best Time To Visit At Dwarkadhish Temple
The best time to visit is between November and February, and during Janmashtami which is celebrated grandly here.
Nearby Places Of Dwarkadhish Temple
Gopi Lake 
Gopi Lake is located 14 km away from Dwarka. The soil of Gopi Talav is yellow in color while it is extremely smooth. There is a myth that after leaving 'Vruj', Krishna never went back to 'Vruj'. During Krishna's Childhood, he played Ras Leelas many times with Gopis (young female inhabitants of Vruj). They traveled from 'Vruj' to Dwarka, to meet Shree Krishna. After playing Ras Leelas again with Shree Krishna, on the night of 'Sharad Purnima', they offered their lives to the soil of this land and hence this land has become popular as 'Gopi Talav'.
Rukmini Temple
Rukmini Temple (Shree Krishna's Patranis), is located 2 km away from Dwarka. There is a myth associated with it once Krishna and Rukhmini went to 'Durvasha rushi' to invite him to Dwarka. He was agreed on the condition that they (Krishna & Rukhmini) have to carry the chariot instead of any animal. Krishna & Rukhmini happily agreed to do so. While driving the chariot, Rukhmini became thirsty. Then Krishna stopped the chariot and made the water of Holy River Ganga. 'Durvasha' is annoyed by the action and curses Rukhmini to stay away from Shree Krishna Hence it is located 2 km. Away from Dwarka's Jagat Mandir.
Nageshwar Jyotirlinga Temple 
Nageshwar jyotirlinga, which is one of the 12 jyotirlinga shrines, was the first stop of the tour. The tall statue of Lord Shiva dominates the temple complex and catches the attention of its visitors.
Okha PORT
Okha PORT which is literally the end of the earth on the Saurashtra peninsula. It is primarily visited by the pilgrims for their trip to Bet Dwarka which is on an Island well connected with ferry services. Okha Port to Bet Island: Frequent ferry service (30 minutes, 10 INR per person)
Bet Island
Bet Island is known for the highly revered temple of Lord Krishna and is also believed as the very place where Lord Krishna met his childhood friend Sudama. Besides religious importance, It is also rich in archaeology and traces back to the Harappan civilization.
Dwarkadhish Temple Contact Number
+91- 2892-234080
How To Reach Dwarkadhish Temple
By Road
The city is well connected by robust state-run buses.
By Train
The city is well connected by a robust rail network.
By Air
Porbandar (95 km) and Jamnagar (145 km) are the closest airports to Dwarka.