Della Adventure Park, located in Lonavala, is a fun amusement and waterpark. Della Adventure Park enjoys the full day engaged in 50+ fun and adventure activities. Spend an exciting day with your loved ones on this one-day vacation near Mumbai and Pune, where you can get involved in a variety of adventure activities.
Della Adventure Park Timings
Timings:-
Monday to Thursday: 11:00 AM to 07:00 PM
Friday to Sunday: 11:00 AM to 09:00 PM
Della Adventure Park Ticket Price
Jumbo Pass: 6490 INR per person (Including Taxes)
Day Pass: 2360 INR per person (Including Taxes)
Kids & Senior Citizen Pass (Kids below 3′ in height have no entry fees. Kids from 3′ to 4.6′ are eligible for Kids Pass): 1770 INR per person (Including Taxes)
Package/Pass Price: Starts from INR 2360 onwards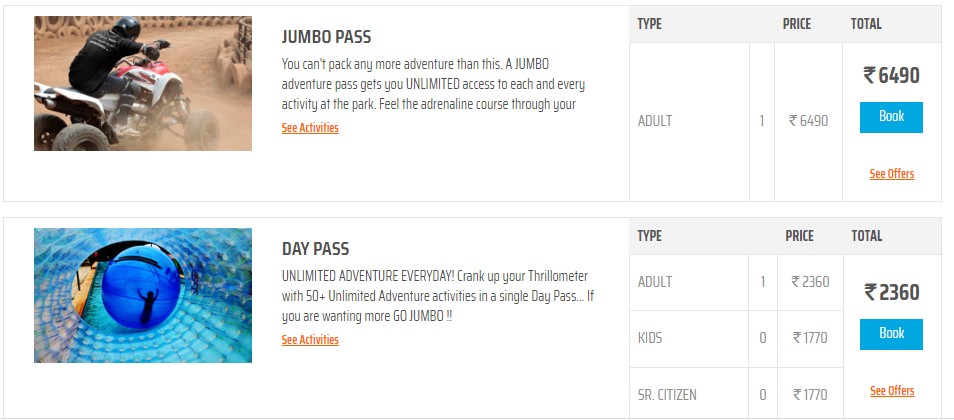 Della Adventure Park Activities
Jumbo Exclusives Activities:
Swoop Swing (100 ft)
Longest Flying Fox (1250 ft)
Paintball
ATV (90CC Polaris,200CC Polaris,700 CC Yamaha Raptor)
Buggy Ride
Motocross Dirt Bike (Honda CR / Yamaha YZ 250CC Small)
Della Segway
Della Hoverboard
Della Gyro
Zone A :
Aqua Zorb (max wt. 90 kgs.)
Water Zorb (max. wt. 70 kgs.)
Roller Zorb (max wt. 90 kgs.)
Rocket Ejector (4 ½ Floors High)
Radio Controlled Cars
Bumper Boat (Kids upto 30 kgs)
Bungee Trampoline (Kids upto 4.6' & max weight 40kgs)
Running Bungee
Della Knockout
Bubble Soccer
Mountain Cycling (Adults – With Gear & Kids – Without Gear)
Cycle with Baby Wagon
Double Seater Tandem Cycles
Kids Play Area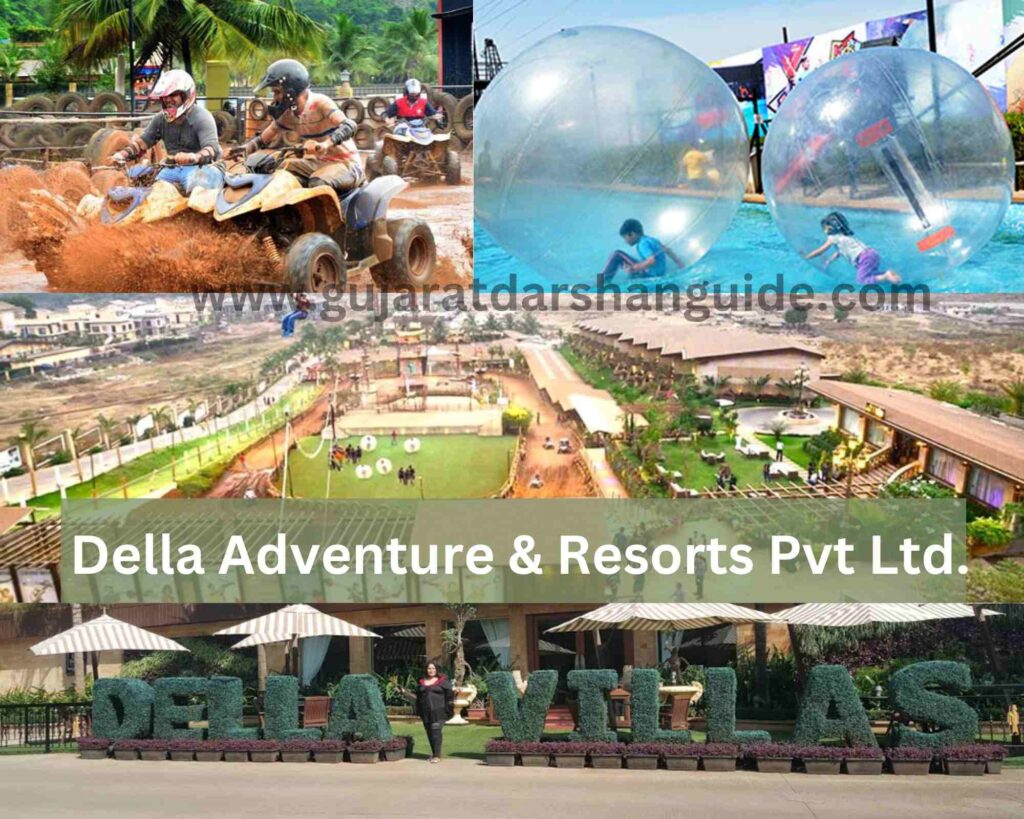 Zone B:
Golf Putting Range (Adults – 6 Holes & Kids – 3 Holes)
Trikke (Automatic / Manual)
Horse Riding
Pony Riding
Dog Walk
Milking Jersey Cow
Zone C:
Della Shooting Range (Air Rifle – 10 Meters & 5 Shots)
Hard Ball Net Cricket (2 Overs)
Archery – Compound Bow (Adults – 5 Shots & Kids – 5 Shots)
Gaming Zone:
Rodeo (Bull Ride)
Carrom (1 board)
Chess (30 Mins)
Darts (9 Throws)
Table Tennis
Air Hockey
Foosball
Pool Table
Virtual Racing Cars
Virtual Bowling
Virtual Boxing
Virtual Football
Virtual Dancing – Kinect
Virtual Flight Simulator
Zone E:
Artificial Rock Climbing
Tyre Wall
Balancing Log
V-Log
Gate Vault
Zig Zag Log
Net & Log Ladder
Tyre Swing
Fire Cracker Bridge
Monkey Tail
Broken Bridge
Swinging Beam
Zummer Station
Giant Ladder
Cargo Net
Inclined Log
Cargo Tube
Cable Ladder
Santi Pit
Burma Loop Horizontal Net
Burma Bridge
Swinging Bridge
Vertical Net Crossing
Wooden Obstacles
Zone F:
Land Zorbing 200ft. (max. wt. 90 kgs.)
Flying Fox Zip Line (Small 500 ft)
Rappelling
Crossbow (5 Shots)
Sling Shots (5 Shots)
Blow Gun (5 Darts)
Pistol Bow (5 Shots)
How To Reach Della Adventure Park & Resorts Pvt Ltd.
By Air
Pune International Airport is the nearest Airport around 75 km from Della Adventure Park & Resorts Pvt Ltd.
By Train
The Lonavala Railway Station is the nearest railway station around km from Della Adventure & Resorts Pvt Ltd.
By Road
The Lonavala Bus Stand is the nearest bus stand to the park.
Term & Condition Of Della Adventure Park & Resorts Pvt Ltd.
Outside food and beverages are not permitted in the park.
Make sure you have a pre-shower to keep our pool water clean.
No ornaments should be taken into the pools.
Babies should only be immersed in water for a short amount of time.
Consume no large meals or drink before the activities.
All visitors must wear appropriate swimwear.
There is no smoking permitted in the park.
Guests must follow the park's guidelines and treat the staff with respect at all times.
The park is not liable for any lost or stolen property.