The Balaram Ambaji Wildlife Sanctuary is located in Ambaji, Gujarat, in the Banaskantha District.
About Balaram Ambaji Wildlife Sanctuary
On August 7, 1989, the Gujarati government designated it as a wildlife sanctuary with the goal of preserving, promoting, and developing wildlife.
The sanctuary's name comes from two ancient temples that are situated in its opposite corners: Balaram Temple and Ambaji Temple.
It is situated in the banks of the Banas and Sabarmati rivers, the two important rivers in the area.
Balaram Ambaji Wildlife Sanctuary Timings
Timings:- 06:00 AM to 05:00 PM
Flora and Fauna Balaram Wildlife Sanctuary
Flora
The unique ecosystem is habitat to 483 plant species, including 107 tree species, 58 shrub species, 219 herb species, 49 climbers, 40 grass species, and 10 types of lower plants. Modad, khair, dhavado, saledi, kadaya, timru, khakhara, bor, desi baval, bili, dudhi, golar, kanji, indrajav, karanj, arjun sadad, jamun, and behda are a few examples.
Fauna
Animals that are significant include the leopard, rhesus macaque, sloth bear, Indian civet cat, Indian porcupine, hyena, wild boar, wolf, jackal, hare, langur, bluebull, and others.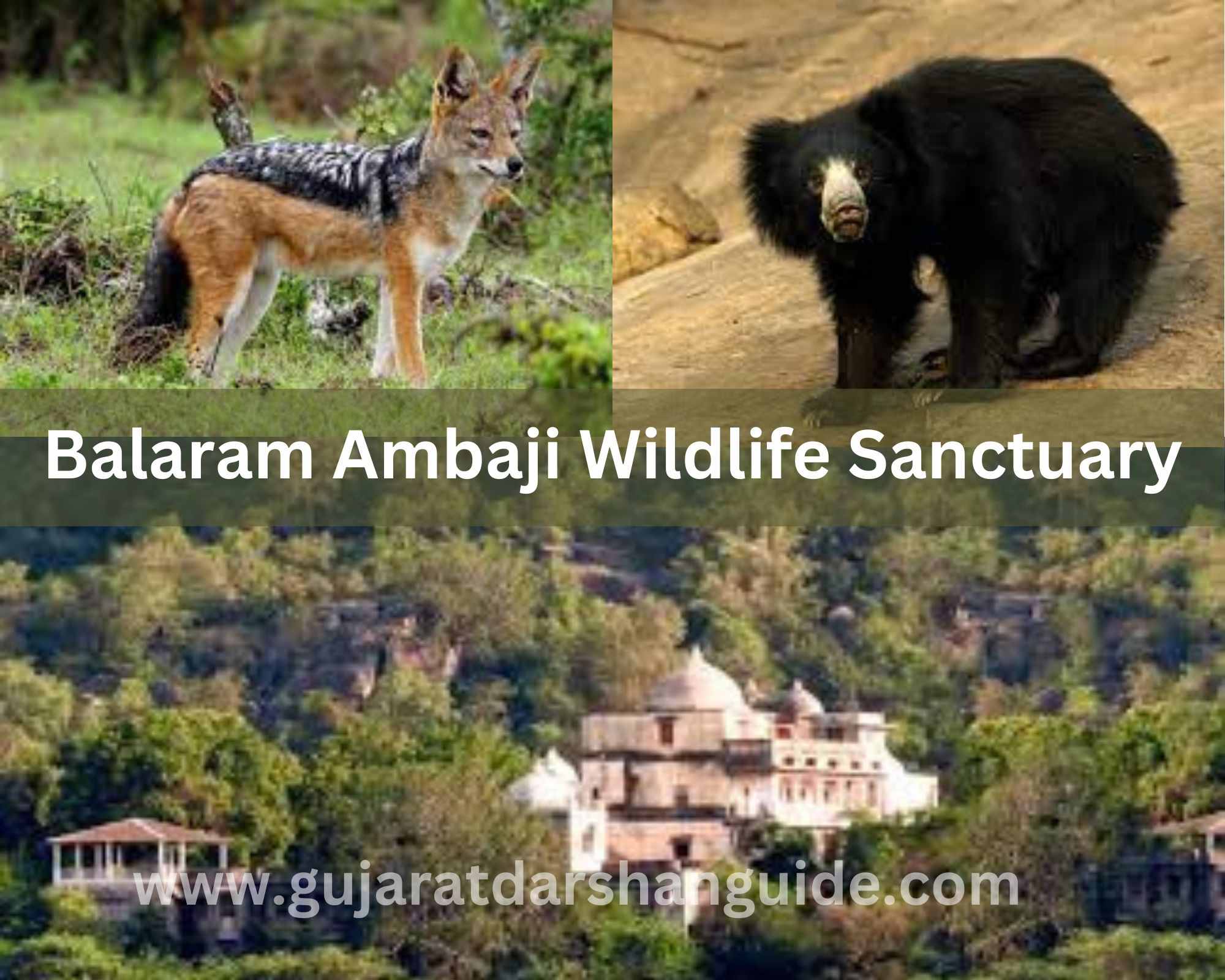 Important Birds: A wide range of birds, including bulbul, Indian roller, woodpecker, grey hornbill, peafowl, barbet, shrikes, etc., live in the sanctuary, along with numerous raptors.
Balaram Ambaji Wildlife Sanctuary Entry Fee
Entry Fee:- Rs. 50
Best Time To Visit At Balaram Ambaji Wildlife Sanctuary
Morning and Evening is the best time for the visit.
Balaram Ambaji Wildlife Sanctuary Contact Number
Contact Number:- 8320002000
Nearby Places of Balaram Wildlife Sanctuary
Mount Abu (Rajasthan)
Balaram temple
Balaram Pala
ce Resort
Jessore Sloth Bear Sanctuary
How To Reach Balaram Ambaji Wildlife Sanctuary
By Road
The Nearest bus station is Palanpur.
By Rail
The Nearest railway staion is palanpur railway station around 20km.
By Air
The nearest airport is Ahmedabad airport approximately 150 km.