Amreli Ambardi Safari park Reopen for visitor
The Ambardi park situated 7 kms from Dhari, may be a Reserved Forest (RF) of Gir Protected Area on the bank of Shetrunji river near Ambardi village. Its undulating terrain, proximity to an outsized water reservoir and Khodiyar temple make Ambardi an area worth visiting.
This unique ecosystem of Gir forest comprises over 606 species of plants, 39 species of mammals, over 300 species of birds. 37 species of reptile and quite 2000 species of insects.
Ambardi Safari Park Ticket Booking:
Ticket Booking of Ambardi Safari Park from following website https://ambardisafaripark.org
Ticket Price of Ambardi Safari Park:
Entry fee ✔ Entrance Fee:
Category Fee per person
Indian visitors 

Monday to Friday Rs.150/-  
Saturday to Sunday Rs.190/-  
Festival days Rs.190/-  

Foreign visitors

Monday to Friday $ 40
Saturday to Sunday $ 50 
Festival days $ 50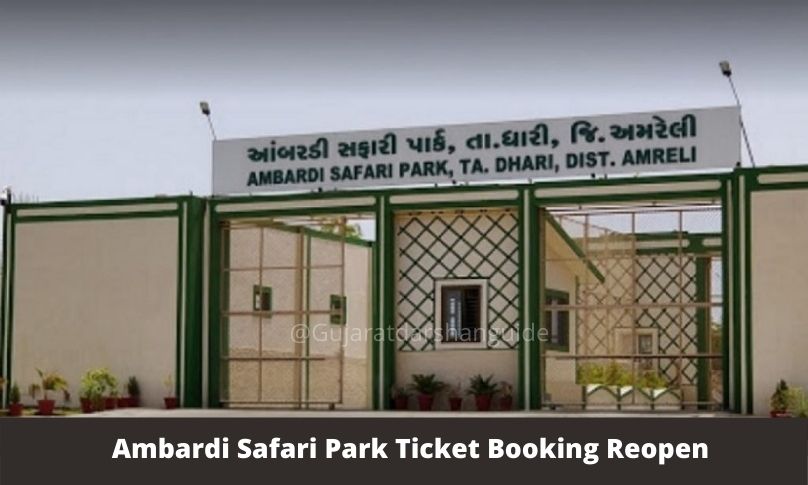 Timings of Ambardi Safari Park:
Weekly Closure Day Tuesday
Visitors' timings
Morning – 8:00 AM to 11:00 AM
Afternoon – 3:00 PM to 5:00 PM
Facilities of Ambardi Safari Park:
✔ Facility for Online Booking of tickets – Not available
✔ Drinking Water
✔ Waiting Room
✔ Rest Huts
✔ Cafeteria
✔ Toilet
Review of Ambardi Safari Park:
Phone Number of Ambardi Safari Park:
Telephone Number +91-02797-225044
How to Reach Ambardi Safari Park:
Address
Near Kodiyar Dam,
Distance from
Dhari, District Amreli,
Gujarat
✔ Nearest Airport : Rajkot Airport (131 Km) ✔ Nearest Railway Station: 10 Km
✔ Nearest Inter-City Bus Station: 9 Km
✔ Nearest Local Bus Stand: Dhari Bus Stand (5 Km)