About Floating Restaurant Akshar River Cruise
Akshar River Cruise was built in collaboration with the Ahmedabad Municipal Corporation and the Sabarmati Riverfront Development Corporation Limited. This intriguing project, built on a budget of 15 crores, combines the inhabitants of Ahmedabad, adjacent areas, and visitors under one roof to enjoy the highest luxury and beautiful pleasures. There are separate dining places upstairs and below in the restaurant.
A 162-person cruise with a dinner will carry customers for one and a half hours. Both seating spaces are elegantly fitted out and provide comfort for all guests, surrounded by breathtaking views of the Sabarmati River. The attention to detail is absolutely superb. There are television sets, DJ music, projectors, and other entertainment options.
Amit Shah Inaugurated The Akshar River Cruise
Pradipsinh Vaghela tweeted that Amit Shah, India's Minister of Home Affairs, virtually inaugurated the cruise on July 2, 2023. Amit Shah mentioned that a floating restaurant includes a fire sprinkler system, a life boat, life jackets, and other safety features.
Akshar River Cruise Prices
Akshar River Cruise Lunch Prices
Price: ₹1,800+GST for one person (Lunch)
Akshar River Cruise Dinner Prices
Price: ₹2,000+GST for one person (Dinner).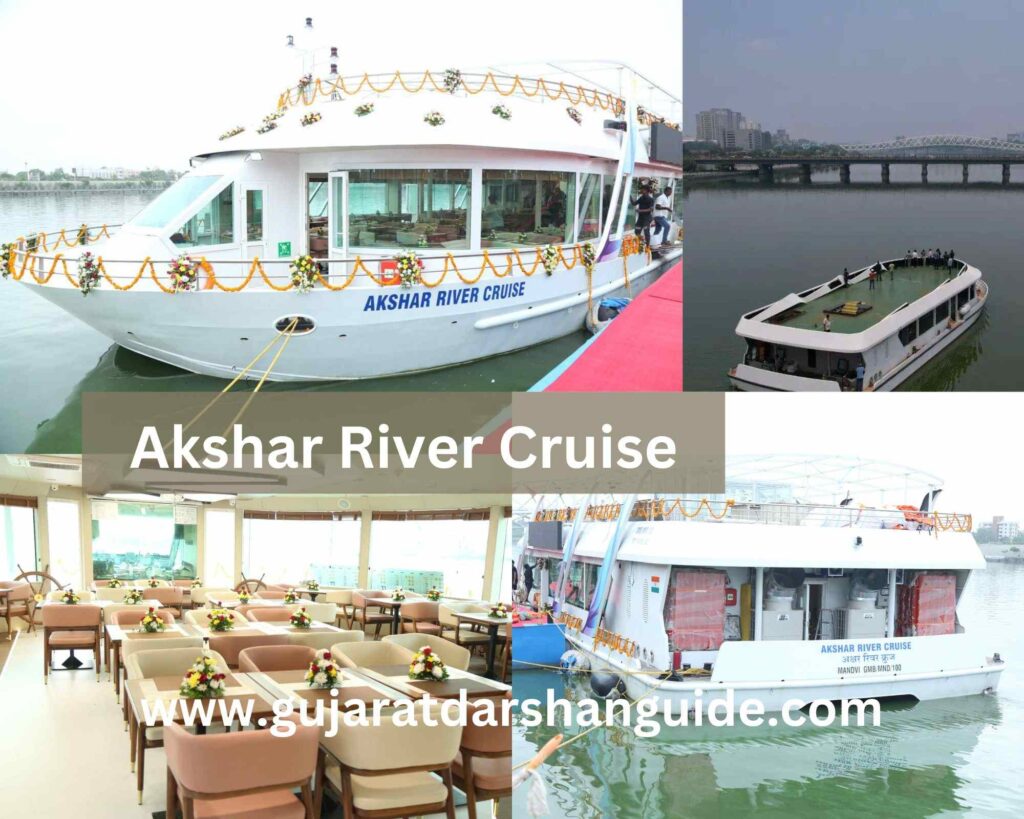 A Floating Restaurant Akshar River Cruise Timings
Timings:- 12:00 PM – 02:50 PM (Lunch) & 07:00 PM – 11:00 PM (Dinner).
AKSHAR CRUISING ROUTE
Atal Bridge => River Front Biodiversity Park => Nehru Bridge => Gandhi Bridge => Dadhichi Bridge

Floating Restaurant Sabarmati River Cruise Address
Address:- 9, City Centre, 2nd Floor, Swastik Cross Road, CG Road, Ahmedabad.
Akshar River Cruise Online Ticket Booking
How To Reach Sabarmati River Cruise
Sabarmati River Cruise is easily reach from other cities.