Sabarmati Riverfront is a waterfront development in Ahmedabad, Gujarat, along the banks of the Sabarmati River.
Entartica Seaworld- Ahmedabad Riverfront Watersports
It's a hidden gem along the Sabarmati Riverfront. It has a lot of things to do. Almost ten items. Watersports are one of the activities available on the riverfront. Entartica Seaworld is the name of the company that runs the riverfront watersports. It has a cruise, riverfront restaurants, and many other watersports to enjoy. It's a good environment for children.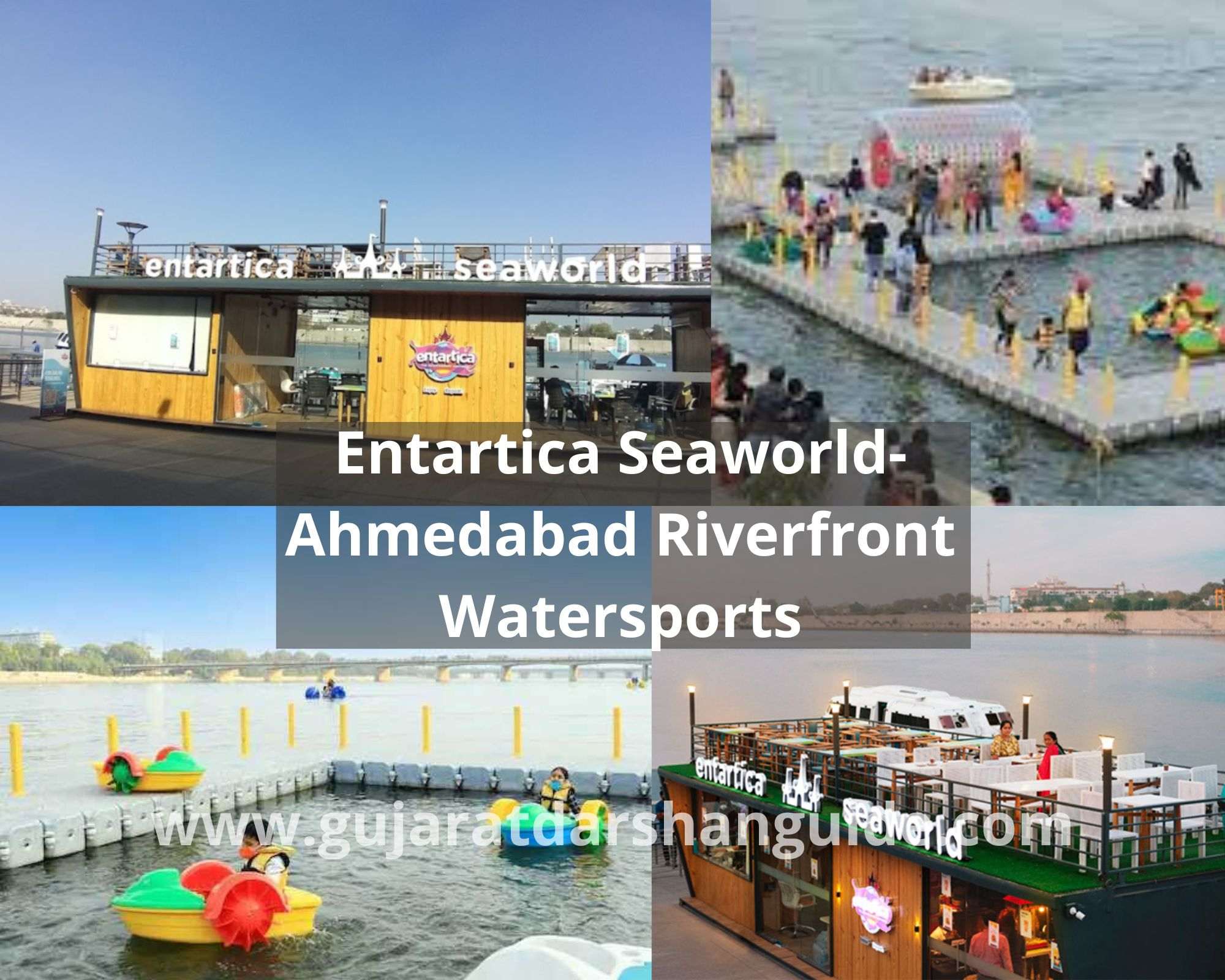 Riverfront Watersports Ahmedabad Timings
Timings:- 10:00 AM TO 10:00 PM
Ahmedabad Riverfront Watersports Ticket Price
Activities
Prices
Aqua Cycle
Up to 2 Persons – ₹ 200/Cycle
Up to 4 Persons – ₹ 500/Cycle
Sabarmati River cruise
₹ 250/person
Aqua Roller
₹ 150/Person
Speed Boat
Up to 2 persons – ₹ 1,100/Boat
Up to 4 persons – ₹ 1,500/Boat
Up to 6 persons – ₹ 2,000/Boat
Up to 8 persons – ₹ 2,500/Boat
Pontoon Boat
₹ 300/Person
Kids Pedal Boat
₹ 150/person
Kids Bumper Boat
₹ 200/person
Jet Ski
₹ 500/person
Yacht
1 to 3 persons – ₹ 2,400/Yacht
Up to 4 persons – ₹ 3,000/Yacht
Up to 5 persons – ₹ 3,500/Yacht
Up to 6 persons – ₹ 4,000/Yacht
Riverfront Watersports Ahmedabad Contact Number
09712104051
Ahmedabad Riverfront Watersports Online Ticket Booking
https://booking.entartica.com/
Things To Do At Riverfront Watersports Ahmedabad
Aqua Cycle
Sabarmati River cruise
Aqua Roller
Speed Boat
Pontoon Boat
Kids Pedal And Bumper Boat
Jet Ski
Yacht
Sabarmati River Cruise
Entartica Seaworld's main attraction is the Sabarmati River Cruise. It has a seating capacity of 60 people and runs every hour.
Sabarmati River Cruise Timings
Timings:- 10:30 AM To 08:00 PM