AATAPI wonderland – AATAPI means Ajwa Amusement Theme & Adventure Park of India. Ajwa amusement theme park opened on 25 December 2018 inaugurated by Chief Minister Shri Vijay Rupani.
AATAPI Wonderland, Gujarat's Largest Theme Park is spread across 70 acres at Vadodara, park has more than 40 rides & attractions which attracts around 7,000 footfalls per day.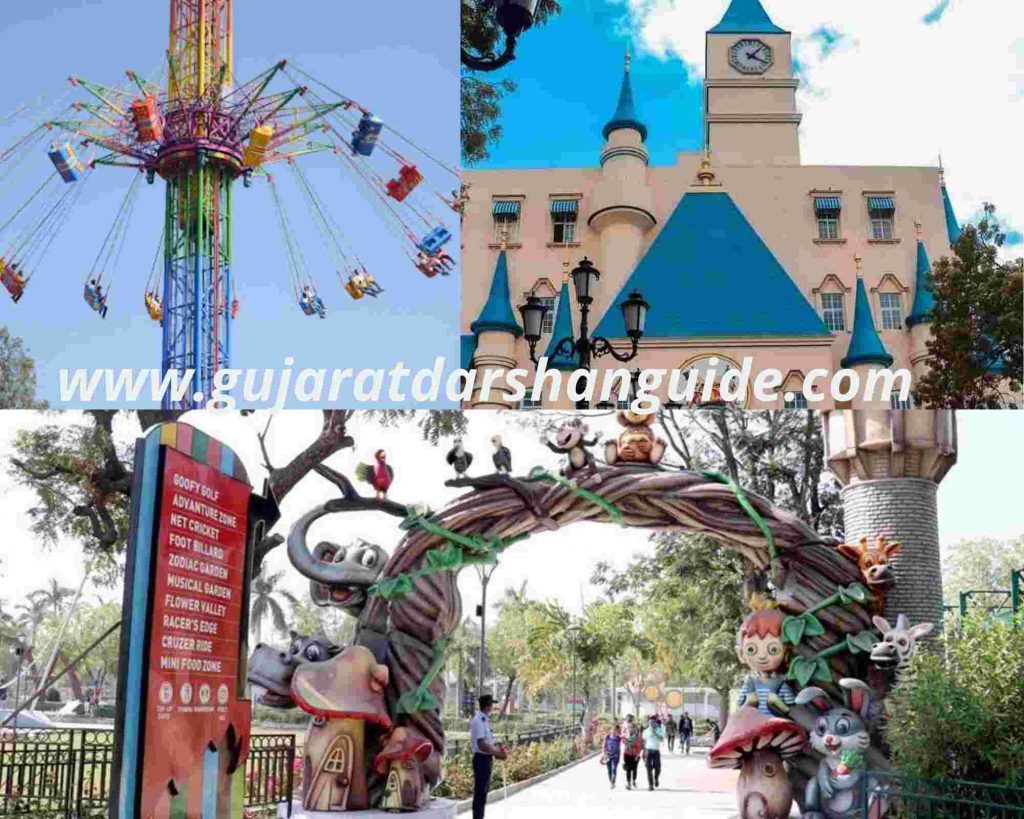 It hosts a Spectacular Water Laser Show, mesmerizing Jugnoo World, which is also India's 1st Glow Garden, Lost Valley Dinosaur Attraction, Vrundavan Garden with dancing fountains, India's 1st Tubby Jump, and many more thrilling rides which attract toddlers and grown-ups both.
Many more rides and attractions are about to come up soon, such as Roller Coaster and the village of Dholakpur from the animation world of Chhota Bheem (a very popular animated cartoon program among children).

Constant efforts are on, to amaze and keep the guests awestruck, by bringing in crazy new attractions at frequent intervals by the park operator having tie-up with Tourism Corporation of Gujarat Ltd. and Vadodara Municipal Corporation.

A multi-cuisine open restaurant food court, Golf Carts, Medical Center, Baby Feeding Room, and Prayer room are some of the amenities present here.

Facilities for organizing Corporate & Social events (Wedding events to small celebrations) in lush Green lawns with choices of thematic backdrops exist here.
Statue of Unity (80Kms. away), Dakor Ranchhodrai Shri Krishna Temple (72Kms. away) & Pavagadh, one of the Shakti Pith of Maa Ambe (34 km from here) are some of the nearby attractions from the AATAPI Wonderland.
Visit and get thrilled by visiting Aatapi Wonderland Theme Park and nearby places with your near and dear ones soon.
About Aatapi Wonderland Rides List
The amusement park is developed by Cube entertainment, Vadodara Municipal, and Gujarat Tourism. Ajwa is already famous for its beautiful garden ATAPI wonderland created on the same spot with a cost of 125 Crores. It is developed in an area of 75 Acres.
Zone 1 Rides:
Water Laser Show
A1 Batwing Coaster
A2 Flying Carousel
A3 Fender Bender
A4 Bang bang
A5 Sky drop
A6 Sky paddle
A7 Water Park
A8 BoB And Splash
A9 Kids Paddle Boats
A10 Aapnu Gom
A11 Thrilling Engine
A12 Water Splash Mountain
A13 The Dynamic Bheem
A14 Lost Valley of Dinosaurs
Zone 2 Rides:
B1 whoosh..
B2 Feeling Flight
B3 Swap Super Swing
B4 Rock & Bounce
B5 REVERSE BUNGEE
B6 No Limits
B7 NET CRICKET
B8 FOOT BILLIARDS
B9 Goofy Golf
B10 Racer's Edge
B11 Cruzer Ride
B12 BUBBLE SOCCER
B13 Badminton
B14 Selfie Zone
B15 Jungle-Fun
B16 DholuBholu Bubble
B17 Kids Lazy River
B18 Bheem the Boomerang
B19 Disco Tagada
B20 SOFTPLAY
B21 Tik- Tok
B22 Alibaba Rotating
B23 TWIST TOWER
B24 Flying Horses
B25 TUBBY JUMP
B26 Maze
Upcoming Rides & Attractions
Chhota Bheem Dholakpur
Lost Valley
AATAPI Flying Cobra 360°
Aatapi Wonderland Theme Park Ticket Prices
| Package | Features | Price(incl. taxes) |
| --- | --- | --- |
| Fast Track Package | – Unlimited Rides & Attractions – Save time with Express Queue Line Entry and have more fun! | 1800/- (Adults) 1200/- (Kids) |
| Gold Crown Package | – One-time access to all Rides & Attractions: – Includes Water Laser Show & Vrundavan Garden | 970/- (Adults) 670/- (Kids) |
| Gold Package | – One-time access to all Rides & Attractions | 855/- (Adults) 530/- (Kids) |
| Silver Crown Package | – Access To Selected Any 4 Rides & Attractions (Height & Weight criteria applicable) – Includes Water Laser Show & Garden | 350/- (Adults) 305/- (Kids) |
| Silver Package | – Access To Selected Any 4 Rides & Attractions | 147/- (Adults) 105/- (Kids) |
Online Ticket Booking at AATAPI Wonderland
https://aatapiwonderland.com/Packages.aspx
Timings of AATAPI Wonderland
11:00AM to 7:00PM
Every Wednesday Park is closed
Video of AATAPI Wonderland
How To Reach AATAPI Wonderland
NH8 passes through Vadodara, making it well connected by road as well.
Vadodara to AATAPI 30 Kms.
Anand to AATAPI 65 Kms.
Bharuch to AATAPI 86 Kms.
Ahmedabad to AATAPI 135 Kms.
Gandhinagar to AATAPI 165 Kms.
Surat to AATAPI 169 Kms.
FAQ of Aatapi Wondeland Water park
What is the entry fee of atapi Vadodara?
Aatapi wonderland water park Entry fee is 850 Per Person.
How many rides are there in Aatapi Wonderland?
Total 18 Rides At Ajawa aatpi wonderland water park
Is AJWA water park open?
Yes, Ajwa Water park is now open for all
When did Aatapi wonderland start?
25 December 2018, Ajwa Aatapi wondeland Water park is open
Is outside food allowed in Aatapi Wonderland?
Note: Outside foods and drinks are not permitted within the parks
Is food free in Wonderland?
No, Aatapi wonderland food is not free. you need to pay at the counter.