Vijay Vilas Palace is the popular one-time summer palace of Jadeja Maharao of Kutch located on the sea beach of Mandvi in Kutch, Gujarat.
About Vijay Vilas Palace
The Vijay Vilas Palace in Mandvi took 9 years to build and is one of Gujarat's finest examples of Rajput architecture. The entire structure is laced with tiny lattices and windows that aid in natural airflow throughout the palace. Rajput architecture can be found in the jharokhas, chhatris, chajas, murals, and paintings. The palace has its own private beach with air-conditioned tent accommodation.
Vijay Vilas Palace History
The palace was built during the reign of the Maharao of Kutch, Maharao Shri Khengarji III. Yuvraj Shri Vijayaraji, his son and heir to the throne, was supposed to use it as a summer retreat. The palace is named after him, 'Vijaya Vilas Palace.' The palace's construction began in the year 1920 and was completed in 1929. Shri Vijayaraji passed away in 1948. In his honor, a chhatri (decorative tombstone) stands on the palace grounds.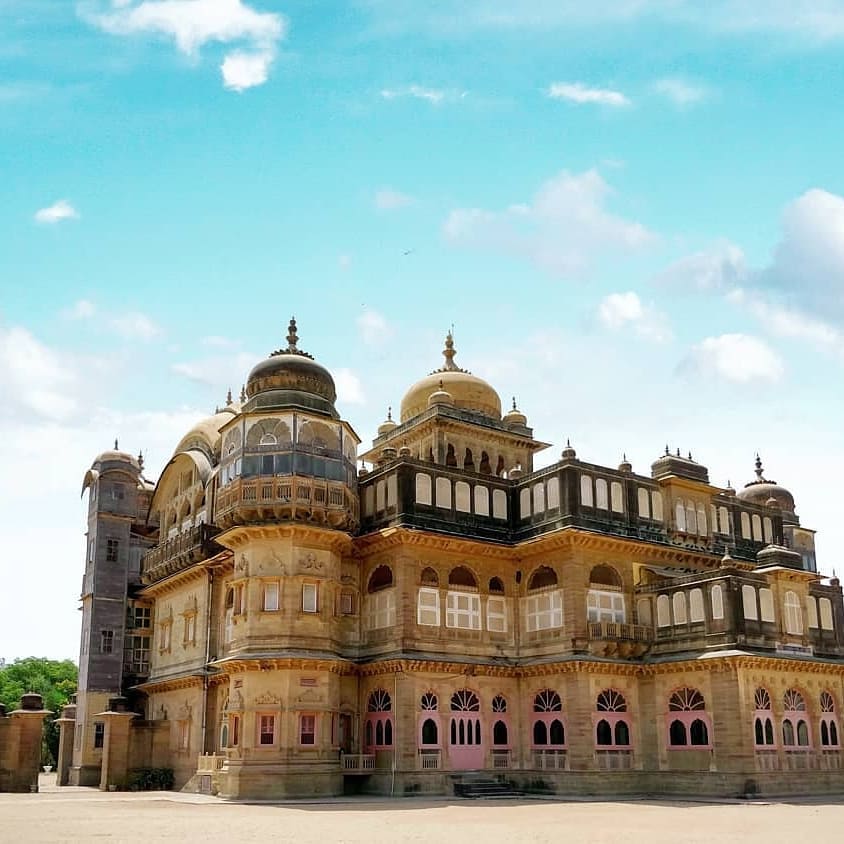 Interesting facts about the Vijay Vilas Palace
The entire palace is made of red sandstone.
The palace's architecture and layout are largely inspired by the palaces of Orchha and Datia.
The current royal family of Kutch state resides in this palace, and after parts of Ranjit Vilas were damaged in the Bhuj earthquake in 2001, they made this summer resort their permanent residence.
The palace was built for Yuvraj Shri Vijayaraj Ji and is named after him.
Vijay Vilas Palace Timings
Timings:- 09:00 AM To 06:00 PM
Best Time To Visit At Vijay Vilas Palace
The best time to visit the palace is in the winter when the temperatures are not too high. Because it is so close to the beach, the humidity can be unbearable during the summer and rainy seasons.
Vijay Vilas Palace Ticket Price
Entry Fee:- Rs. 20
Camera Fee:- Rs. 50
Parking Fee:- Rs. 10
How To Reach Vijay Vilas Palace
It is just 7kms from the Mandvi Bus Stand and is easily accessible by road.