Purna Wildlife Sanctuary was established in July 1990 and covers an area of 160 square kilometers. The Purna River, which runs through the sanctuary, gives it its name. Purna, managed by the North Dangs Forest Division, is one of Gujarat's last remaining patches of moist deciduous forest, home to a diverse range of flora and fauna. Purna, along with Vansda National Park, is South Gujarat's only Protected Area for conserving diverse biological resources.
About Purna Wildlife Sanctuary
The sanctuary's 160.84 square kilometers are spread across undulating terrain with rolling hills, plateaus, and small valleys of the Western Ghats' western and northern limits. The area is drained by the lovely Purna River, which gives the sanctuary its name. Other rivers and rivulets can also be found in the area. Unlike most of Gujarat, the area experiences moderate to heavy rainfall, with an average annual rainfall of 2500 mm. The area is located in the state's highest rainfall zone.
As a result, the forest falls into the category of tropical moist deciduous forests. The landscape is lush green, with thick forests, rivers, small tribal villages, and scattered fields interspersed. Bhils, Warlis, Konkanas, Dubdas, Kolchas, and other tribal groups make up the entire human population. The forests sustain a thriving tribal culture that includes houses, dresses, jewelry, agriculture, fishing, musical instruments, folk dances, and so on. When the sun goes down, one can hear folk dances, tribal songs, and their improvised musical instruments Pavry and drums. Download Report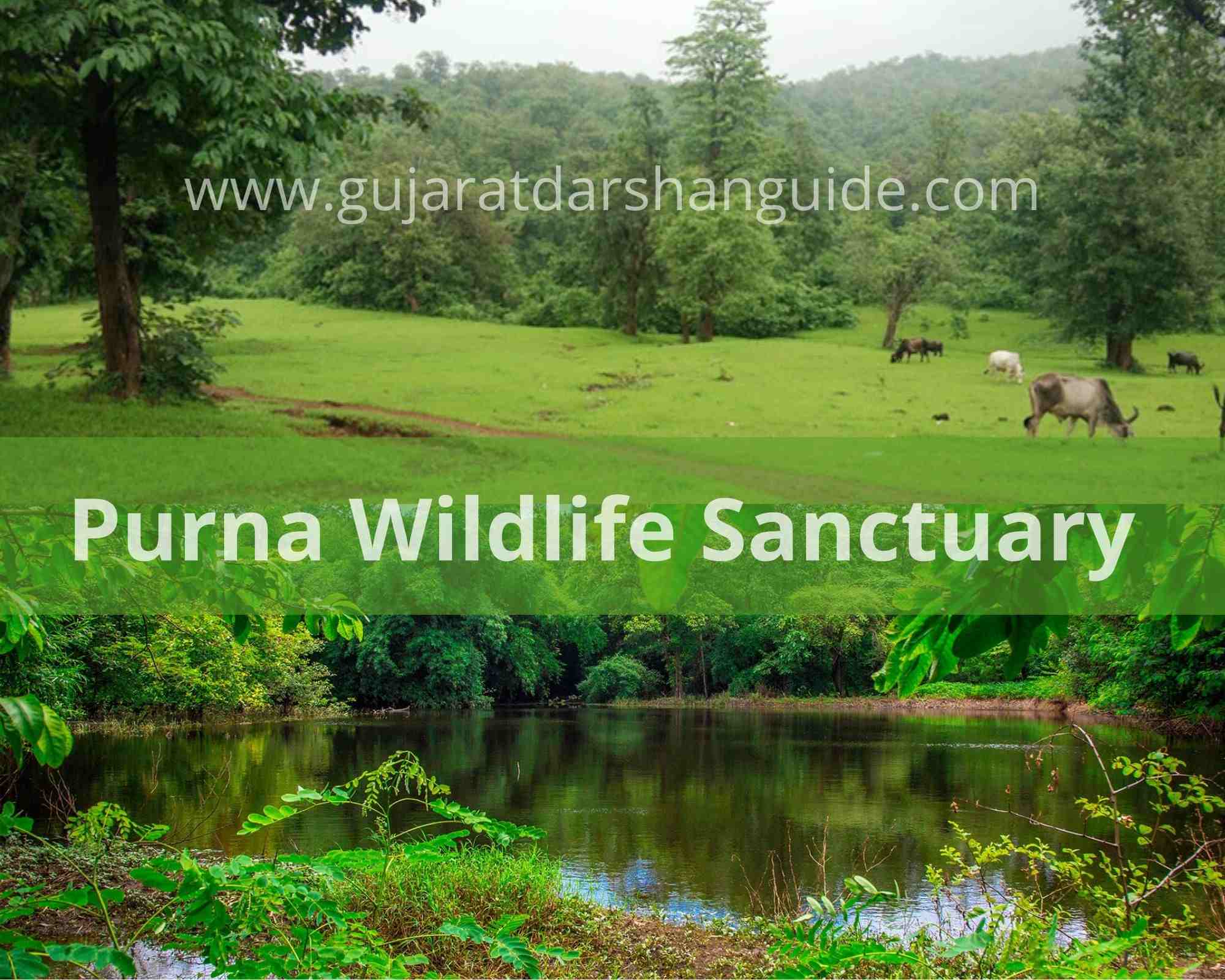 Purna Wildlife Sanctuary Surat Timings
Timings:- 09:00 am – 06:00 pm
Flora And Fauna Of Purna Wildlife Sanctuary
Flora
The sanctuary contains approximately 700 identified plant species, with a predominance of grass and plants with broad leaves in high density and diversity. Teak, khair, sadad, dudhalo, kalam, bamboo, haldu, karanj, tanach, chopadi bondara, and other major tree species
Fauna
Important Animals: Leopard, rhesus macaque, bonnet macaque, common mongoose, Indian civet cat, Indian porcupine, four-horned antelope, barking deer, sambar, chital, hyena, jungle cat, flying squirrel, python, lizards, etc.
Important Birds: Common grey hornbill, grey jungle fowls, barbets, woodpeckers, shrikes, chlorosis, bee-eaters, flycatchers, and many raptors.
Purna Wildlife Sanctuary Surat Entry Fee
20 per person
200 for Car / Jeep (Upto 6 persons)
500 for a Midsize vehicle
1750 for Bus
300 for Guide
Purna Wildlife Sanctuary Ticket Price
Purna Wildlife Sanctuary Surat Filming & Photography Fees
50 for a Still Camera
500 for Non-Professional Photography / Video
500 for Professional Feature Film (Deposit: 5000)
200 for Professional Documentary (Deposit: 15000)
Best Time To Visit At Purna Wildlife Sanctuary
November to March is the best season to visit the sanctuary.
Purna Wildlife Sanctuary Surat Contact Number
Contact Number:- 02631 220 203
Nearby Places Of Purna Wildlife Sanctuary
Gira Waterfall Saputara, Hill station of Gujarat
Botanical Garden at Waghai
Vanil Udyog at Navtad Bamboo article made by the local tribals.
How To Reach Purna Wildlife Sanctuary Surat
By Road
The Nearest bus station is Vyara (20 km).
By Train
Vyara – 20 km.
By Air
The Nearest airport is Surat (130 km).