Kumbhalgarh Fort, located in Rajasthan's Rajsamand district, about 82 kilometers from Udaipur, has the second largest wall (38 kilometers) after China's Great Wall. Kumbhalgarh Fort is one of five Rajasthan hill forts designated as a UNESCO World Heritage Site in 2013.
About Kumbhalgarh Fort
Rana Kumbha constructed Kumbhalgarh Fort in the fifteenth century. The second-largest fort in Rajasthan is this one. This fort was also constructed on the Aravalli mountains, like other hill forts in Rajasthan. The fort's 38km-long wall is the second-longest wall in the world after the Great Wall of China. Currently, the fort is listed as a UNESCO World Heritage Site.
Kumbhalgarh Fort Architecture
Kumbhalgarh Fort is built on a hilltop 3,600 feet (1,100 m) above sea level in the Aravalli range and is surrounded by a 36-kilometer long wall with fortified gateways. The Kumbhalgarh Fort wall, which runs the length of the fort, is the world's second-longest wall after the Great Wall of China. The main gate of this well-known fortress is known as Ram Pol or Ram Gate. Other fort gates include the Aaret Pol, Hanuman Pol, and Halla Pol.
This massive 15th-century fort has several fortified entrances and many creative structures within its grounds, including Hindu and Jain temples. There is also a sacred place dedicated to Lord Shiva, complete with a massive Shivalinga.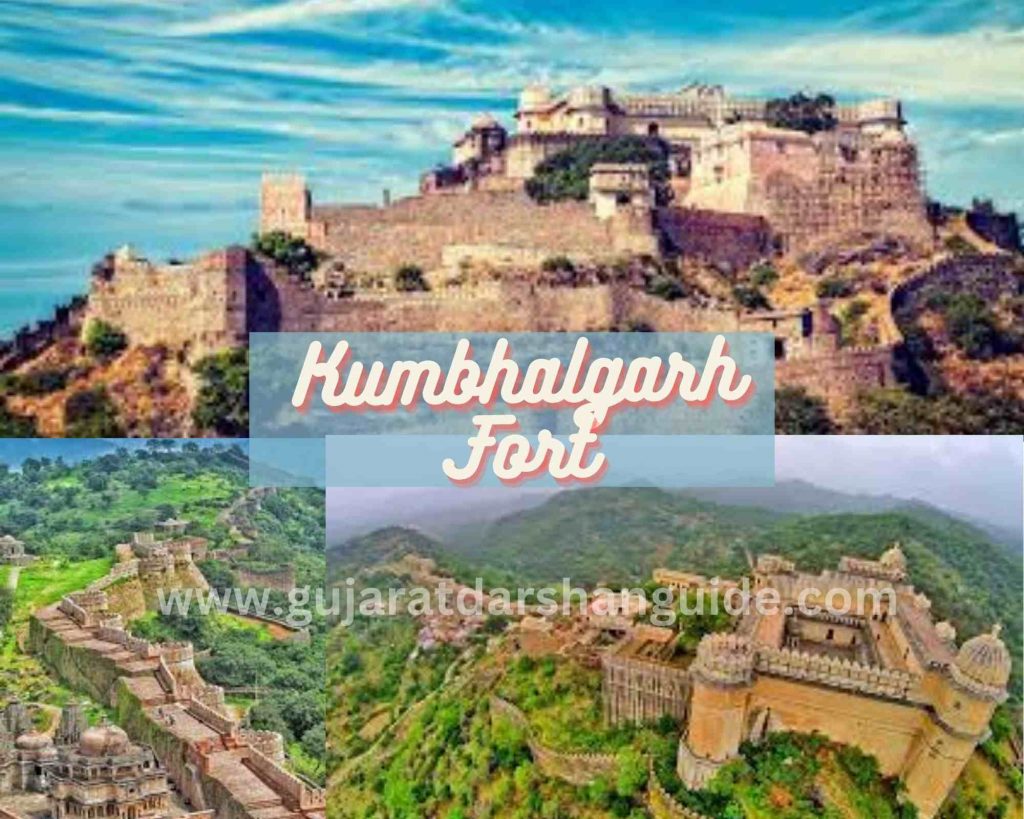 The fort was built in the Rajput military hill architectural style due to its hilly location. The fort provides a stunning view of the Thar Desert's dunes. The ramp leading up to the hills of Kumbhalgarh fort has several sharp turns, designed to make it difficult for rival armed forces, horses, and elephants to move quickly. The Bad Shahi Bavdi is a stepped tank built inside the fort when Shahbaz Khan attacked India in 1578.
History Of Kumbhalgarh Fort
The Mewar fortification known as Kumbhalgarh Fort was constructed by Rana Kumbha between 1443 and 1458 under the direction of renowned architect Mandan. The fort was built on the site of an earlier fortress that was attributed to Samprati, a ruler of the Jain community from the second century BC. Maharana Pratap, the legendary ruler, and savage of Mewar was also born in Kumbhalgarh. Kumbhalgarh was constructed in the fifteenth century, but it was expanded in the nineteenth. It is a well-liked destination for travelers to Udaipur.
Kumbhalgarh Fort Timings
Timings:- 09:00 AM to 06:00 PM
Attraction Inside Kumbhalgarh Fort
Ganesh Temple
Kumbha Palace
Bawan Devi Temple
Neelkanth Mahadev Temple
Badal Mahal
Vedi Temple
Best Time To Visit At Kumbhalgarh Fort
The best time to visit at Kumbhalgarh fort is from November to February.
Kumbhalgarh Fort Ticket Price
INR 10 for Indians and
INR 100 for foreigners.
Light and Sound Show At Kumbhalgarh Fort
Light and Sound Show: INR 100
Things To Do At Kumbhalgarh Rajasthan
The Kumbhalgarh Fort's Badal Mahal offers a breathtaking view of the entire Kumbhalgarh Wildlife Sanctuary, which is spread out over the Aravali Hills. When you visit the Badal Mahal, you can take a lot of pictures and take in the stunning scenery.
Participate in and enjoy the magnificent light and sound performance that tells the tale of the Rajput Royals and begins at 6:45 PM. The Hindi-language production is worthwhile watching. Indian citizens pay INR 100 for their tickets, while foreigners pay INR 250. The program runs for 45 minutes.
Kumbhalgarh Fort Nearby Places
Kumbhalgarh Wildlife Sanctuary
Ganga Govrdhan Museum
Resorts Nearby Kumbhalgarh Fort
Kumbha Bagh
Via Lakhela Resort and Spa
Tiger Vally Luxury Resort
Ranakpur Safari Resort
Hotels In Kumbhalgarh
Kumbhalgarh Forest Retreat
Aodhi Hotel
Rang Bhawan Inn
The Haveli Resort
How To Reach Kumbhalgarh Fort
By Road
Fort Kumbhalgarh It is well connected to the major city via all modes of transportation and is situated in the Rajsamand district, 84 kilometers from Udaipur.
By Air
Udaipur is the nearest domestic airport.
By Rail
Udaipur is also the nearest railway station from Kumbhalgarh.
Kumbhalgarh To Udaipur
Fort Kumbhalgarh is located 84 kilometers from Udaipur.
Kumbhalgarh To Chittorgarh
Chittorgarh is located is 180 km from Kumbhalgarh.
Kumbhalgarh Package
Approximately INR 16000/- For Kumbhalgarh Package.