The Jagannath Temple is a temple dedicated to the Hindu God Jagannath in the city of Ahmedabad in Gujarat. The temple located in the Jamalpur locality was established by Sadhu Sarangdasji about 460 years ago.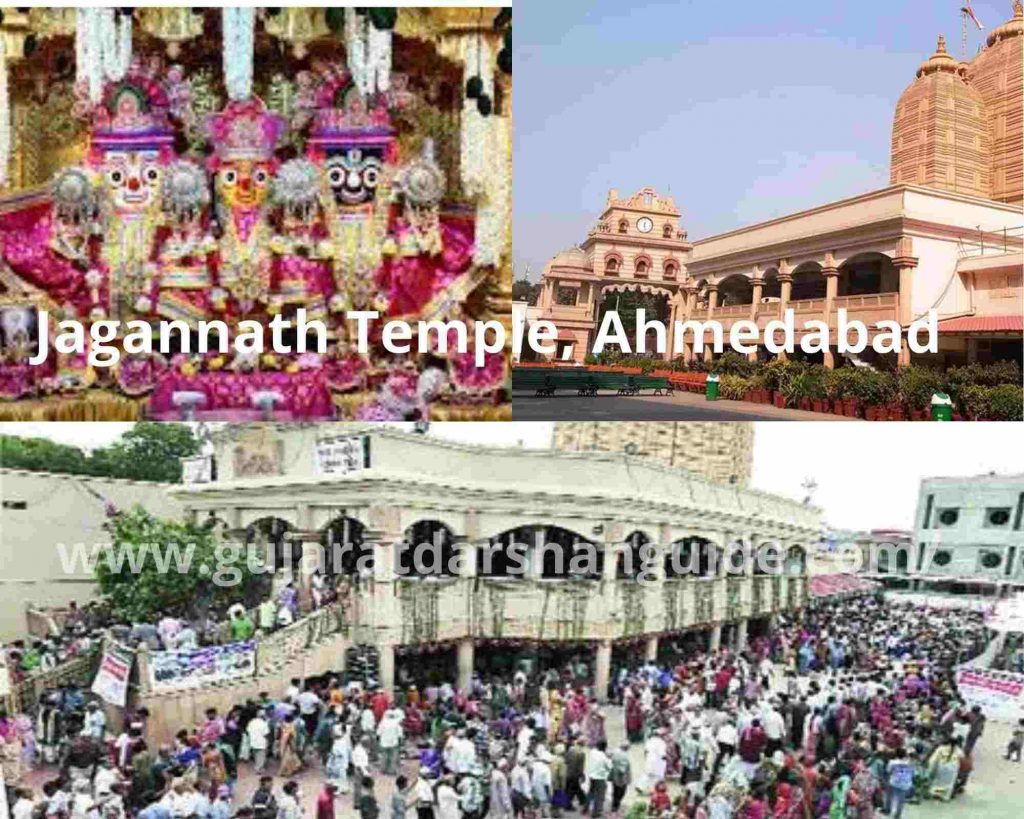 About Jagannath Temple Ahmedabad
The temple is famous for its annual chariot festival, the Rath Yatra, which is the third most important and largest after the Ratha Yatra at Puri.
Shree Jagannath Mandir Trust manages various activities like Sadavrat – free of cost food to needy people and saints, Panch Karma Hospital, Ayurvedic Medicine, various social works, etc. Temple trust also manages a facility to accommodate devotees, tourists, and saints at Dharmshala at the main temple and Shree Naklang Mahadev Mandir.
Ahmedabad Jagannath Temple History
The current location of Shree Jagannath Temple was previously a thick deciduous forest that sheds leaves each year. Spiritual adventurers during those times often visit this place to seek solace thereby escaping from the hustle and bustle of the city's lifestyle.
Thus an itinerant sadhu, Shree Hanuman Das Ji paid a visit to this place and he discovered that it is an ideal place to halt and stay for a few days. Shree Hanuman Das Ji being a staunch devotee of Ram Bhakt Maruti decided to install an idol and offer prayers to date.
His inheritor Sadhu Shree Sarangdasji was also a devotee of Lord Jagannath. One day, he and his local associates decided to visit the famous Jagannath Mandir in Odisha.
One night While he was sleeping at the premises of the temple, he experienced some vivid images of Lord Jagannath instructing him to get back to Ahmedabad and install idols of Lord Jagannath with his elder Lord Baldevji, and sister Goddess Subhadra. Later the Maruti temple was popularly known by the name Shree Jagannath Mandir. Shree Jagannath Temple houses a cow shed too.
Rath Yatra of Lord Jagannathji in Ahmedabad
Rathyatra of Lord Shree Jagannathji was initiated in 1878 by Mahant Shree Narsinhdasji Maharaj. The massive procession is held on the second day of Shukla Paksha of Ashadh month – Ashadh Sud Beej, each year, and millions of devotees participate in Rath Yatra. In general, the devotee comes to Temple for the worship of Lord Jagannath but on this day Lord himself goes out to see the devotee.
After performing the rituals by Mahant Shree and the chief minister of Gujarat, the procession is led by 20 elephants in decorative dress, followed by lots of trucks and then trained athletes of various Akhada. Next in the procession follows followers with decorative flags of the temple, bhajan mandali, bands, and then comes the "Holy Trinity" on chariots made up from coconut trees pulled by devotees.
Rath Yatra begins at Jagannath Temple in Ahmedabad
The procession halts at Saraspur – Mosal of Lord Jagannathji, where the local people feed all the devotees of Lord Jagannath. In the evening the Rathayatra returns to the Shree Jagannath Temple. Rathyatra in Ahmedabad is the third-largest Rathyatra after the Puri and Kolkatta and become the Lokotsav of Gujarat.
Jagannath Temple Ahmedabad Timings
The temple remains open daily for devotees from 06:00 AM to 01:00 PM and 03:00 PM to 09:00 PM.
Arti Timings Of Jagannath Temple Ahmedabad
| | |
| --- | --- |
| TYPE | Time |
| Mangala Aarti | 6 AM |
| Balbhog Aarti | 7 AM |
| Rajbhog Aarti | 11 AM |
| General | 6 AM to 1 PM |
| General | 3 PM to 9 PM |
| Sayan Aarti | 9 PM |
Best Time To Visit Jagannath Temple Ahmedabad
Best time to visit in Rath Yatra and prominent Hindu festivals.
All major festivals of Hinduism are celebrated here in the temple with immense joy, great devotion, and love towards the supreme Lord. These festivals are Gau Puja, Jal Yatra, Rath Yatra, Hindola Darshan, Janmashtami, Rudrabhishek, Vasant Panchmi, Diwali, Uttarayana, MahaShivratri, Holi, Ramnavami and Akshay Tritiya.
How To Reach Jagannath Temple Ahmedabad
Ahmedabad is well connected with other major cities; also many private vehicles go directly to the temple.
Contact Details Of Jagannath Temple Ahmedabad
E-mail- [email protected]
Phone No- +91-79-25323221, +91-79-25324421
Website- http://www.jagannathjiahd.org