Girmal is a breathtaking waterfall situated at Girmal village near Saputara in Gujarat.
It is the highest waterfall in Gujarat and among the prime places to visit near Saputara. It is Situated inside Purna Wildlife Sanctuary.
About Girmal Waterfalls
Girmal Waterfall is formed over Girmal River. It cascades down from a height of more than 100 feet. Hidden inside dense forests of Dangs, Girmal Falls has picturesque beauty in monsoon season. The water fluently crashes from a great height, forming clouds of fog, through which one can often experience rainbows.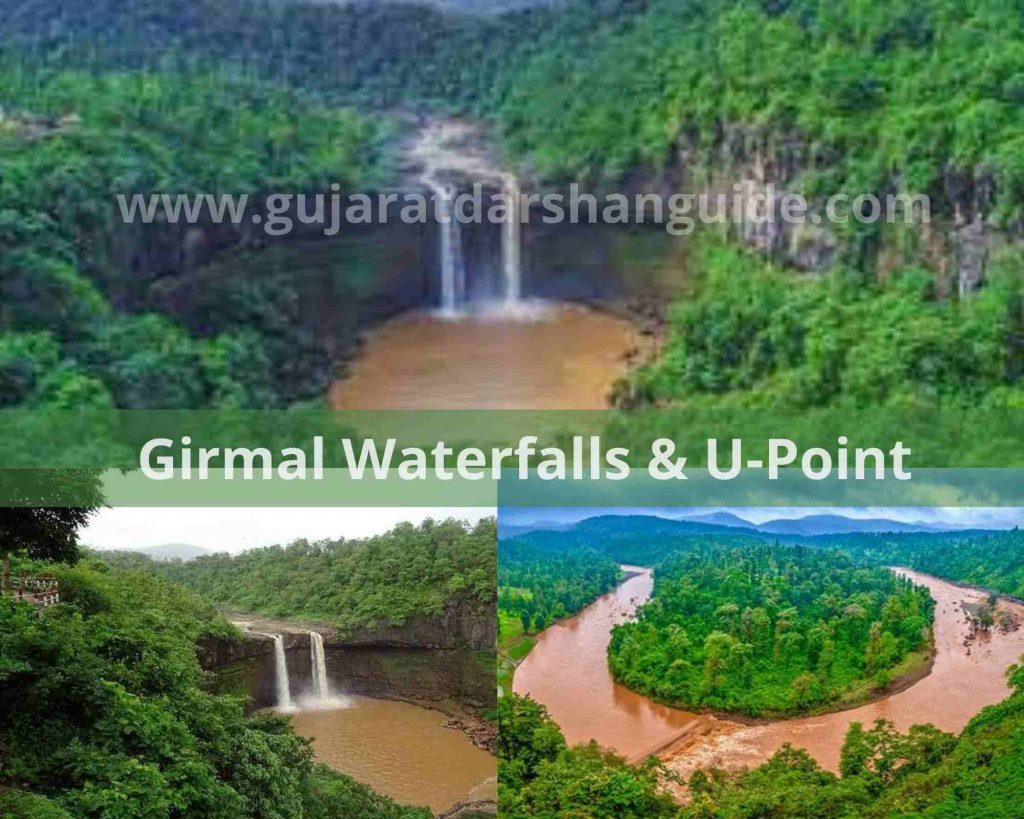 U-Turn Point At Girmal Waterfalls
En route to Girmal near village Gavdahad, the river Gira takes a complete U-turn. The Forest department has developed a beautiful viewpoint exactly above the U-turn. Watching a massive green patch of Purna Sanctuary surrounded by U-shaped Gira is a spectacular experience.
U-Turn Restaurant At Girmal Waterfalls
Eco-Development Committee (EDC) of the Forest Department runs a restaurant named 'U-turn restaurant' at this place. With four Girli Lodges with attached bathrooms and an Interpretation Centre, the place is a nice refreshing spot.
Food and Accommodation Near Girmal Waterfalls
Accommodation can be availed at the U-Turn point. Eco-Development Committee has developed, Girli Lodges. With four Girli Lodges with attached bathrooms, the place is a nice spot.
Charges for one night per room: Rs. 500.
Tips For Girmal Waterfalls
The best time to visit is Monsoon. The rainbows and scenic beauty is only seen during rainy season.
If you're not in group, leave the area before dusk. The area is safe in terms of security, but in case of vehicle breakdown or any other critical issues, you'd be left alone.
Do not confuse Girmal falls with Gira falls Waghai. Both are different. This one is in Girmal, Subir and Gira falls are in Waghai.
Timings Of Girmal Waterfalls
Timings:- 8 AM – 5 PM
Best Time To Visit At Girmal Waterfalls
The best time to visit the Girmal Falls is between July and December.
Contact Details of Girmal Waterfalls
Address: Forest North Dang Division, Near Petrol Pump, Ahwa, Dang.
Phone: 02631-220203
Email: [email protected]
How To Reach Girmal Waterfalls
At a distance of 35 km from Mahal, 50 km from Ahwa, 78 km from Waghai, and 89 km from Saputara.
Ahmedabad: 380 km
Surat: 140 km
Vadodara: 275 km